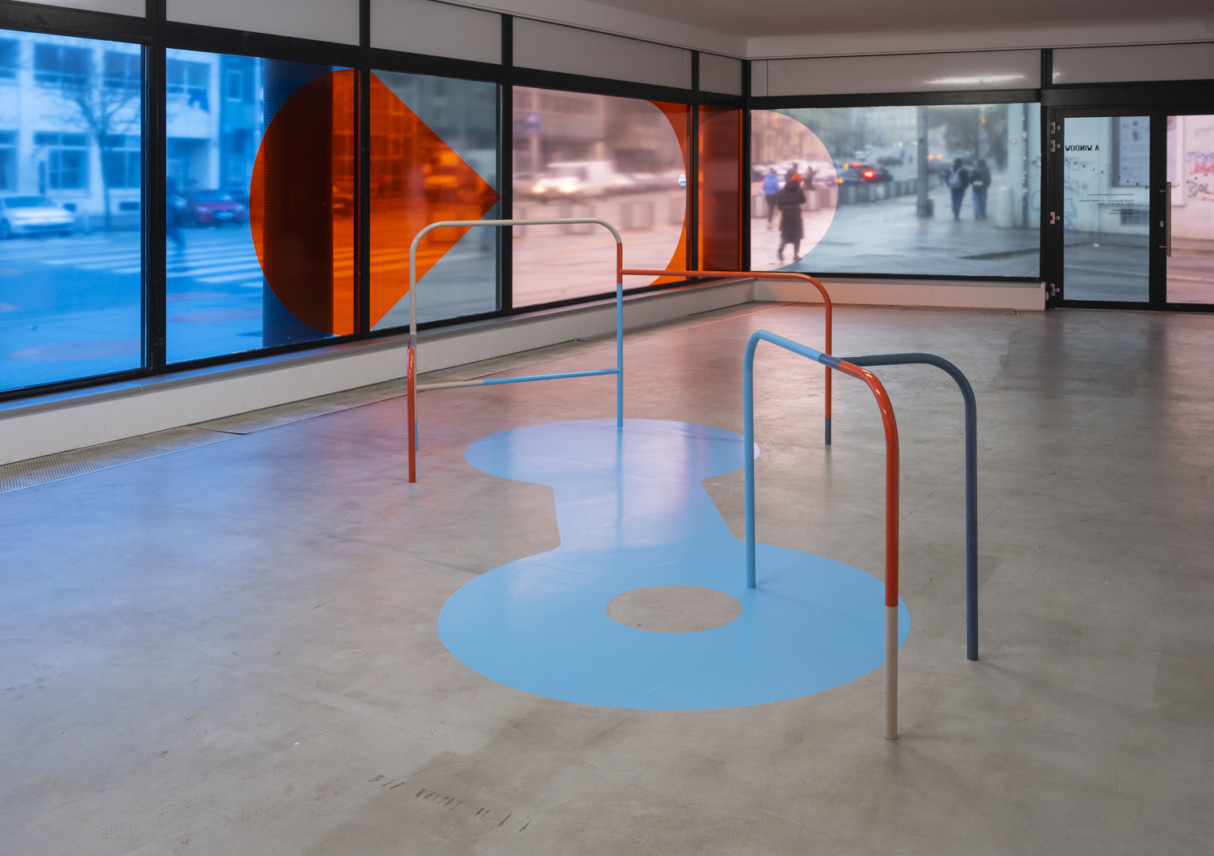 Play World
23.01 - 07.02. 2023
Curated by: Kaez Tjoe-Fat
Boys and girls come out to play, the moon doth shine as bright as day, come with a whoop and come with a call, come with a good will or not at all: loose your supper and loose your sleep, to come to your playmates in the street.*
Kunsthalle Bratislava invites you and your pupils to a workshop for children and youth, entitled 'Play World', which will take place in the exhibition space A Window on Námestie SNP 12. The workshop will be led by Kaez Tjoe-Fat, a Dutch student of cultural heritage from the Reinwardt Academy in Amsterdam, current intern at Kunsthalle Bratislava.  This workshop is organised in connection with the current exhibition After Work and aims to rebuilt the way children view playing and social interactions after 2+ years of physical and social isolation due to the impact of COVID-19 pandemic restrictions.
The collaborative exhibition entitled After Work by Céline Condorelli, Ben Rivers and Jay Bernard, is on display at Kunsthalle Bratislava, between 09.12. 2022 – 10. 02. 2023. Céline Condorelli presents a series of sculptural works within a newly conceived site-specific installation, and looks at the complex fabric of social and political relations for which architecture provides a stage. The whole space is transformed into a viewing machine, neither a black box, nor the traditional white cube, but rather a space of dialogue and carefully staged and consciously formulated transparency. Ben Rivers comes in as an attentive observer whose 16mm camera documents a process of material transformation leading to an intervention in a public space – a space inhabited by the presence of curious non-human visitors. Last but not least, Jay Bernard's voice overarches Condorelli's physical work and Rivers' cinematographic language with a poetic text spreading through the exhibition space in large scale prints, and through the film's voiceover, depicting the most subtle notions of experiential sensations while interacting with the work.
Children are invited to experience the playground in the gallery space by rethinking the use and the architecture of outdoor play spaces. The program will consist of children's games, storytelling and creative practices focused around the topic of free time. Under the guidance of Kaez, children will try to answer questions about their favourite playground game, imagine a dream playground and finish off with closing conversation about their experience.
"The exhibition 'After Work' challenges the traditional distinctions between leisure and labour, it speaks of the boundaries between the private and the public and the soft tissues that connect them. It asks what the role of art might be, while attempting to unlearn and reimagine the bonds that society, culture and art can create together. What is the role of an artist, a poet, a filmmaker in all this? These questions remain in the background of the exhibition, somehow quietly, yet with a direct communal bond to the issues at hand." (Jen Kratochvil, the curator of the exhibition)
The workshop will be held in English. It is free and welcomes all children in groups of 6+ years of age with scheduled visits between 23.01 and 07.02. 2023. To register and schedule the group workshop, please contact Kaez at internship@kunsthallebratislava.sk.
*Jay Bernard, After Work
Kaez Tjoe-Fat is a Dutch student of cultural heritage at the Reinwardt Academy in Amsterdam, currently participating in an internship program at Kunsthalle Bratislava. They focus on building youth-oriented public programs and accessibility within cultural institutions. Their favourite saying is "We leren van en met elkaar", which translates as we learn with and from each other. A phrase that can be used on every occasion as they see every moment a lesson in everyday life.