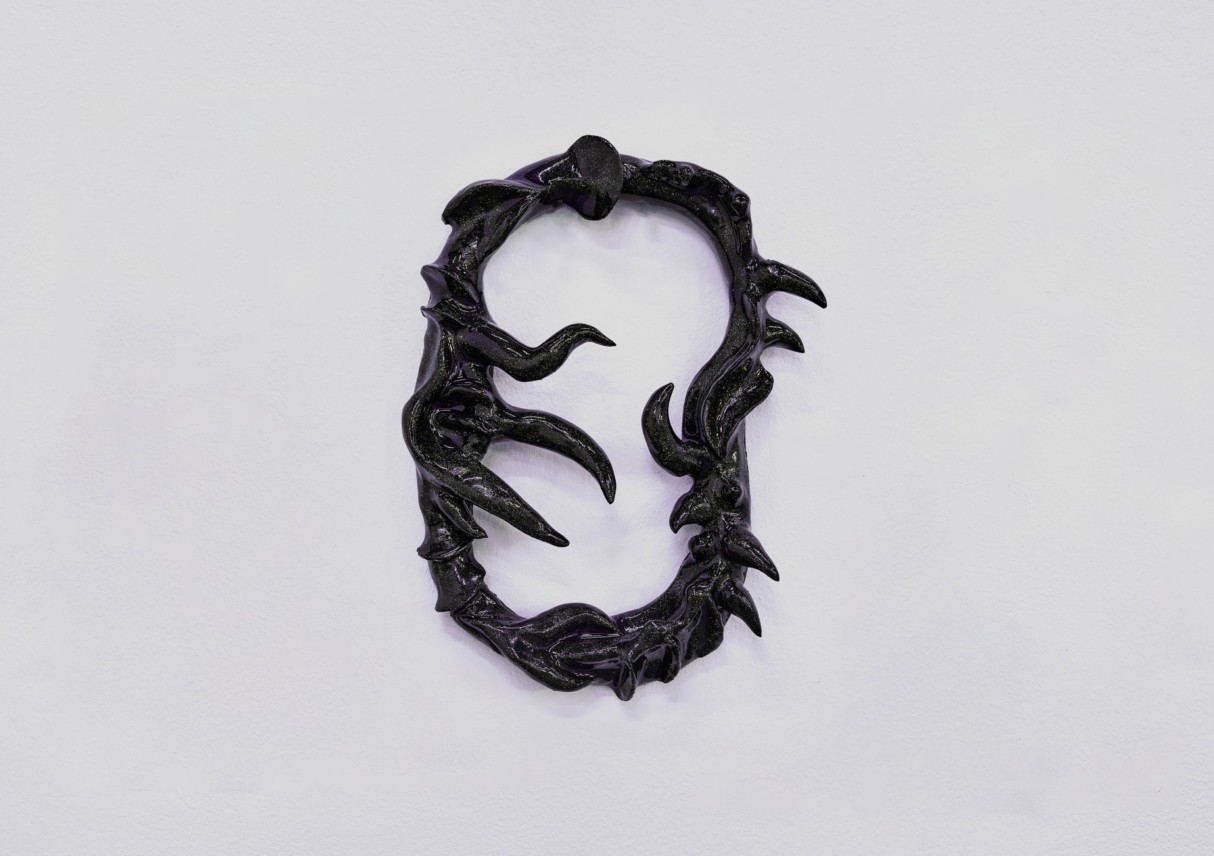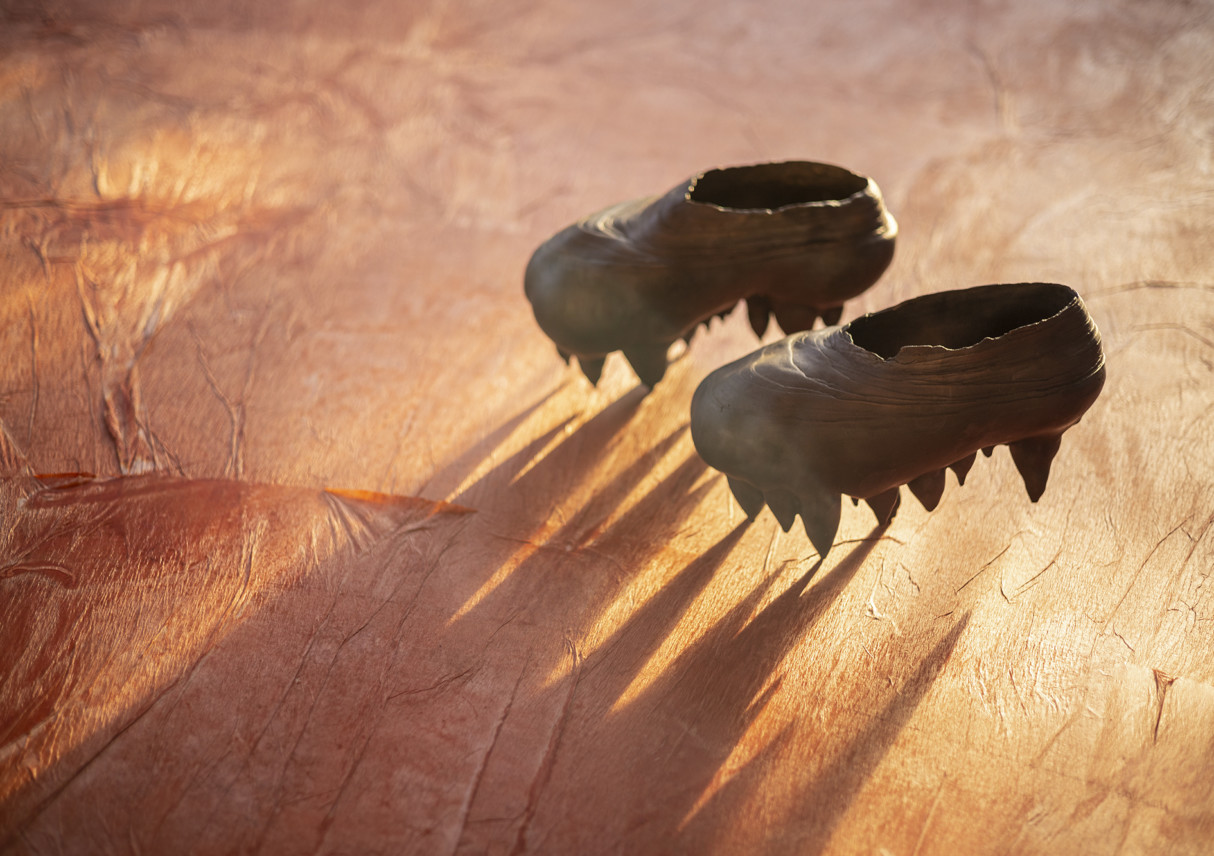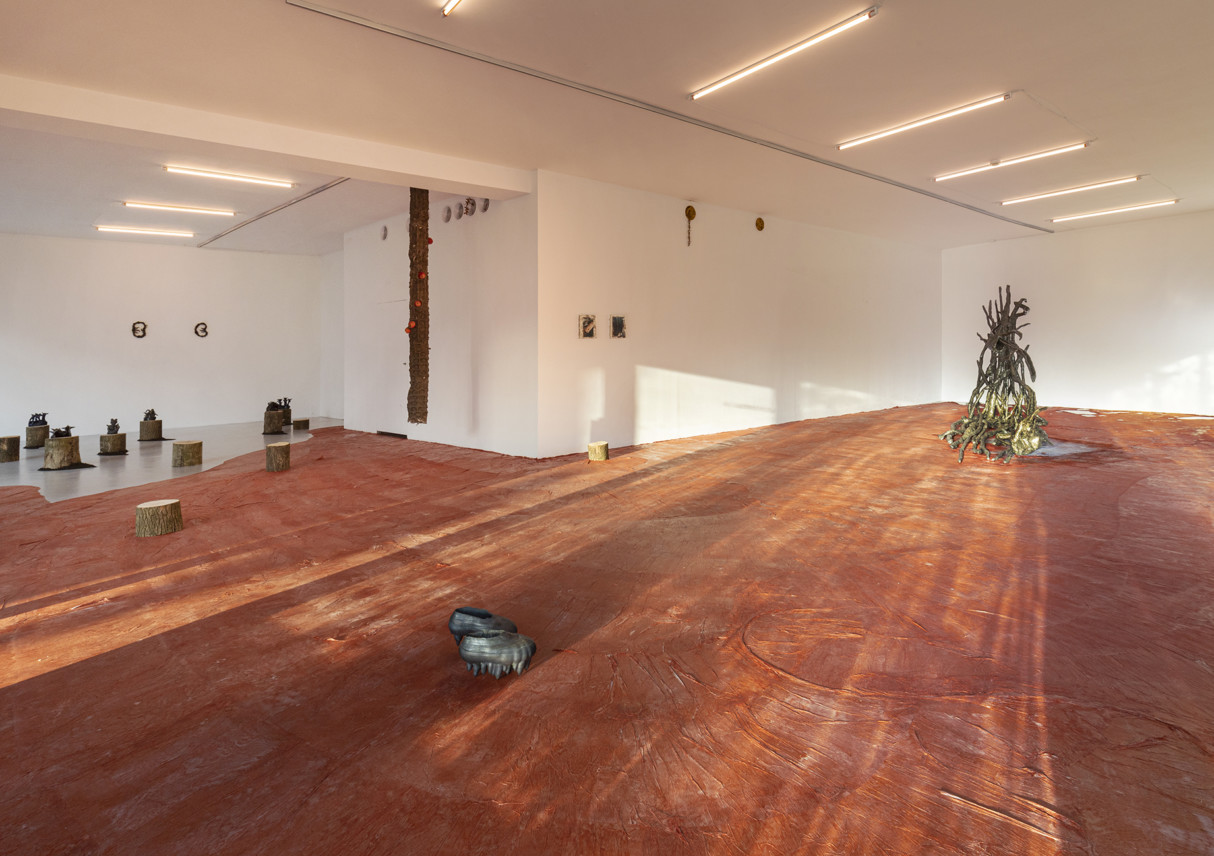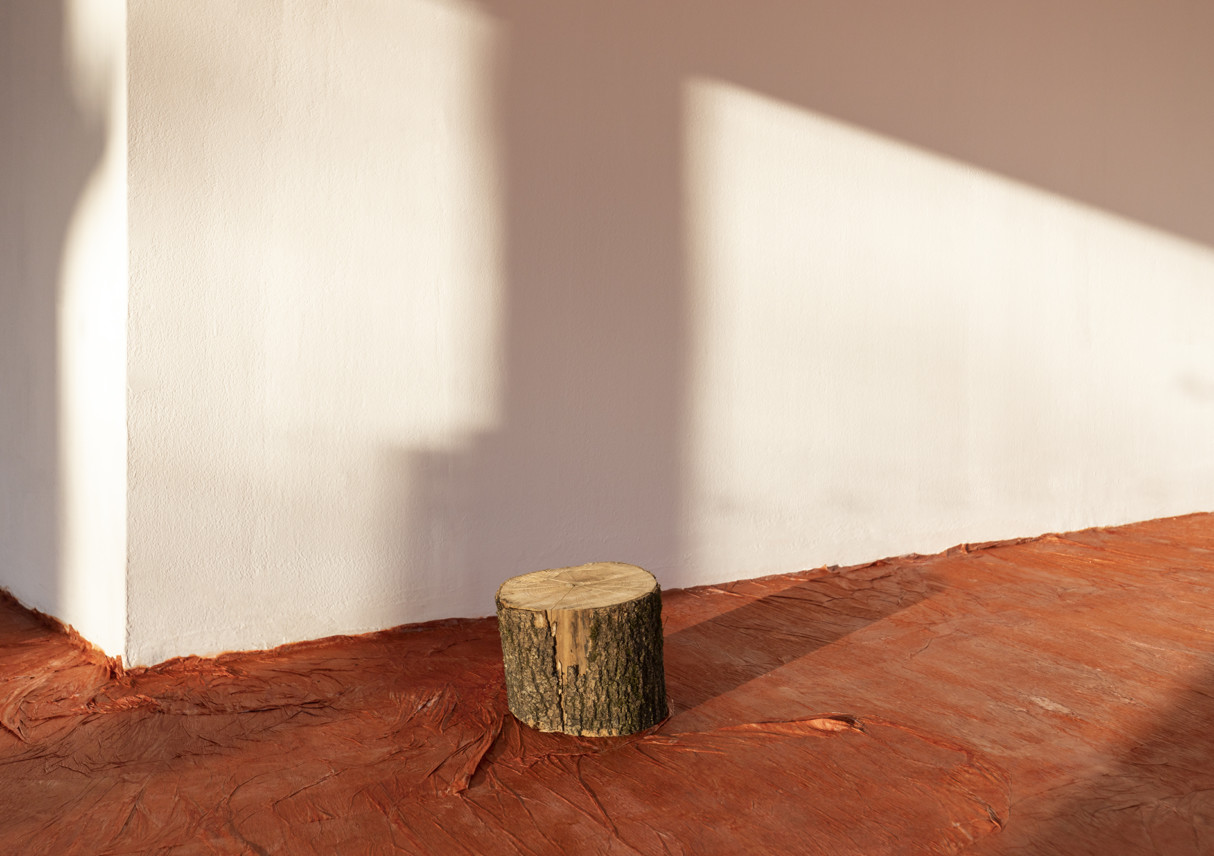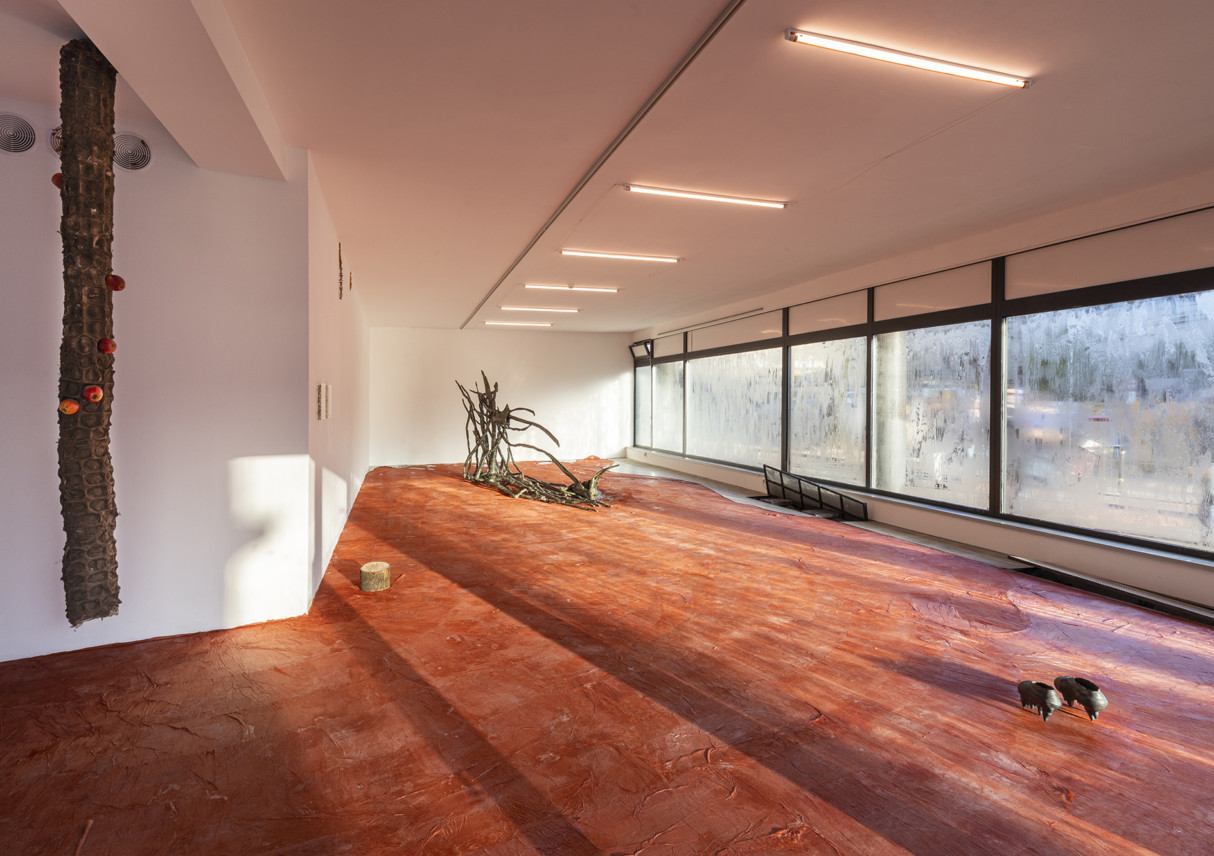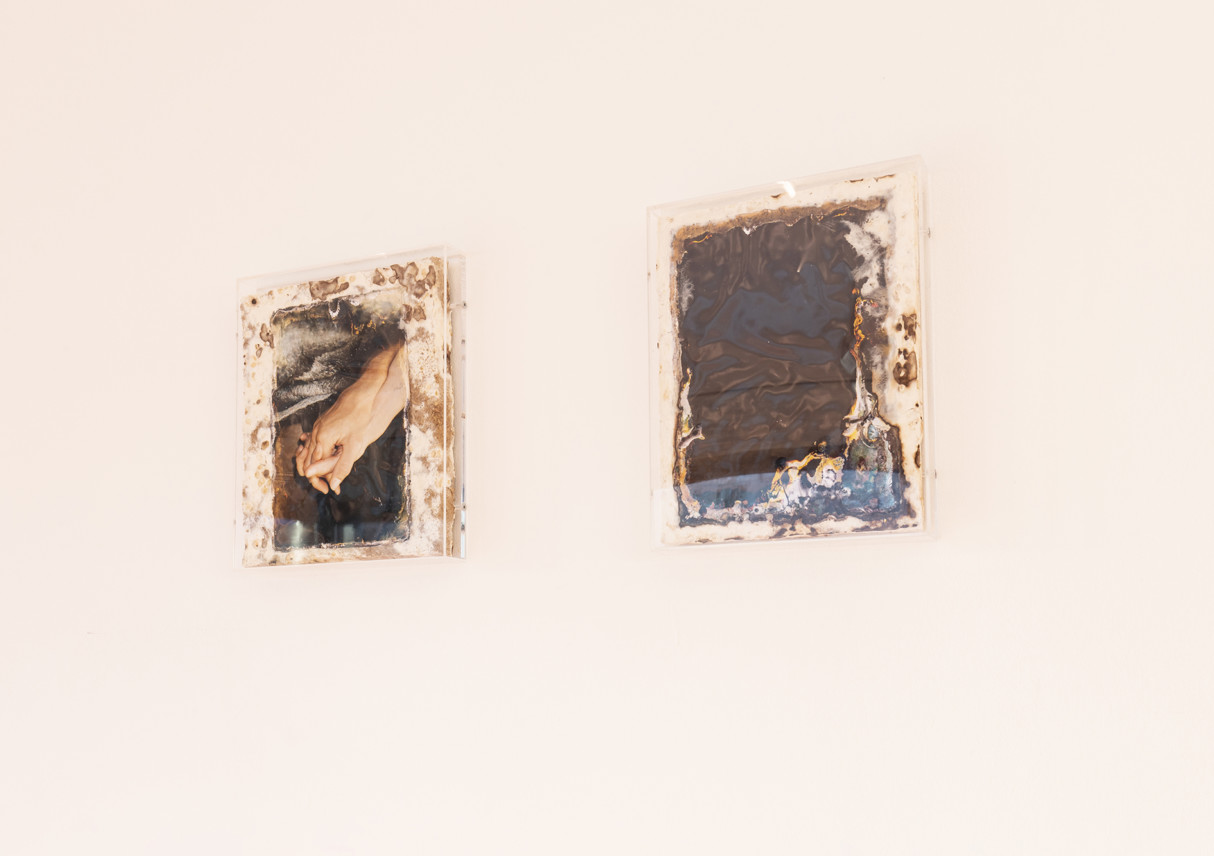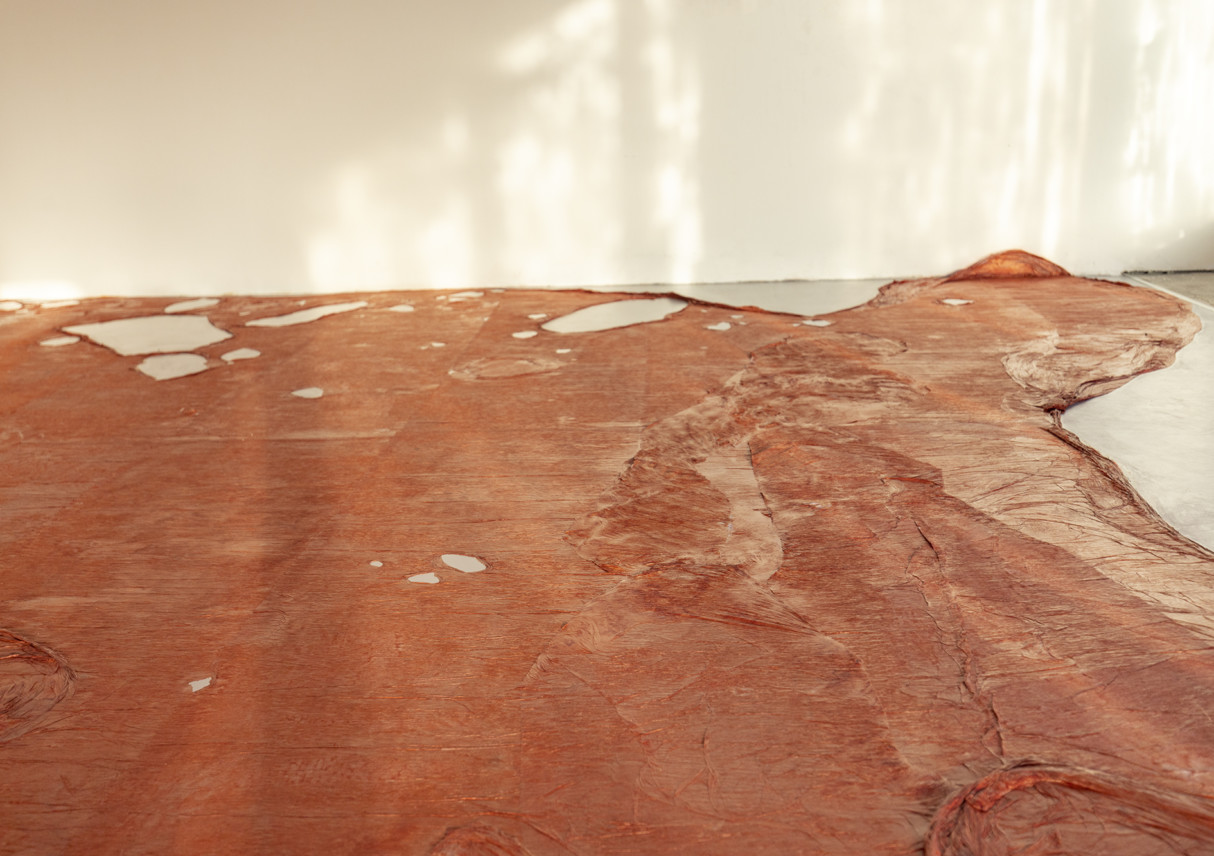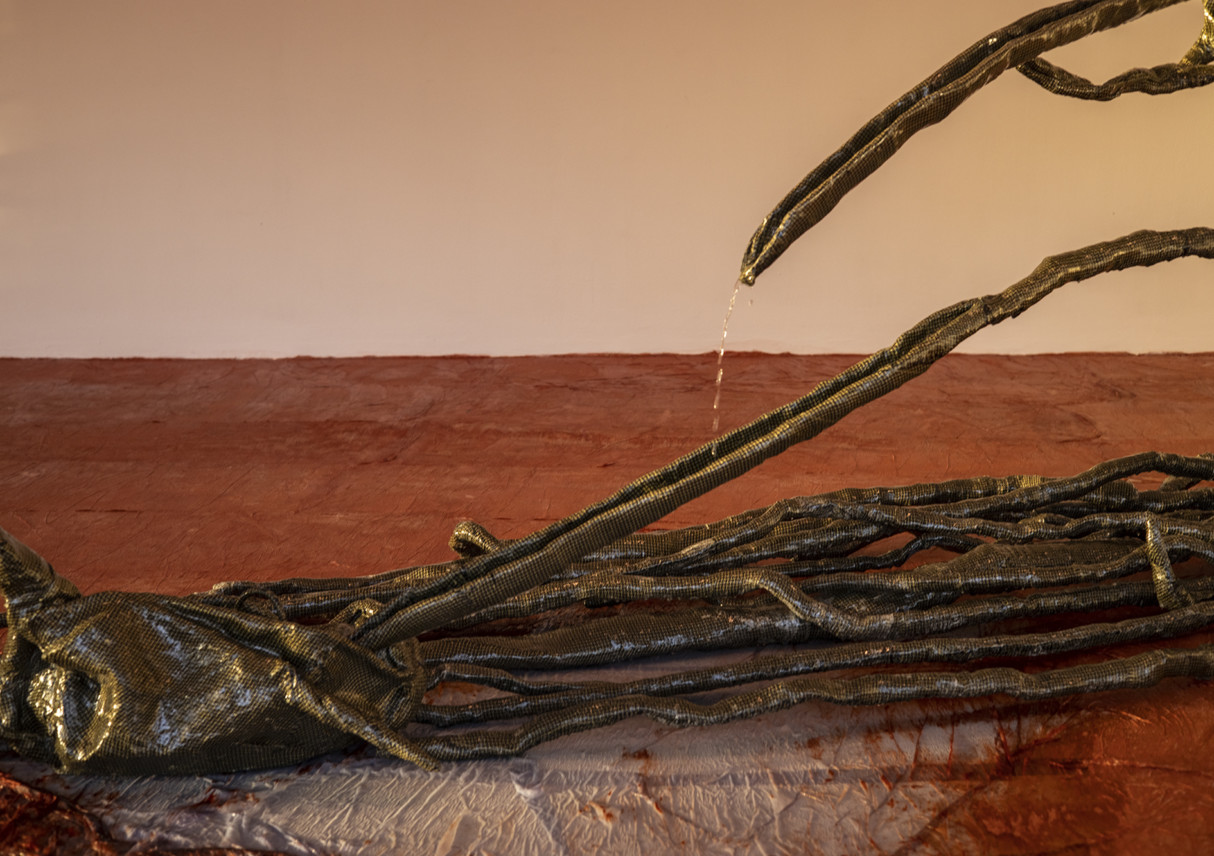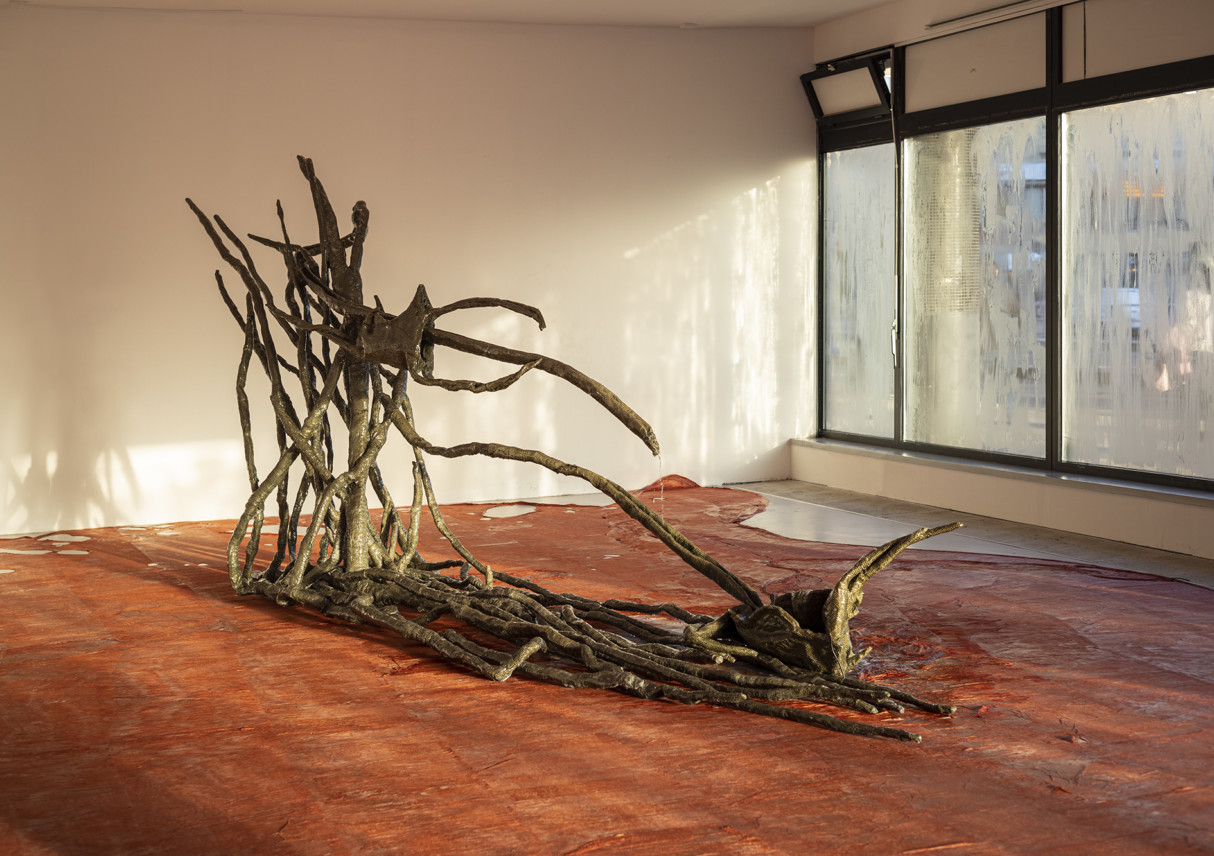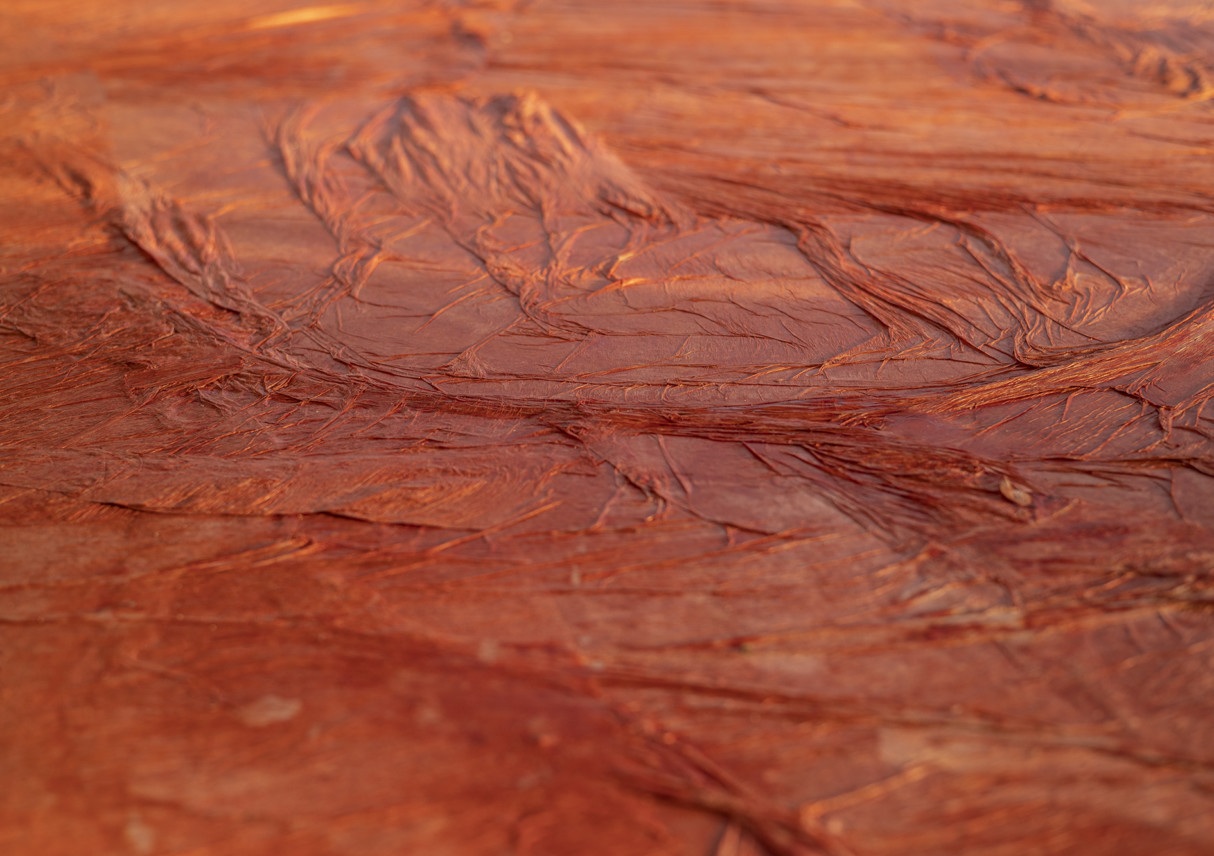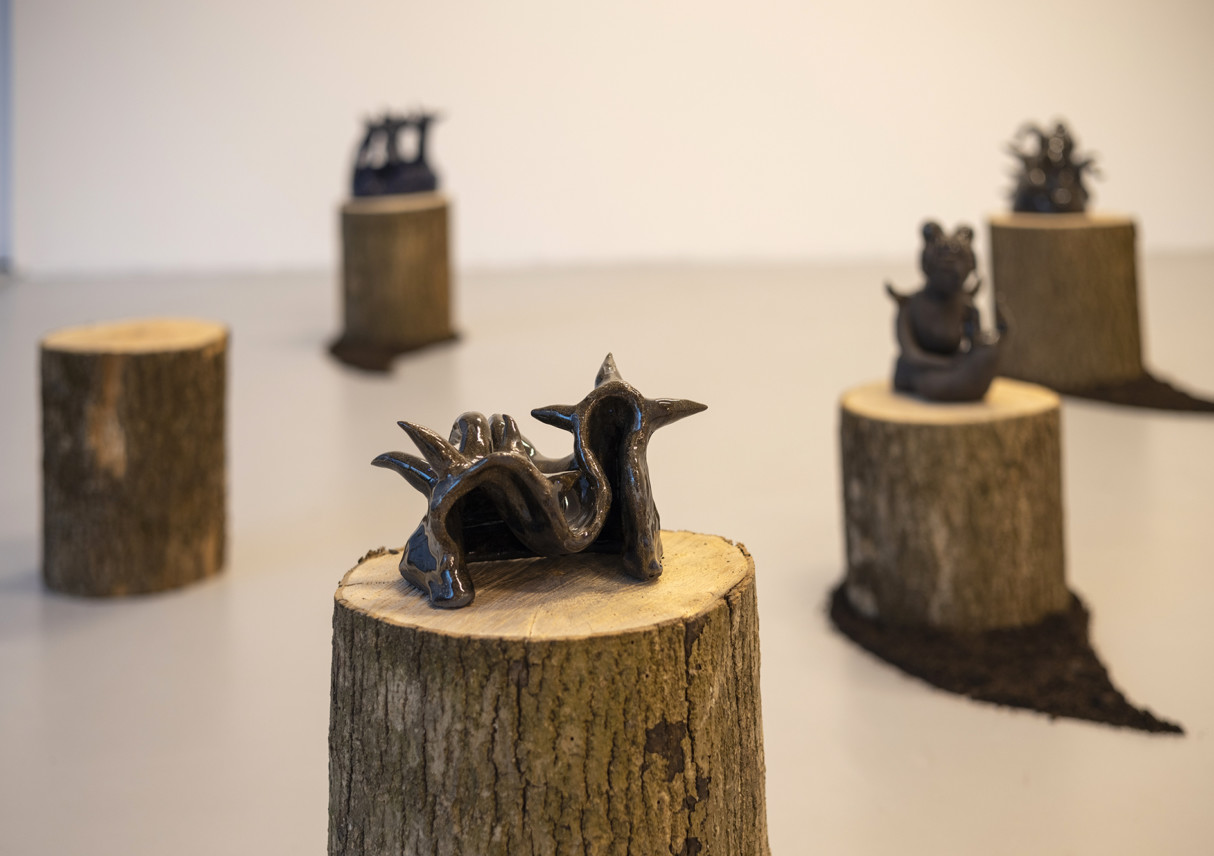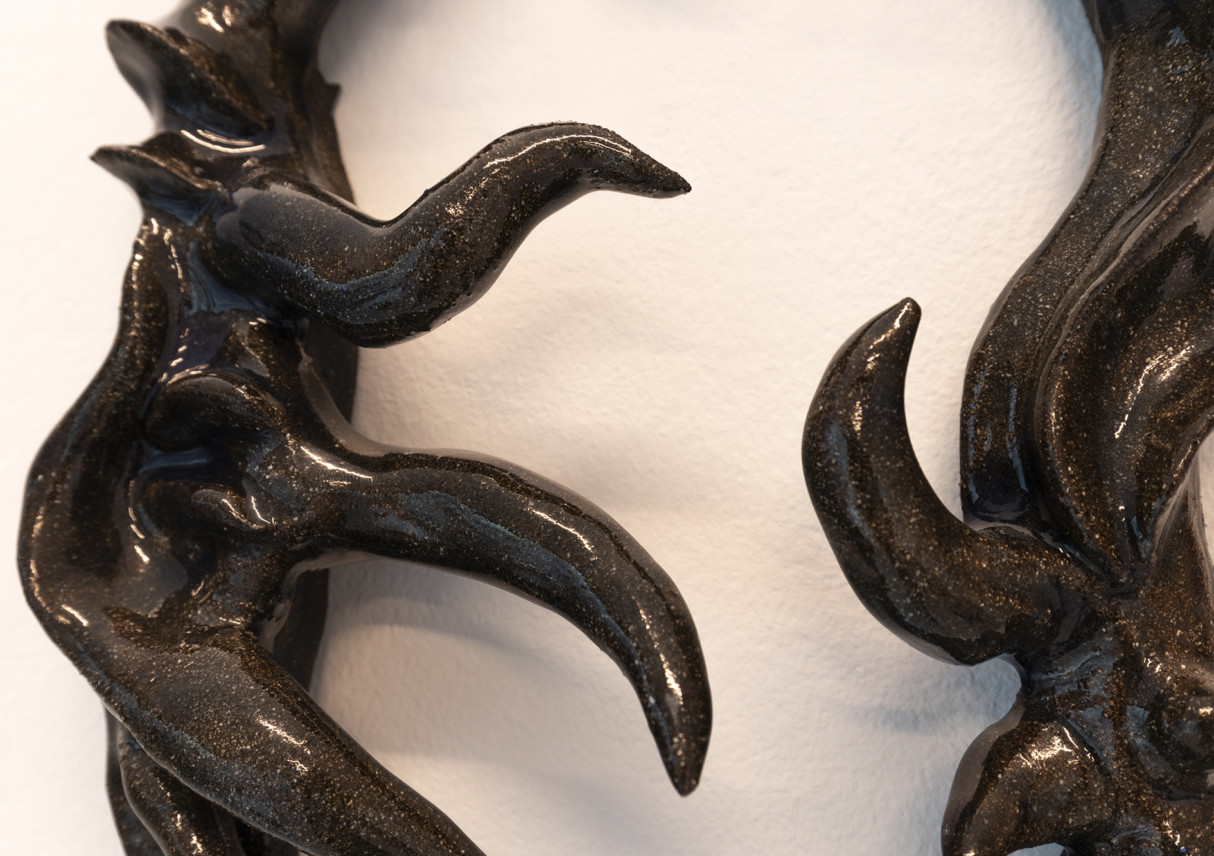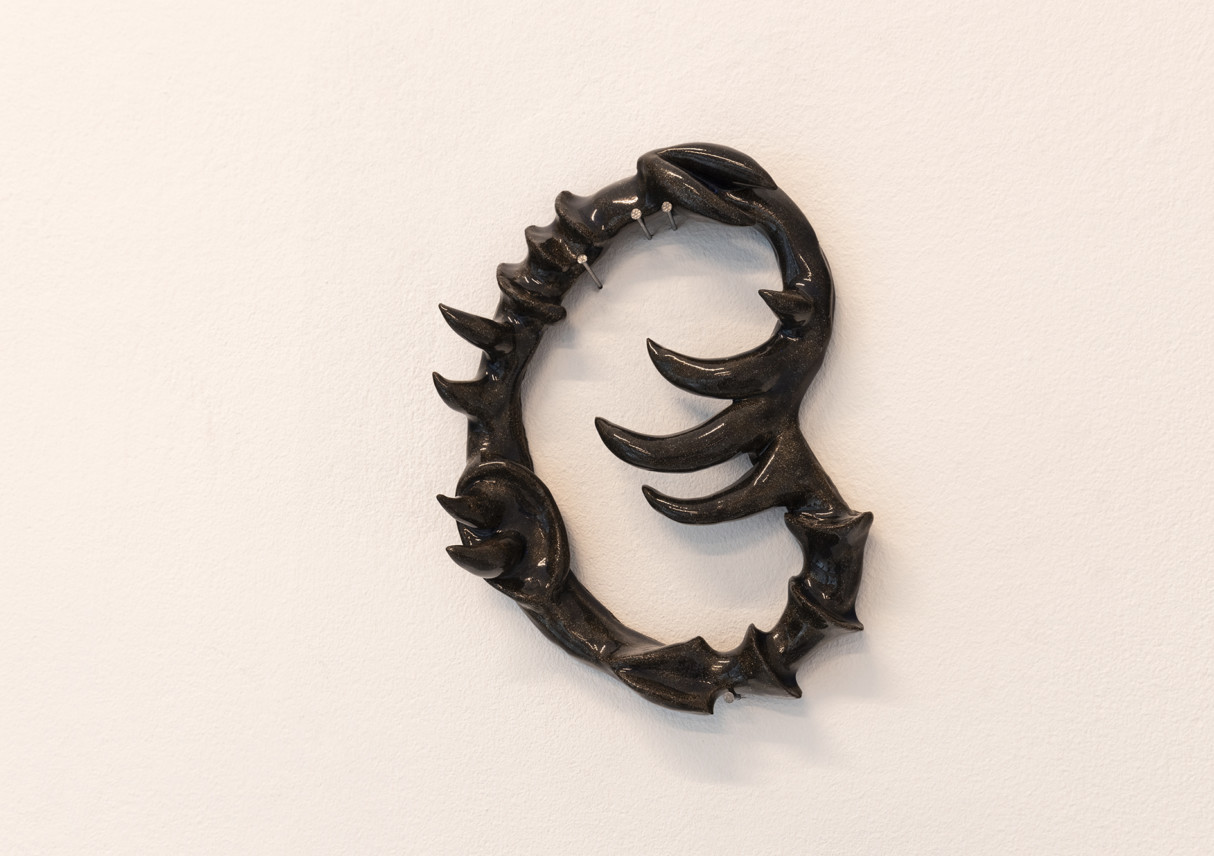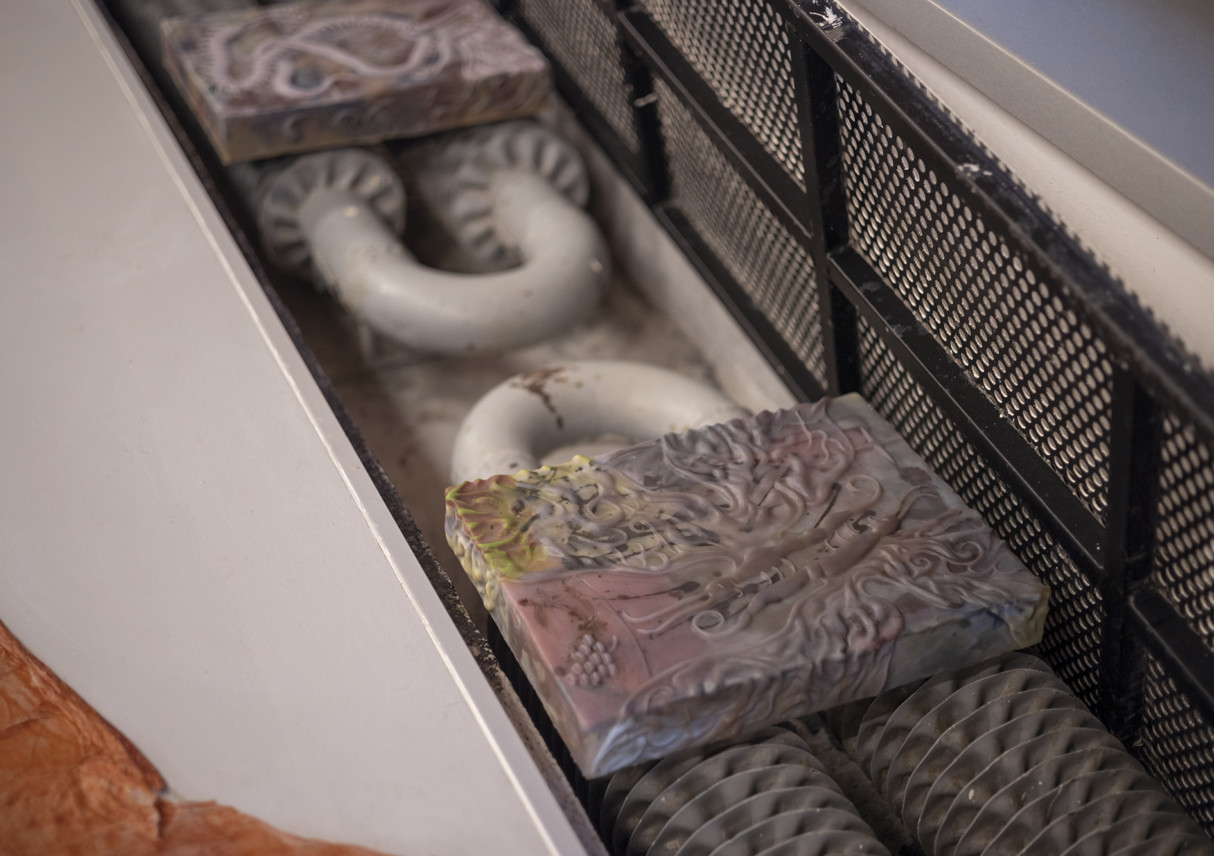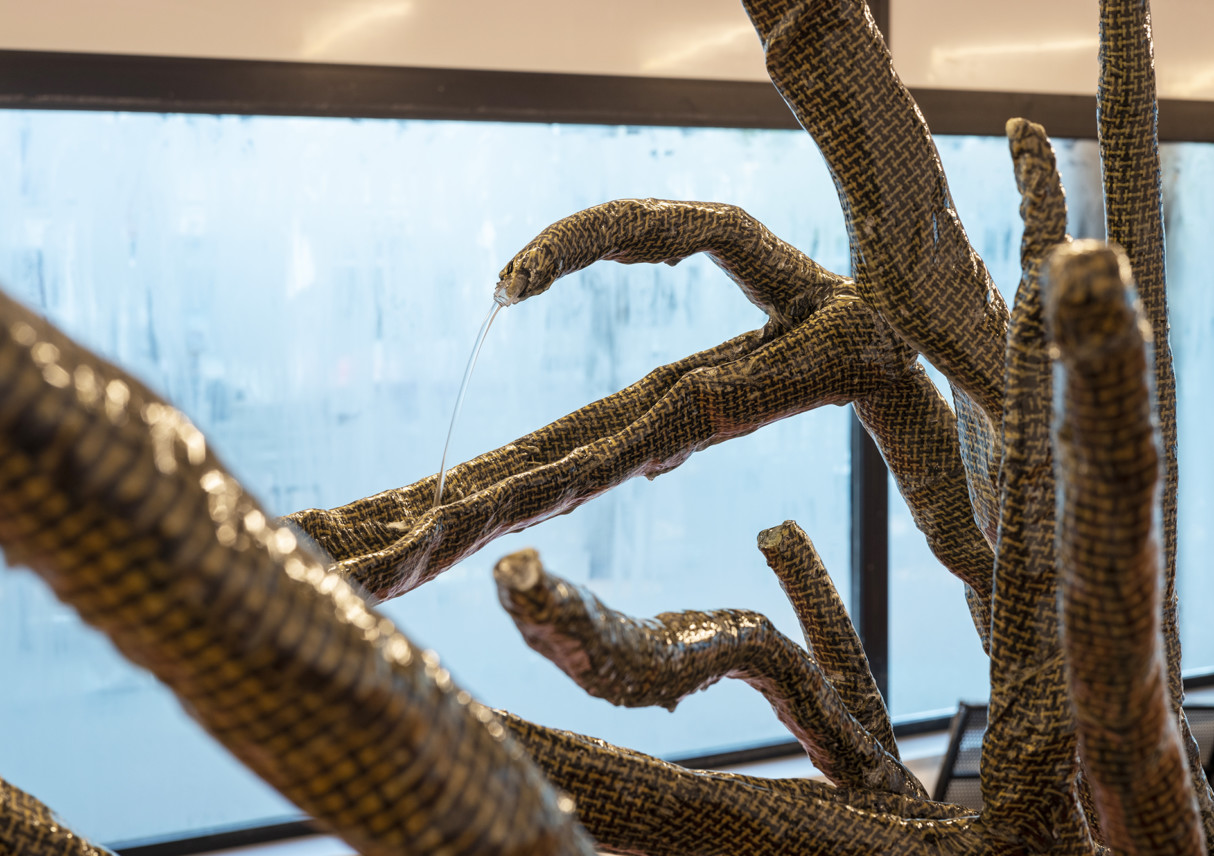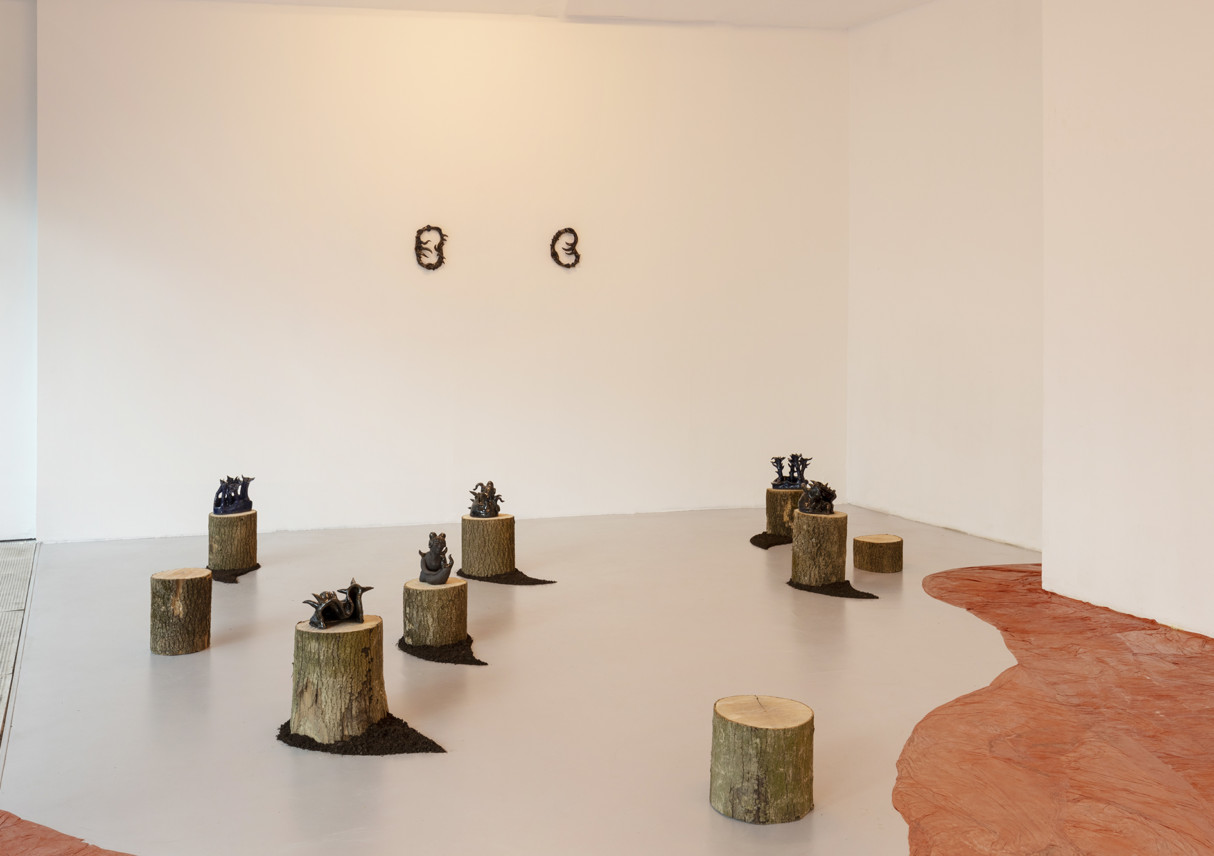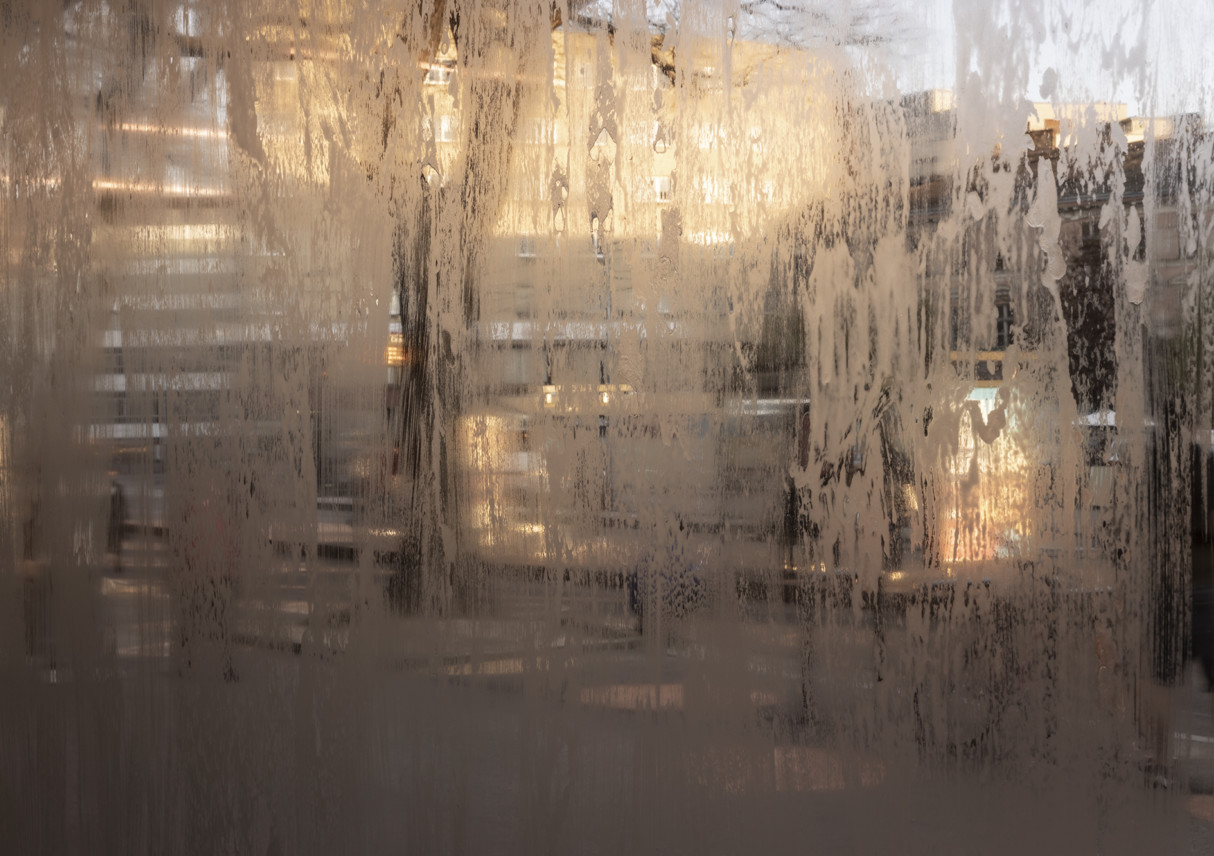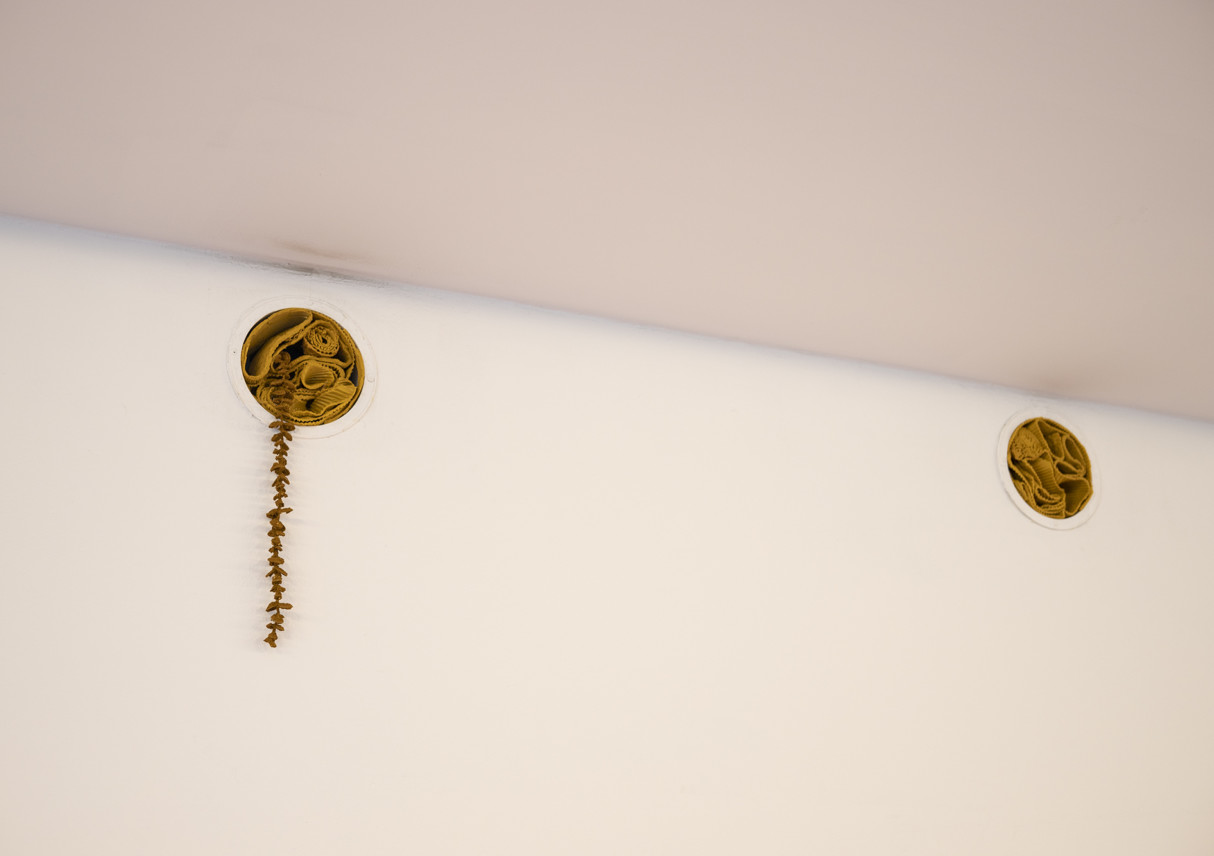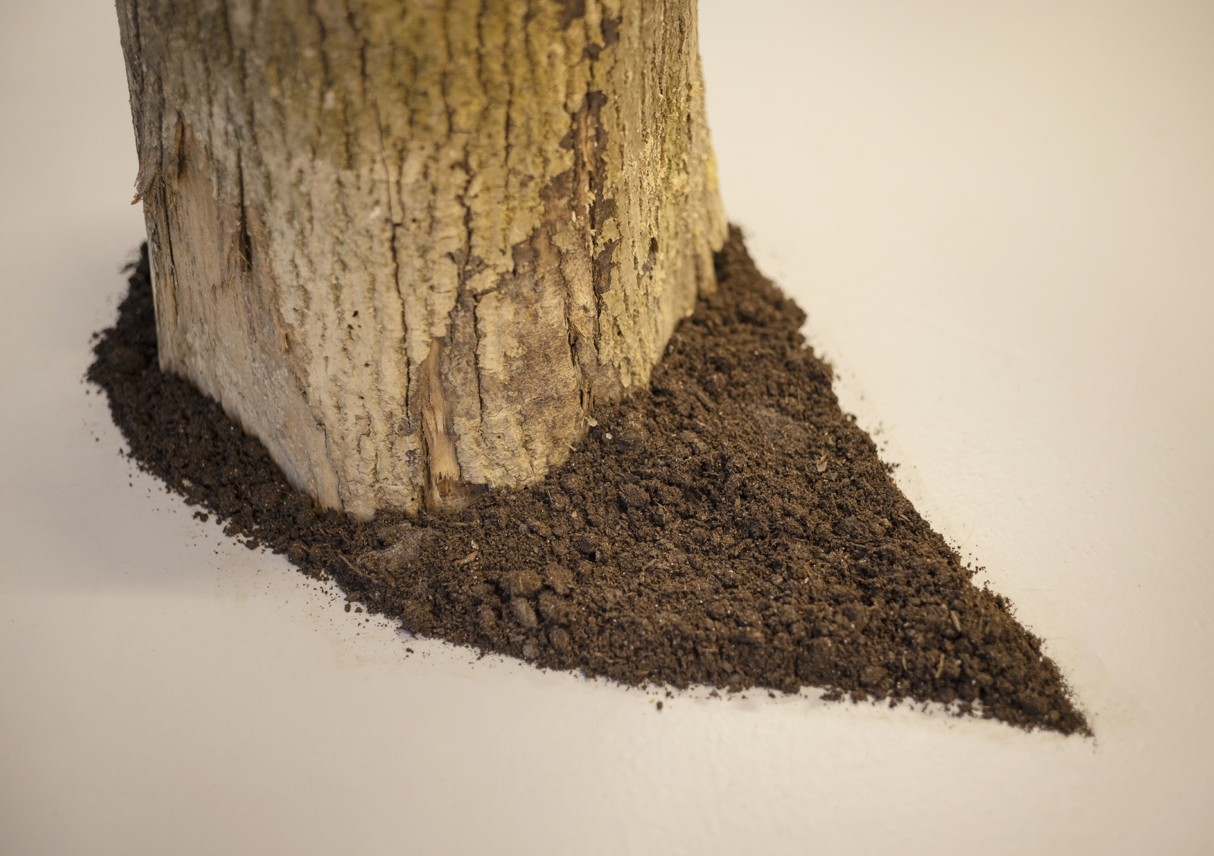 Photo: archive Kunsthalle Bratislava, ©Leontína Berkova.
Mud Keeper's Promise
21. 4. – 6. 6. 2023
Curated by: Tjaša Pogačar
Opening:
20.04. 2023, 19:00
No longer a firm surface but a muddy terrain, the ground lurks and moves beneath your feet. Marked by doubleness, hybridity and metamorphosis, a wasteland reveals its grotesque qualities. You stay with the trouble. Categories organising the geography of our perceptions and reality blur, outlines become messy. It is impossible to say with certainty what roams this borderland, but their tracks pave the passage between worlds. The second landscape of "Under This Strange Sun" is a sample of a world in transition, a realm of post-anthropogenic wilderness stretching between what is obsolete and what is yet to come. Experiences of loss, decay, mutation, transformation and growth mark this interim condition, and anticipate a new way of worlding that holds a promise that something else might spring from the traces we leave behind.
The exhibition is the second part of a two-part exhibition project entitled "Under This Strange Sun". The first episode of the project was presented between 24.02 – 10.04. 2023, which consisted of a solo exhibition of the Czech sculptor Anna Hulačová, entitled Edible, Beautiful, Untamed, curated by Tjaša Pogačar.
Participating artists: ASMA/ Katarína Hrušková/ Šimon Chovan/ Angelika Loderer/ Siggi Sekira/ Neja Zorzut
Coproduction: Zavod Projekt Atol
---
ASMA (Matias Armendaris, Hanya Beliá) creates works exploring painterly and sculptural expressions. They employ fictional narratives which include forms of nature interwoven with psychoaffective contemporary landscapes. As a result of a collaborative process the work focuses on hybrid and polluted forms both in a material and conceptual nature. They exhibited in Deli Gallery, New York (US), Project Pangeé, Montreal (CA), Museo Tamayo, Mexico City (MX), Make Room, Los Angeles (US), Cantina, Aarhus (DK) and "Anima Mundi" group exhibition at Manifiesta 13, among others. 
https://asmaasma.com/ 
Katarína Hrušková works with a wide range of media. Her starting point is photography, but gradually she has developed a complex modus operandi, often site-specific, in which sculptural, material-anchored approaches have the main say, expanded by sound, most often the spoken word, which brings a conceptual, narrative or atmospheric component to her installations. Her works were shown at Galerie Kurzor (CZ) SNG Schaubmarov Mlyn (SK), Galerie TIC (CZ), A Promise of Kneropy, Bratislava (SK), Vermillion Sands (DK), House of Egorn (DE), Karlin Studios (CZ) and Slovak National Gallery (SK) among others.
https://www.katarinahruskova.com/ 
Šimon Chovan works with sculpture, object, speculative design and media art, researching the drastic shifts in the material structure of our world and bodies during an era of collapse of general systems. His work has been included in group exhibitions at Haze projects, London, Galéria Jána Koniarka, Trnava (SK), Kunsthalle Wien (AT), and Kunstverein Eisenstadt (AT), Cani, San Foca (IT), Šopa, Košice (SK), Nitrianska galéria (SK), among others.
https://www.instagram.com/simon_chovan/ 
Angelika Loderer makes use of materials, processes, and display mechanisms that constantly perform and expose the object's internal balancing act in relation to an equally contingent spectator. She activates the performative power of the informe, while she stays situated in a contemporary moment characterized by modes of living in which contingency becomes the norm. Her works were exhibited in New Museum, New York City (US), Grazer Kunstverein (AT); SOPHIE TAPPEINER, Vienna (AT); Secession, Vienna (AT); Salzburger Kunstverein (AT); Belvedere 21 (AT), Museum der Moderne Salzburg (AT), Futura, Prague (CZ), and 4649, Tokyo (JP), among others. 
https://www.angelikaloderer.at/ 
Siggi Sekira lives and works in Vienna. They have been studying for their master's degree at the Academy of Fine Arts Vienna since 2015. Their artistic practice includes ceramic sculpture and coloured pencil drawings. Sekira's works revolve around the common themes of reproductive labour, female hysteria and false expectations. They draw from a variety of sources, from Slavic mythology to the 1900s Wiener Werkstätte, the Soviet avant-garde and the influx of Western pop culture after the collapse of the Soviet Union. Recent exhibitions include Sweet Lies at Ludwig Forum Aachen; Cruel Summer Camp at Exile, Vienna; Rhizome at Galerie Kandlhofer, Vienna and Fever Dream at Gianni Manhattan, Vienna.
https://www.instagram.com/pawzofglory/ 
Neja Zorzut uses painting and sculpture to create spatial situations that address the seepage between the (human) body and its ecologically precarious and ever more "toxic" environment, and the modifications and adaptations that result from this tension. Her works were presented in Meštrović Pavilion in Zagreb (HR) and at 34th Ljubljana Graphic Biennial (MGLC, Ljubljana), in Equrna Gallery (SI), Museum of Contemporary Art Metelkova (SI), and Nova Pošta project space (SI), among others. 
https://www.instagram.com/zorzutneja/