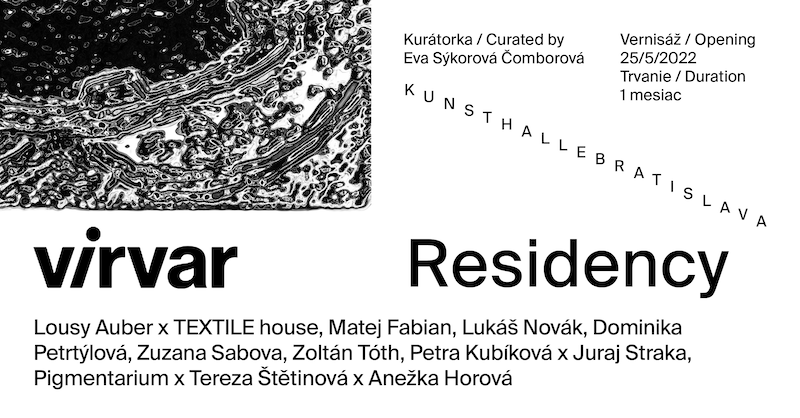 Virvar
25. 5 - 25. 6. 2022
Curated by Eva Sýkorová Čomborová
Virvar's Residency at Kunsthalle Bratislava is yet another possible format for collaboration and synergy across various forms and media of artistic expressions. After the opening of the first ever space for contemporary dance in Bratislava, entitled S4, Kunsthalle is now once again wrapped in a different guise before the eyes of its visitors. This time with an emphasis on contemporary design with overlaps into the visual arts. And after the Virvar Residency, there will be further transformations, mutations and variations of the institutional space, with the objective and interest to gradually build a community network reaching far beyond the field of contemporary visual art. But more on that later… Now it's time for Virvar.
---
INFINITY.
How to define it?
How to fathom it within the context of the absence of a beginning and an end, when everything we tend to define ourselves by today is that of material, tangible, and fickle, limited by our perception of existence, time and space? By the measure of knowledge. Or – its absence.
And by the notion of expiration. Of anything or everything.
Change being the only constant.
There is a highly causal, almost determinative relation between demise and naissance. Where one ends, the other commences. Non plus ultra, vice versa. Is it possible, then,  to look at one without simultaneously perceiving both, as subjectively divided objects of organic homogeneity, constantly intersecting one another? At the same time, it is fair to acknowledge a certain a priori selectivity, which can be interpreted by simplified extraction of a rather "common" concept in terms of positivism vs negativism; optimism vs pessimism; construction vs destruction; values vs anti-values; despair vs hope.
Is it an objective and fulfilled approach? Attempt to answer via a counter-question: How many of bad epilogues are liable for an equal number of marvelous prefaces? And how many of them in medias res? The new chapters are simply obligatory, especially in the context of  the current events of today's society, which, in their cruelty and barbarism, are candidly and inconspicuously transforming themselves into an almost archetypal prototype, at times bearing almost dystopian medieval-like features.
Like a story  from the Book.
The Book of books.
Zeitgeist in a living space.
Apropos… How is the status quo interpreted by contemporary talent?
Via submissive affirmations?
Via cognitive-dissonant idealization?
Via conformist dialogue?
Via uncompromising confrontation?
Via intimate contemplation with minimal external expression?
Via rebellious manifest?
Via stoic constatation?
Via pragmatic commercial approach?
Via clever coding?
Via symbolism?
Via curiosity?
And what was first?
Deity or the world?
And what is good?
And what is evil?
And what is endlessness?
Sometimes, it is not necessary to operate et machina. Perceiving will do.
Often answers are not needed. It is more crucial to start asking the right questions.
Apocalypse. Genesis.
Perpetuum mobile.
Or?
VIRVAR (@virvaronline) is the only platform of its kind in our territory comprehensively supporting CS design with full overlap to creative, educational, outreach, marketing and business activities. It stands behind unique projects and brings together a diverse community of talent and people who deserve the attention of the general and professional public in the field of local art and lifestyle. Virvar promotes and addresses the issue of talent on multiple levels to help creatives to get noticed and not only survive, but thrive and evolve further. Since its inception in 2019, the platform has undersigned many successful collaborations and projects, and participated in events such as Fashion Live! and Mercedes Benz Prague Fashion Week, published dozens of expert and analytical texts within the field, currently collaborating on text and image content for Feminity magazine. To this day, it has also produced 31 strictly original fashion editorials- one of them, entitled GINGERBREAD MADONNA, will be the theme of a solo "summer" exhibition at the Slovak National Gallery under the curatorial supervision of its director, Alexandra Kusá. The photomaterial by Jakub Gulyás under the concept and supervision of Virvar is a homage to the work of painter Ľudovít Fulla and also to the genius loci of his Gallery in Ružomberok, which is an autonomously significant solitaire of our world-class architecture.
---