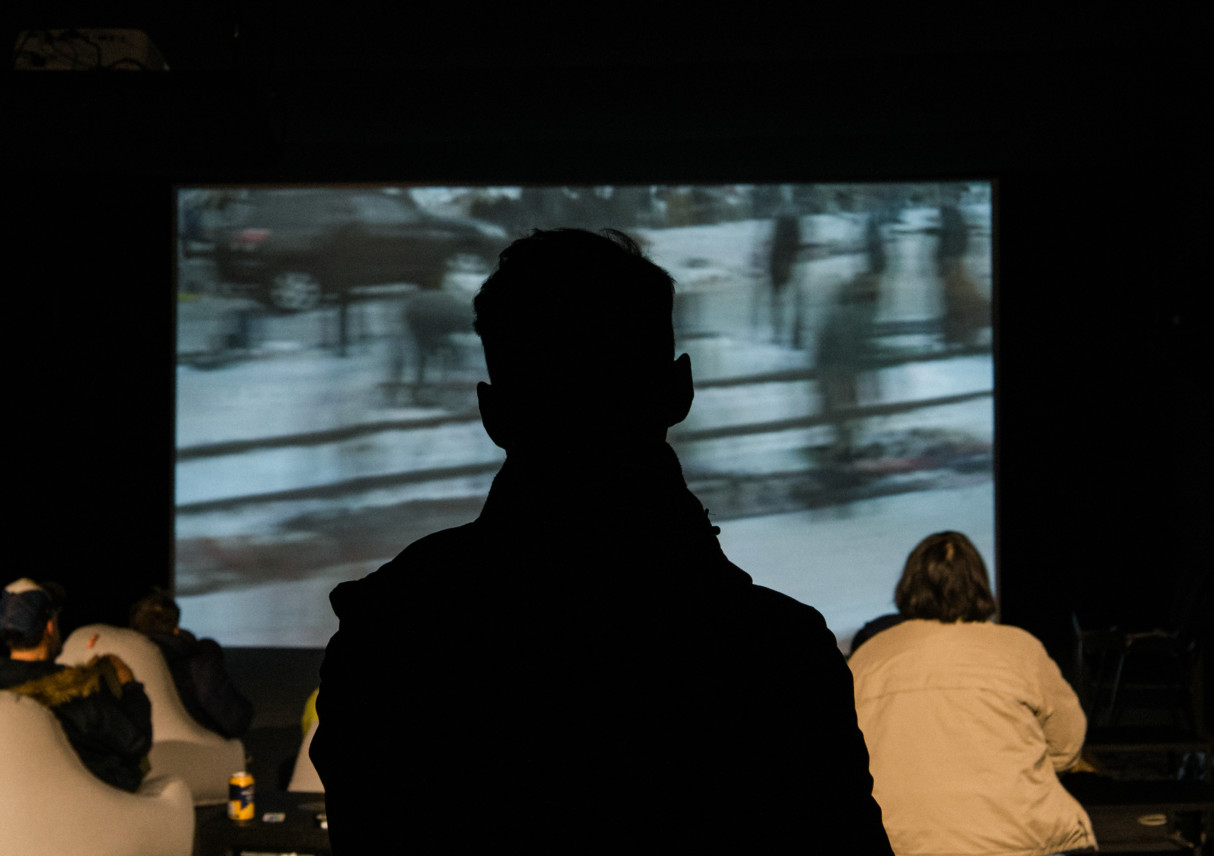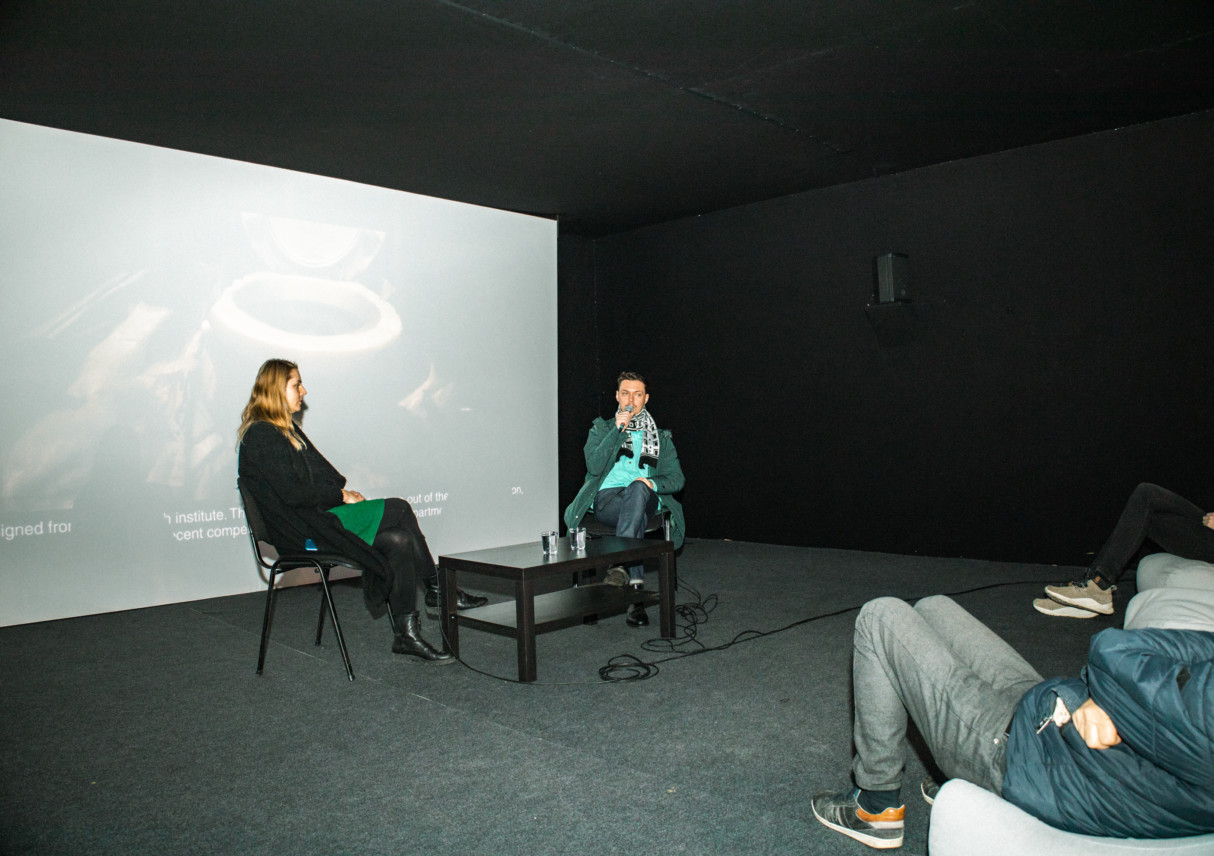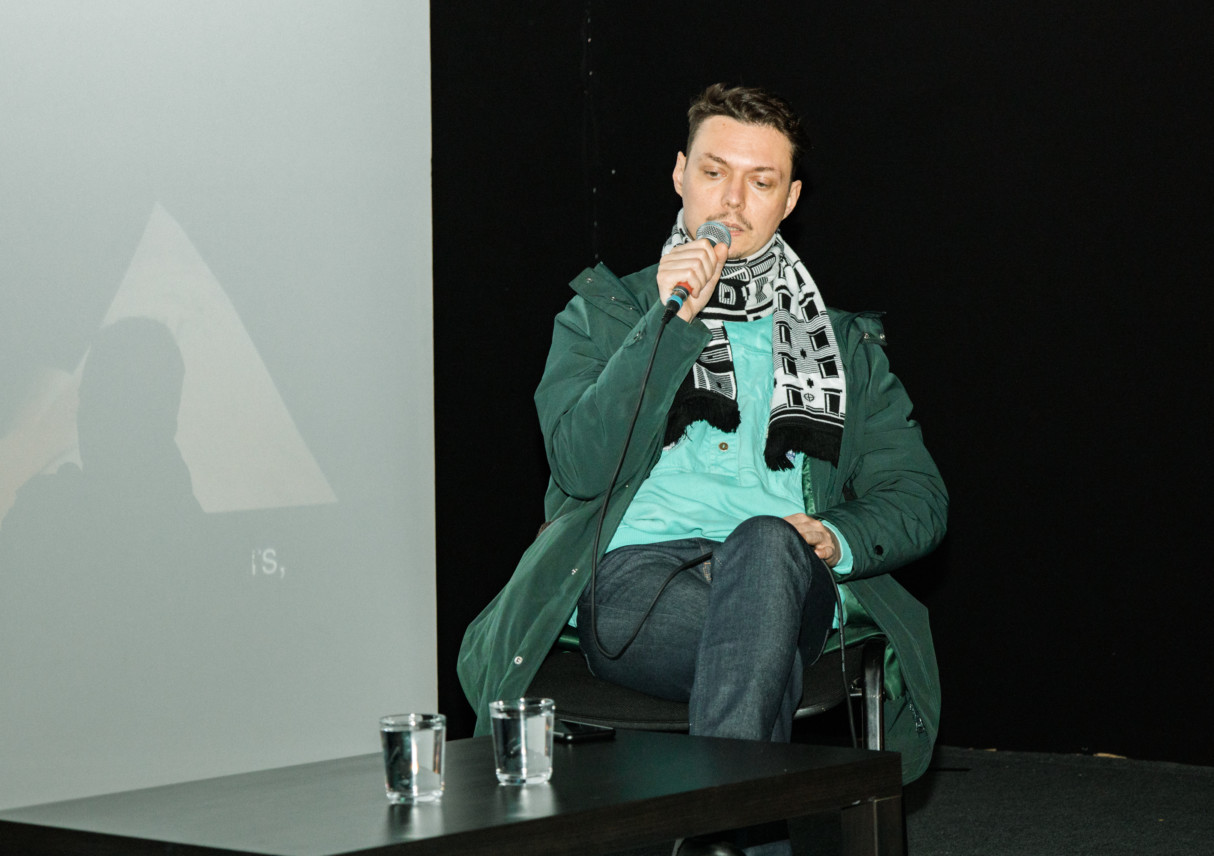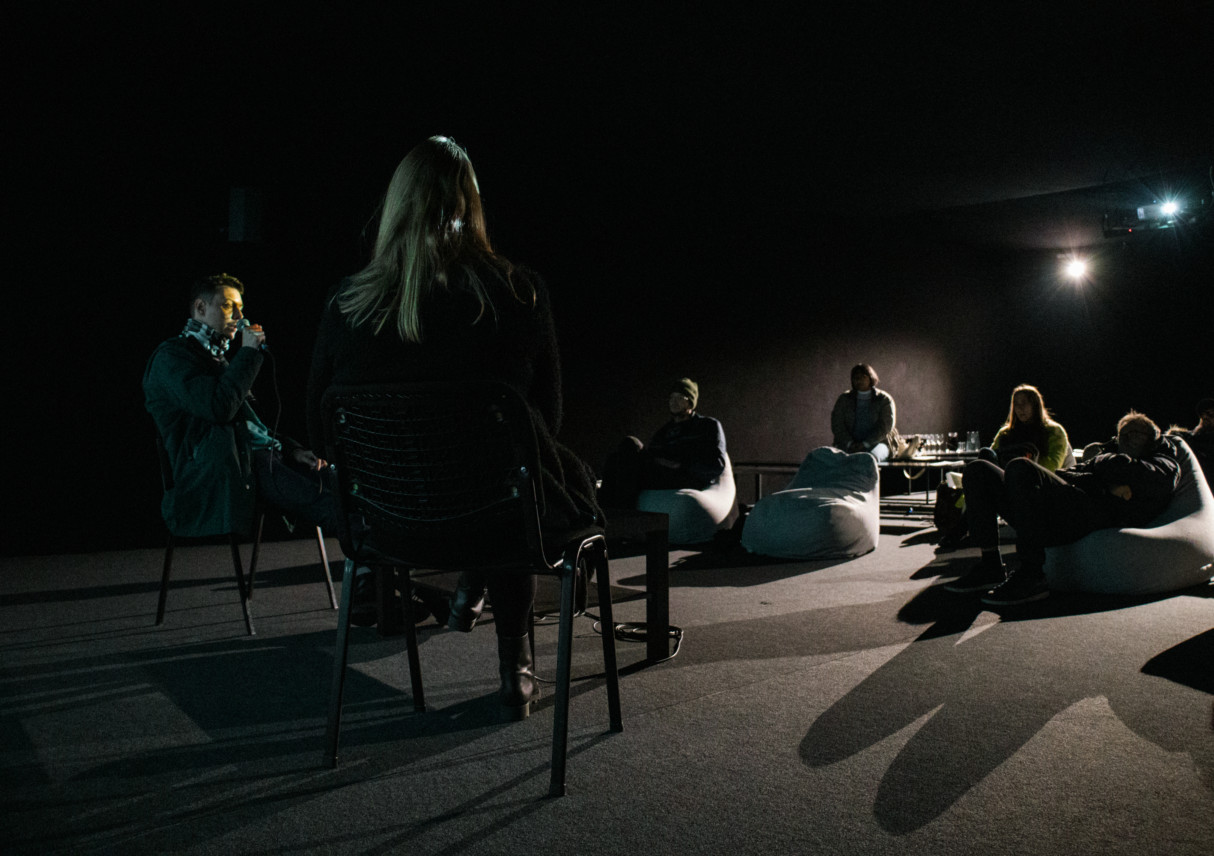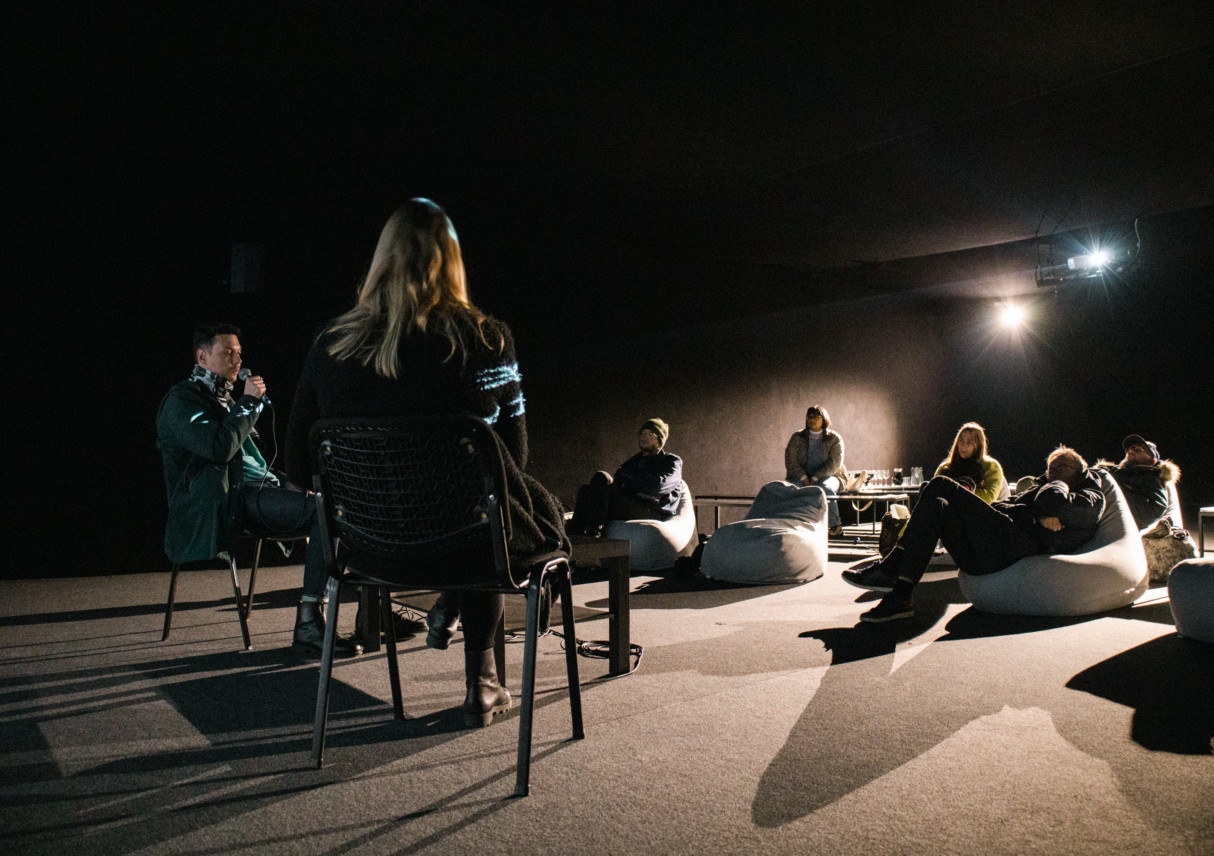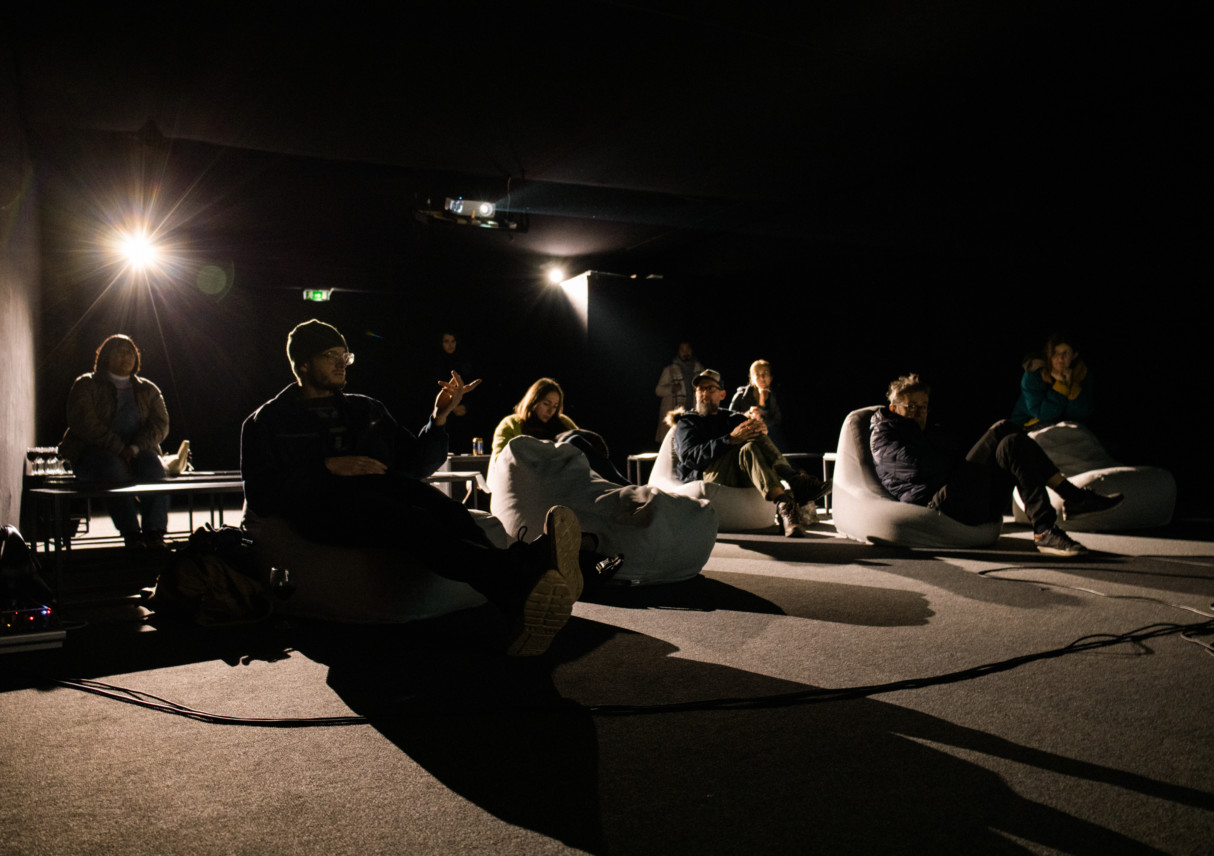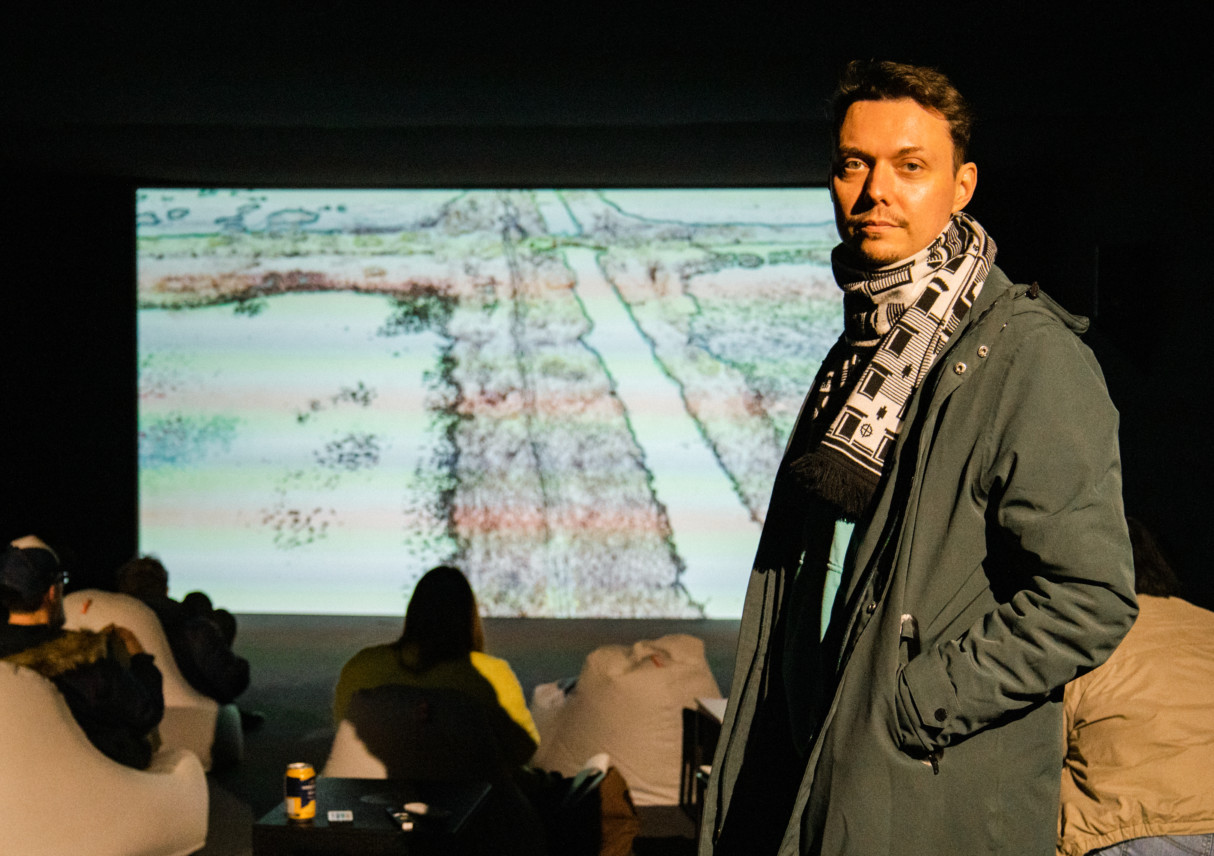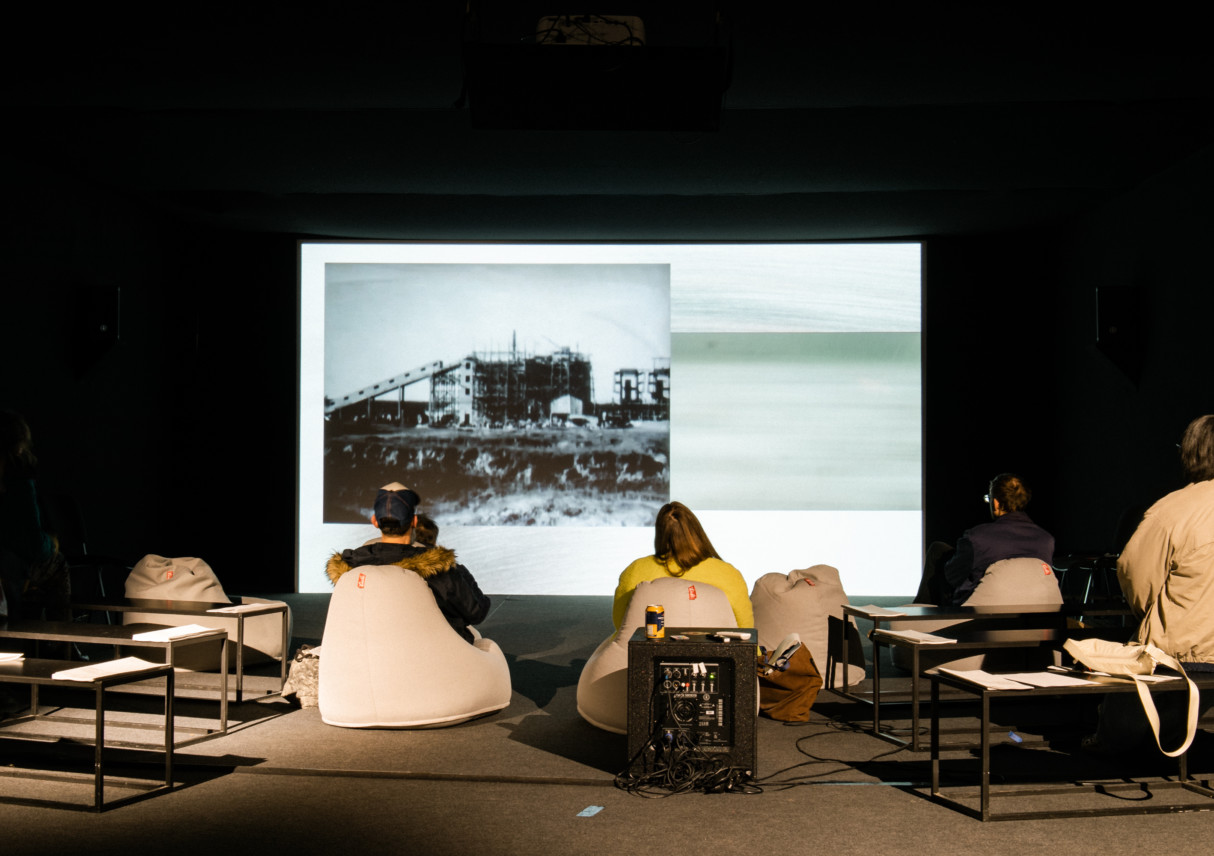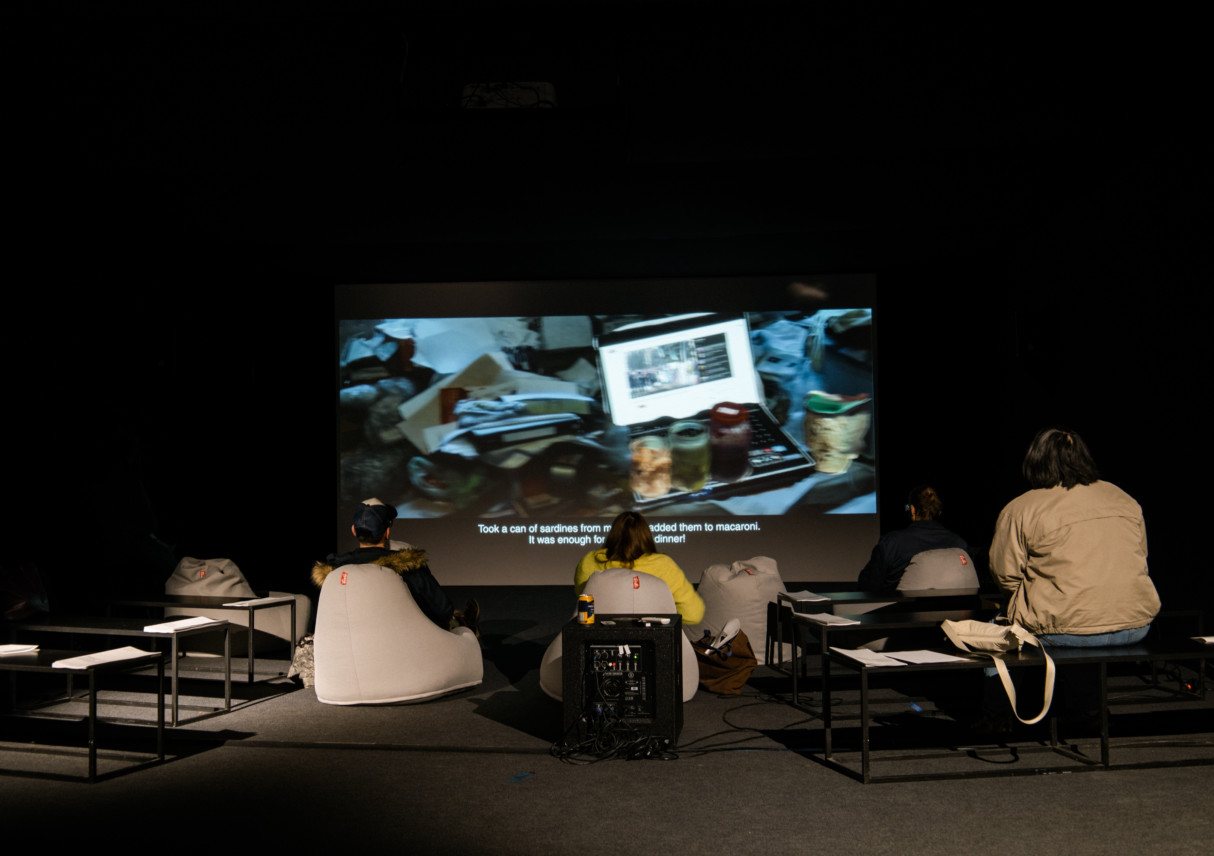 Photo: archive Kunsthalle Bratislava, ©Daniela Dolinská
Chain Reaction
6 - 12.2.2023
Curated by: Mykola Ridnyi a Alessandra Troncone
Project coordinator:
Lýdia Pribišová
6 -12.2.2023:
12.00 – 19.00 screening
29.11.2022:
18.00 discussion with curators
19.00 – 21.00 screening
---
Kunsthalle Bratislava expresses its solidarity with Ukraine, which faces the deepening consequences of the Russian war of aggression every day. We feel it as our duty to support the Ukrainian artists in the most relevant way. Therefore, the aim of presenting videos by Ukrainian artists is not only to draw attention to their indisputable artistic qualities, but most importantly to make a real contribution to improving their living conditions. Kunsthalle Bratislava has applied for the Stabilisation Fund for Culture and Education of the Goethe Institute to implement the programme, in order to provide the participating artists and curators with honoraria and thus alleviate their difficult living situation at least a little. 
The video presentation was first shown at MAXXI the National Museum of 21st Century Arts in Rome, 3-15 May 2022.
---
When we started working on this project in 2021, our objective was to present the first focus on Ukrainian contemporary art in Italy, on the occasion of the thirtieth anniversary of the independence of Ukraine (1991). A few months later, the scenario has completely changed: on 24 February 2022 the armed forces of the Russian Federation invaded the country, starting a war that in a few weeks has reached the figures of a humanitarian crisis whose wounds are under the eyes of the whole world.
In this context, Chain Reaction aims at underlining the independence of Ukrainian cultural and artistic production through the voices of some of its protagonists from the latest generation. Conceived as a fluid narrative between past, present and future, the show brings together a selection of films and videos presented in sequence as in a chain where different topics resonate and recall to each other, in a possible play of internal references that shows each work implicitly connected to the other. The sequence opens with a bird's eye view of the Zamglai reserve, one of the largest bog systems in Ukraine, and ends with the dystopian – perhaps prophetic – image of an apocalyptic scenario where human presence has disappeared. General themes emerge from this chain reaction which meet and follow the international agenda (the effects of climate change, the gender issues) but which are also intertwined with events and aspects specifically linked to the Ukrainian socio-political context: the war in the Donetsk and Luhansk regions started in 2014, the massive labor emigration to EU countries, the struggle between human rights, feminist, LGBTQIA+ movements and conservative ideologies, urban transformation, ecological issues. Starting from a more documentary-like style, the screening includes a variety of approaches to the medium that helps to provide an articulated and multi-faceted look not only on the Ukrainian video production but in general on a country that Europe feels even much closer today.
Mykola Ridnyi, Alessandra Troncone
---
Project is Funded by the Stabilisation Fund for Culture and Education by the Goethe Institut – an initiative to support cultural and educational organisations in Ukraine, Eastern and South-Eastern Europe and Central Asia affected by the impact of the Russian war against Ukraine.
Organised in collaboration with MAXXI the National Museum of 21st Century Arts in Rome and the Italian Cultural Institute in Bratislava.
Ruin Collective: Teta Tsybulnyk (Kyiv, 1987), Elias Parvulesco (Kyiv Region, 1985), Svitlana Pototska (Chernihiv, 1976), Oleksandr Teliuk (1985), Zong, 2019 
Duration: 9'17'' | Language: Ukrainian; English sub. 
Zamglai nature reserve is one of the largest bog systems in Ukraine and Its name probably derives from the Old Kurdish word zong (bog). The bog phenomenon is observed by the artists from different perspectives: as a locus of fears in the folklore of agricultural societies; as an exploited landscape in the industrial age; as a complex system of ties between different species within the posthumanist paradigm; as a natural carbon sink reducing the greenhouse effect and countering climate change. 
Oleksiy Radynsky (Kyiv, 1984), Circulation, 2020 
Duration: 11'25'' | Language: none, only sound  
Circulation presents the landscape of Kyiv captured in a perpetual loop from the viewpoint of the city's ring railway: a gaze in permanent displacement, flight or purposeless wandering. The train's circular movement suggests a society in constant transition without destination; a transition from the Communist 'never' into the Capitalist 'always,' revealing the city's decrepit post-industrial areas, its newly-built affluent housing estates, its crumbling pieces of social infrastructure and parts of its 'Westernised' city centre. 
Anna Scherbyna (Zaporizhia, 1988), Untitled (Maidan), 2013 
Duration: 7' | Language: Ukrainian; English sub. 
Video documentation made in December 2013, in which the artist walks through the crowd in Maidan Square in Kyiv, continuously repeating the slogan "Glory to Ukraine! – Glory to the heroes!" This slogan became popular during the Maidan riots. Its history is linked to the Ukrainian national liberation movements in 1919-1922 and during the Second World War. 
Uli Golub (Kharkiv, 1990), Notes from underground, 2016 
Duration: 13'23'' | Language: Russian; English sub. 
The film depicts the daily life of a character fleeing from a frustrating reality. Betrayed by human and social relations, frightened by the military unrest in the country, this man lives locked in his flat, similar to a Noah's Ark which, instead of animals, is overflowing with food supplies, all sorts of objects and personal effects. 
Piotr Armianovski (Donetsk, 1985), Sloviansk, 2014-2018 
Duration: 6′ | Language: Ukrainian, Russian; English sub. 
Slovyansk was occupied by pro-Russian "separatists" for several months in 2014. Local residents were the first in Ukraine to encounter tanks, artillery and other modern weapons. When the video was shot it was still a quiet town and, instead of soldiers, children were playing in the streets with toy-guns. The thin line between peace and war was torn when Russian troops attacked Ukraine in 2022 and Slavyansk became a strategic target again. 
Dana Kavelina (Melitopol, 1994), Mark Tulip, who spoke with flowers, 2018 
Duration: 15'13''| Language: Russian; English sub. 
Mark L. Tulip is a fictional character. He was born and raised in Luhansk. He is certain to be buried there. He has children and a granddaughter, a garden, a cat named Donbas and a dog named Malva. However, political events in Ukraine in 2014 change his way of life: his own family shatters into a thousand pieces. Mark L. Tulip wants to stay in his homeland, but when the war comes to Luhansk, he has to run away and abandon his garden forever. 
Oksana Kazmina (Yakovlevo, 1984), Intermutation, 2019  
Duration: 23'45'' | Language: Ukrainian, Russian; English sub. 
The story takes place in a second-hand shop. While choosing clothes, the female protagonists of the video converse with each other. The conversations consist of telling their dreams, snippets from children's stories, social media posts and chats, book quotes and more. Mixing real and imaginary stories about identity, morality and corporality, these women enact the ordinariness of violence that each of them has experienced or is experiencing. 
Mykola Ridnyi (Kharkiv, 1985), Temerari, 2020 
Duration: 20'21''| Language: Ukrainian, Italian; English sub. 
The film explores non-obvious connections between the cultural and political phenomena of Italy and Ukraine through collage narration. In an unpredictable way, fans of Italian Futurism and Fascism have appeared in the Ukrainian far-right community. At the same time, conservative ideas are spreading in Italy and throughout Europe. This situation has its own heroes, both good and bad, including Ukrainian soldier Vitaliy Markiv, far-right publisher Iron Dad, former Italian Deputy Prime Minister Matteo Salvini, a group of proRussian recruits for the war in the Donbas and others. 
Zoia Laktionova (Mariupol, 1984), Diorama, 2018 
Duration: 11'29'' | Language: Ukrainian, Russian; English sub. 
Daily life flows peacefully in Mariupol when suddenly something elusive changes its course. All that remains is to plunge into memory where everything is preserved, as in a museum. The story of a deserted Ukrainian beach, currently mined and dangerous due to explosives hidden underwater. The images of this post-apocalyptic landscape are accompanied by a voice-over, the personal memories of locals and expert opinions. 
Daniil Revkovskyi (Kharkiv, 1993), Andriy Rachinsky (Kharkiv, 1990), Clanking, Hammering, Dispute and Gurgling, 2021 
Duration: 9′ 23" | Language: none, only sound 
The video is part of the multimedia project by the artists titled Tailings Dam which takes the form of a Museum of Human Civilisation. It is founded in a future time following the extinction of human beings and is dedicated to the future archaeology of Kryvyi Rih, a large industrial city in Ukraine. It is assumed that humans extracted minerals and metals from the earth and, after an enrichment process, dumped untreated waste on the ground. In doing so, human civilisation permanently changed the landscape of the world. Two survivors (played by the artists themselves) are depicted as dehumanised figures who only know how to use the language of gestures and express primitive emotions.