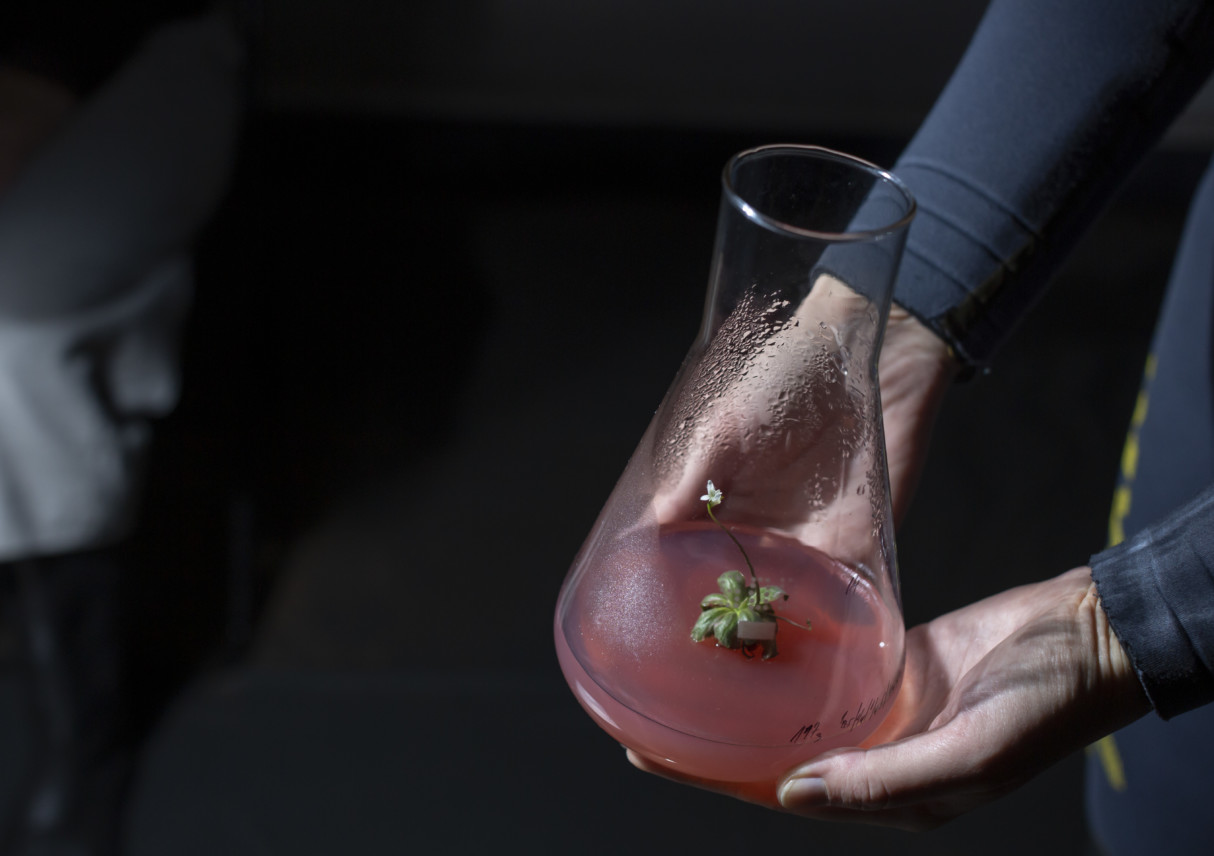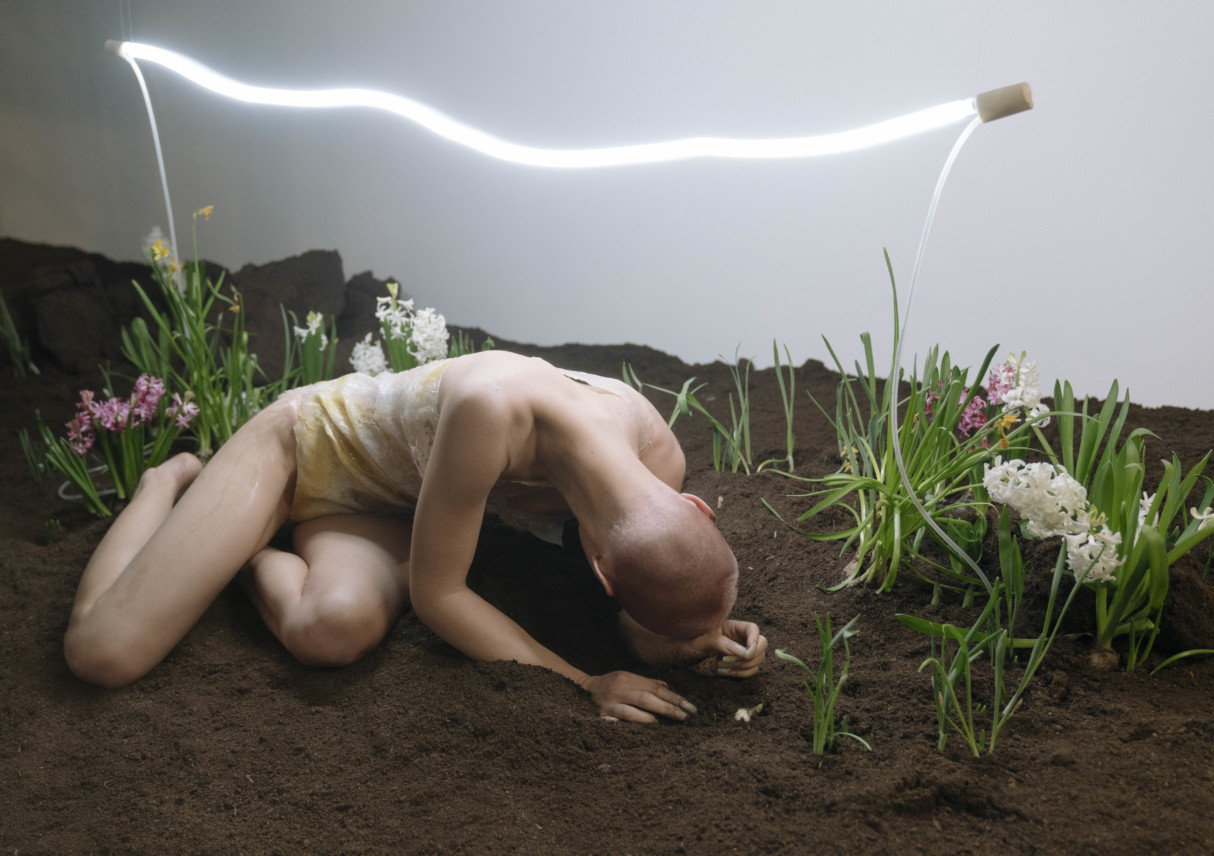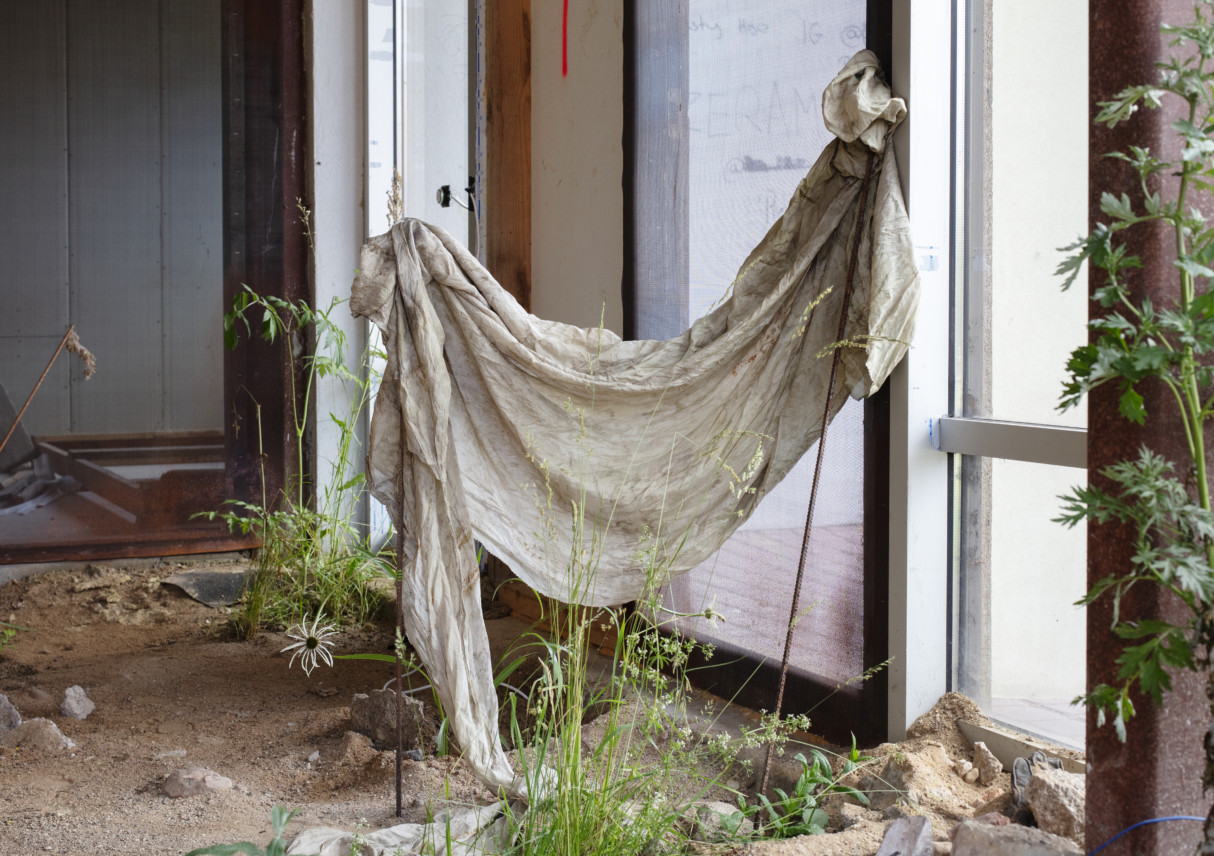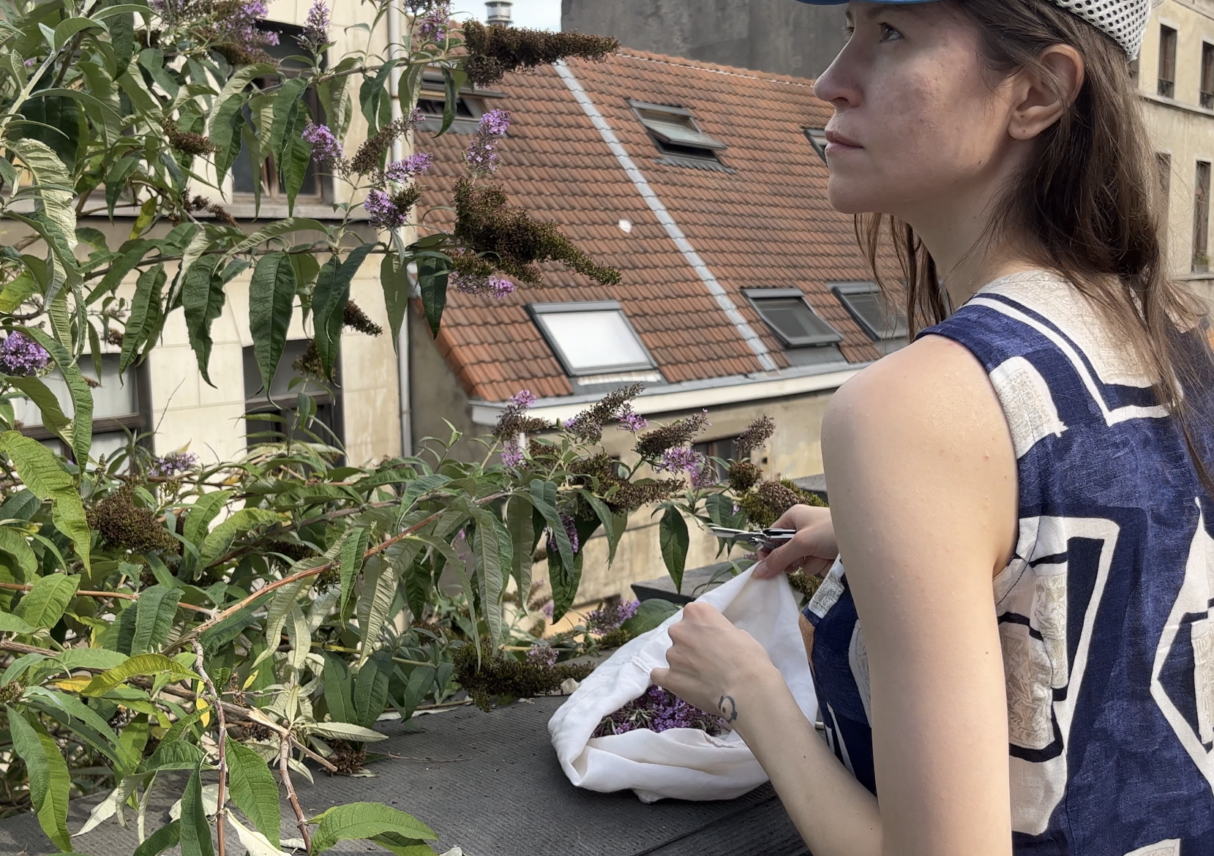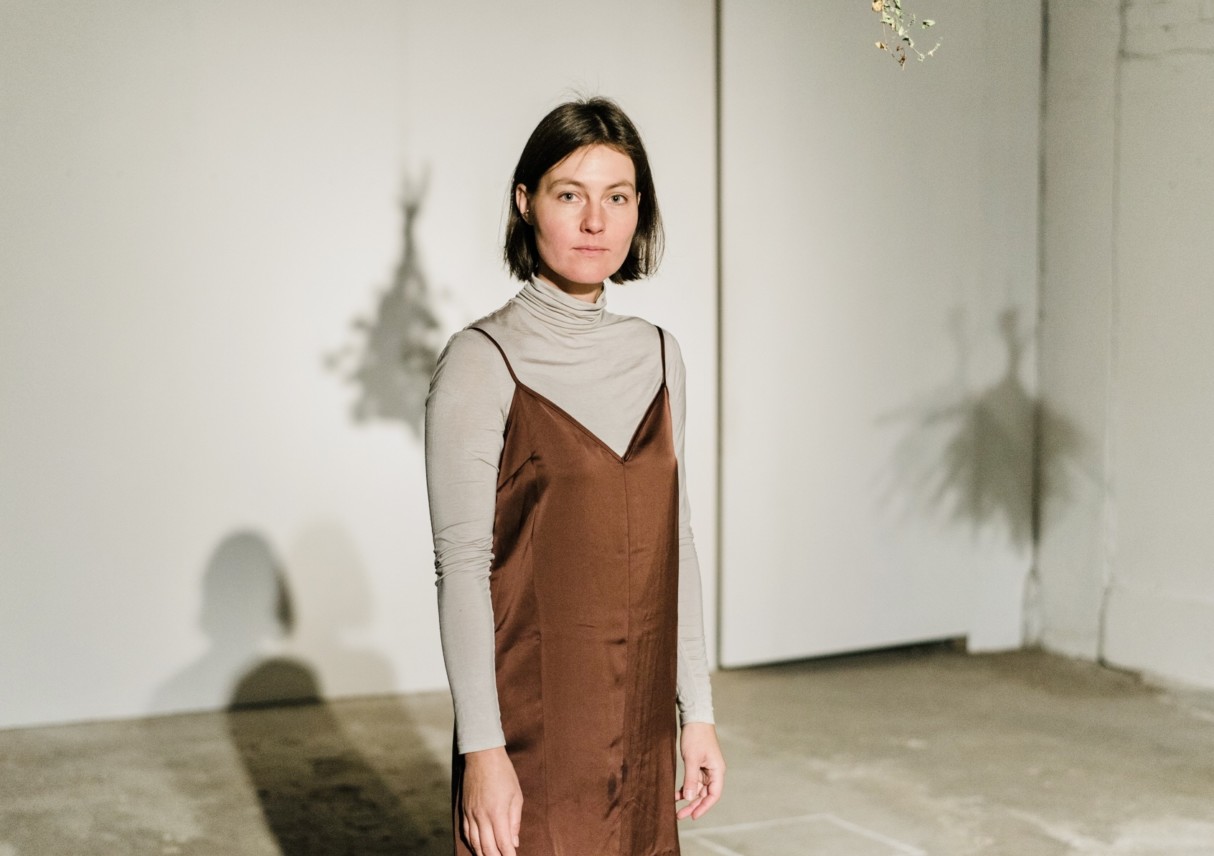 Linda Boļšakova, Costume for installation / performance, 'Biology of Love,' 2021. Non-violent silk dyed with stinging nettle; rope from recycled plastic and stinging nettle; Sandra Kosorotova, Off Spring. Installation and performance. Alma Gallery, 2019. Photo by Toms Harjo; Sandra Kosorotova, Living Memory. Multisensory experience for one person. Part of the cycle of events "Ecosystems of Change", Latvian Centre for Contemporary Art, curated by Ieva Astahovska, 2021. Photo by Didzis Grodzs.
Weeds & Seeds. Linda Boļšakova a Sandra Kosorotova
23.09.2022 17h
Moderated by Lýdia Pribišová
Artists Linda Boļšakova and Sandra Kosorotova are preparing new projects for 2023 under the curatorial guidance of Inga Lāce within the framework of Lýdia Pribišová's A Plant programme at Kunsthalle Bratislava. In September 2022, the artists are in Bratislava for a research stay, looking for suitable locations and familiarising themselves with the urban greenery in Bratislava. During their stay, they will present their artistic programmes and interests in the public artists talk in dialogue with Lydia Pribišová.
Latvian artist Linda Boļšakova explores the relationship between humans and the environment, drawing parallels between humans and other living organisms, especially plants. By exposing these connections, she aims to develop a stronger sense of belonging to ecosystems and to the larger communities inhabiting our planet. Bolšakova's work is interdisciplinary, focusing primarily on installation and performance. She has collaborated with leading scientists from the National Botanical Garden and the Institute for Environmental Solutions in Latvia, as well as the Orchid and Biodiversity Conservation Association in Antalya. She has collaborated with scientists, composers, web developers and artists on the Semina futuri: placeholder for future coexistence series of projects. Recently, she has collected seed stories in the urban gardens of Sporta Pils, revealing the semantics of people and plants, their relationships and connections. Her solo exhibitions include Intimacies of strangers at ISSP, New York and Off Spring at ALMA Gallery, Riga. She has participated in the performance festivals  Starptelpa and No New Idols, as well as numerous other solo and group exhibitions in Scotland, Turkey and Latvia. She has participated in residencies including the VV Foundation's PAiR programme in Pávilosta, Latvia and Zengarden, the main temple of the Swedish Zen Buddhist Society, as well as the Scottish Sculpture Workshop.
Sandra Kosorotova is an Estonian artist working at the intersection of art, design and community service. Sandra has often worked with textiles, text and plants, using surplus biodegradable materials to make art objects that frequently have a practical application: can be worn, consumed as food or medicine. Kosorotova has been working with different types of weeds for several years, researching their medicinal and nutritional properties, using them, for example, to make teas or textile dyes. She is currently working on a short film that deals with themes of plant and human migration and the often-problematic considerations of contamination/purity, nativity/invasiveness that weeds often bring to our attention. In 2020 she established an open garden at the Narva Artist Residency in Narva, Estonia, which she is currently co-running in collaboration with artist Sille Kima. Her work has recently been exhibited at institutions such as PUBLICS Helsinki, Kim? Contemporary Art Center (Riga), Kumu Art Museum (Tallinn), Estonian Museum of Contemporary Art, Tallinn Art Hall, Estonian Mining Museum, Institute for Environmental Solutions, Latvia (2021); Kunsthaus Erfurt, Narva Museum, Estonia (2020); Tallinn Photomonth, Gallery 427, Riga (2019); and at the first International Biennial of Contemporary Art, Riga (2018). She is currently on an artist residency at WIELS, Brussels.
---
Academy of Fine Arts, Hviezdoslavovo námestie 18, Bratislava, room 135