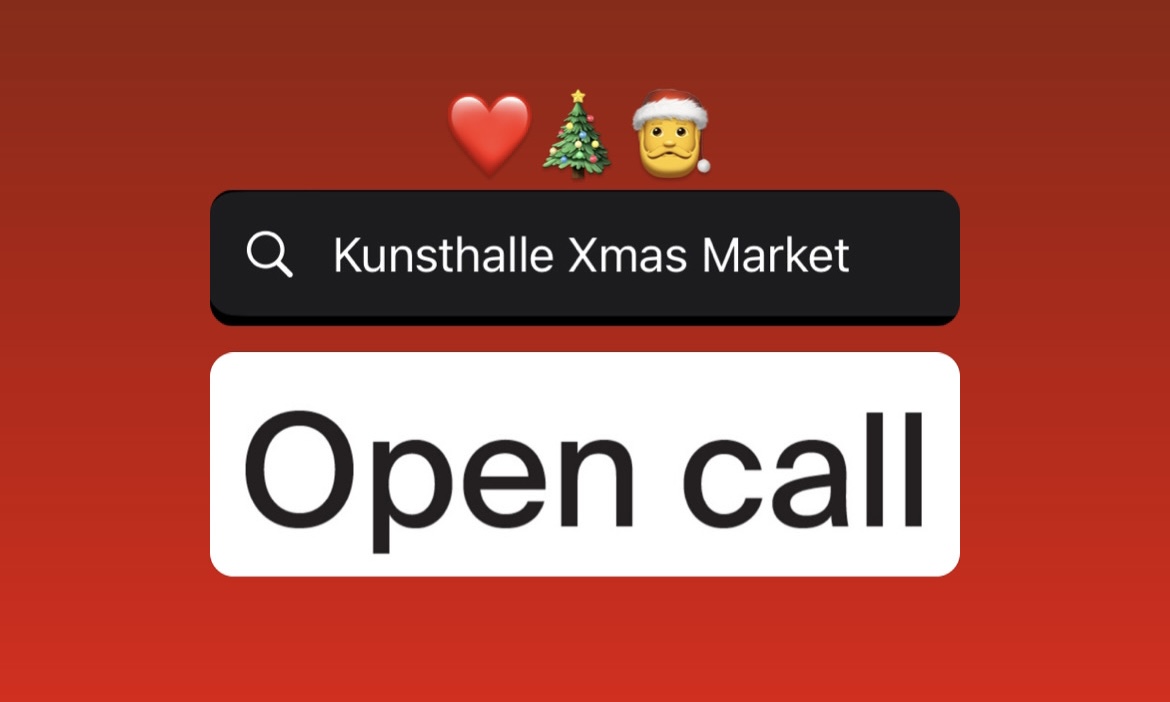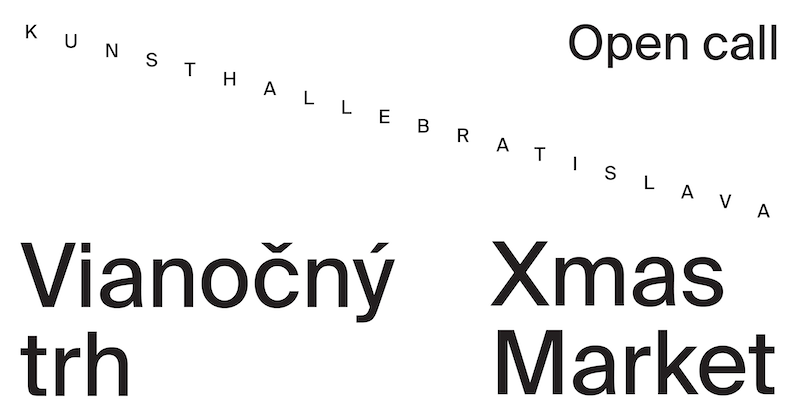 OPEN CALL: Xmas Market
Deadline:
Kunsthalle Bratislava would like to invite you to submit your works for the upcoming Xmas Market, which will take place on Sunday, December 18th, 2022 in our main exhibition space, A Hall. At the Xmas Market you will have the opportunity to showcase and sell your work among other local artists, designers and creatives.
Christmas is a time for giving and we hope this initiative will help support local artists and designers. The event will be an opportunity to introduce your practice to a wider audience and establish a direct relationship with admirers/supporters of your work.
To whom is this open call addressed?
This call is for creators, artists and designers who would like to sell their creations and works at the Xmas Market at Kunsthalle Bratislava. A variety of techniques, objects and items are welcome, such as: drawings, paintings, prints, sculptures, ceramics, textiles, jewellery, sound, music, video, books, zines, text works, concert or theatre tickets and more.
Both students and professional artists can apply. You (individual or group) are required to be the author(s) of the works presented – the Xmas Market is not intended for the resale or exchange of used or vintage goods.
How to express your interest and register?
To express your interest in participating in the Xmas market, please email us at jelisaveta.rapaic@kunsthallebratislava.sk with the subject 'Xmas Market Open call', no later than 08.12.2022
Your application should consist of a single PDF file (which shouldn't exceed 20Mb, nor contain any links that expire) and must contain the following information:
 

Personal details including your name, contact number and a link to your website, social media or other platforms where we can see your work.

 

A short professional biography (150-300 words)

 

Images of the artworks you would like to sell at the market (must include basic information: technique, dimensions, etc.)

 

You should indicate whether your works need a special presentation, whether you are able to attend the Christmas Market in person, and whether you can organise the transport of the works yourself (or suggest an alternative method of transport).

 

As a separate PDF file, we encourage you to share your portfolio with us so we can become familiar with your work, but this is not mandatory.
Further information:
Registration and participation are free. All profits from the sale are yours to keep. You regulate and determine the prices of your works. Neither Kunsthalle Bratislava nor any other third party will take any commission from the sales you make.
The Xmas Market will be open to the general public, but invitations will also be extended to collectors, gallerists, curators and other cultural workers; artists are therefore advised to keep this in mind when preparing their selection.
Kunsthalle Bratislava will take care of the arrangement and preparation of the space for this event, depending on the number of applicants and the nature of the presented works. In the event that we receive more applications that the capacity of the space allows, our team will curate the final selection of the presenting artists.
The Xmas Market will be sharing space with our current exhibition, You and Me, by Paul Maheke in the exhibition space A Hall.
If you have any further questions, please do not hesitate to contact our Public Program Curator: jelisaveta.rapaic@kunsthallebratislava.sk 
We wish you a blissful kick start to the holiday season and we are looking forward to hearing from you.