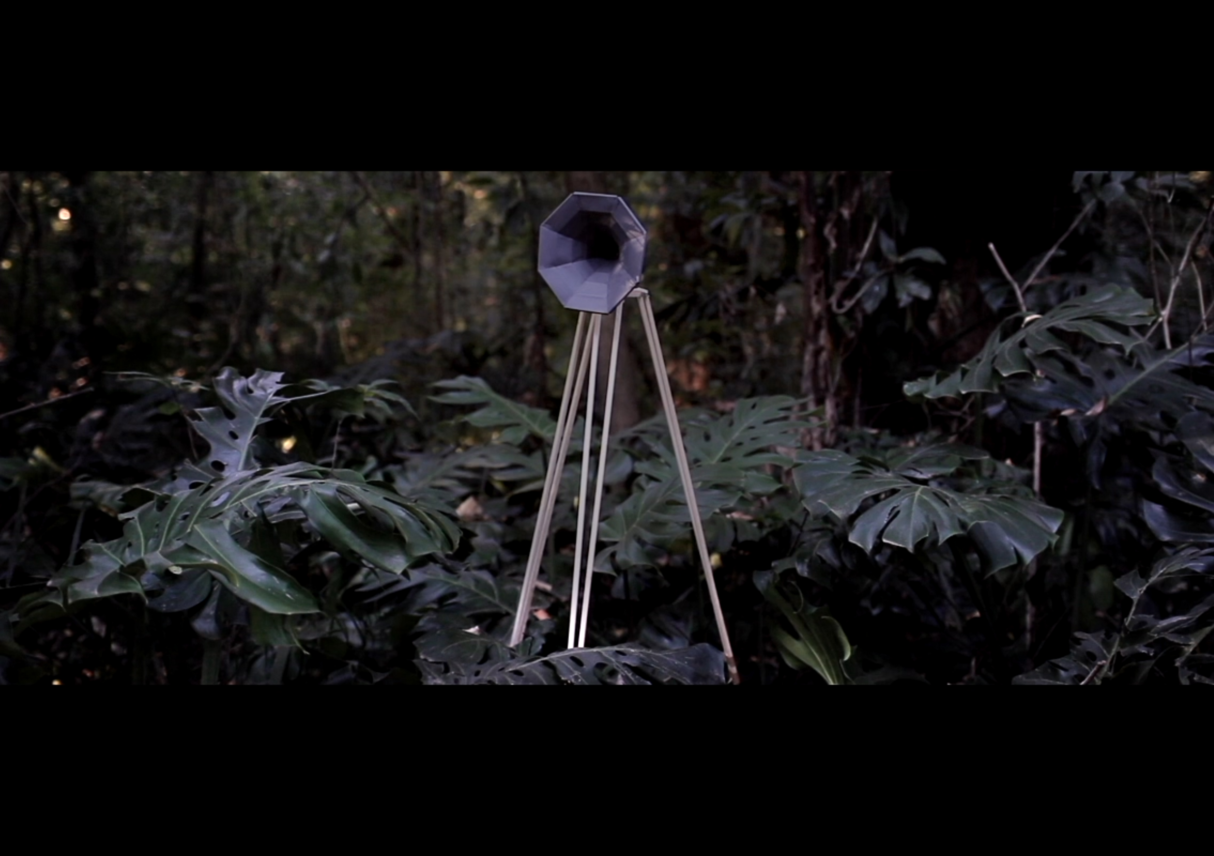 The Sound of Scape
15-16.6.2023
Curated by: Collective Rewilding
Location: Prüger-Wallner Garden
Organized by Collective Rewilding the Sound of Scape gathers a series of experiments that propose new approaches to planetary thinking. The program highlights the importance of listening and attuning to the sounds of the earth in order to better understand and appreciate the delicate balance of our planet. The exhibition features four international artists: Pedro Hurpia (Brazil), Nicole L'Huillier (Chile), Ludovic Landolt (France), and Davor Sanvincenti (Croatia), all of whom create immersive soundscapes. These artists create immersive soundscapes that by encouraging deep listening elicit interesting new responses to the multiplicity of forms of life that make us.
The artists in Sound of Scape highlight the importance of listening and attuning to the sounds of the earth. Attunement is an indigenous concept of deep listening that refers to a way of being in the world that is grounded in a deep connection to nature and the environment. In indigenous cultures around the world, attunement is seen as a fundamental aspect of spiritual and ecological awareness, and is often practiced through rituals and ceremonies that help individuals to connect more deeply with the natural world. For this exhibition, however, we follow Anna Tsing's concept of attunement as the "attempts to get to know, through alignment, how others express themselves in the world."[1] Especially as she points out, we must expand our forms of listening, defying the need to subject the worlds that surround us to western forms of expressions and communication.
The idea of deep listening was also developed by composer and musician Pauline Oliveros. According to Oliveros, attunement involves paying close attention to sounds and vibrations in the environment in order to develop a heightened sense of awareness and connection with the world around us.[2]
This practice is often associated with planetary thinking, which seeks other paradigms of engagement in order to repair and honor our relationship to the human and non-human worlds that surround us. In this exhibition, we showcase instruments that function in collaboration with the natural elements. We have ritual performances by Nicole L'Huillier who will be activating her electronic seed as well as Ludovic Landolt who is working on tree logs; both offering an opportunity to experience the unanticipated sounds of organic and inorganic matter. These works will be featured alongside a concert by Davor Sanvincenti, which presents a sound testimonial of primeval nature and human presence. Finally there is the video work Hummmmm by Pedro Hurpia, which captures a natural sound phenomenon that has been perceived by many around the world. Through these video and sound performances we hope to cultivate a deeper understanding of the interconnectedness of all living things and the natural world. By listening to the sounds of nature and paying attention to the rhythms and patterns of the environment, artists invite visitors to develop a greater sense of entanglement, becoming, and accountability towards all earthlings.
---
[1] Anna Lowenhaupt Tsing, "Attunement: Form in motion," in Symbionts: Contemporary Artists and the Biosphere," eds. Caroline A. Jones, Natalie Bell, Selby Nimrod (Boston, MA: MIT Press, 2022), 87
[2] Pauline Oliveros, Deep Listening: A Composer's Sound Practice (Lincoln: iUniverse, 2005), 5.
Artists: Pedro Hurpia / Nicole L'Huillier / Ludovic Landolt / Davor Sanvincenti
Prüger-Wallner Garden, Nekrasovova 1, 811 04, Bratislava
---
Programme:
Language: English
15.06. Thursday 17.00-22.30 
17.00 Welcome speech and introduction of the program
17:30-18:30 Talk in response to Pedro Hurpia's THE HUMMMM with Miloš Vojtěchovský and Collective Rewilding
17:00-22:30 Pedro Hurpia, THE HUMMMM, 2020, video
17:00-22:30 Ludovic Landolt, My log has something to tell you (Invocation), on site sound sculpture, protocol-based electroacoustic composition, variable size, log (local essence), transducer
19:30-20:30 Participative burial ritual Semilla with Nicole L'Huiller
21:00-22:30 Artist Talk Nicole L'Hullier with Sara Garzón
16.06. Friday 17.00-22.30
17:00-22:30 Pedro Hurpia, THE HUMMMM, 2020, video
17:00-22:30 Ludovic Landolt, My log has something to tell you (Invocation), on site sound sculpture, protocol-based electroacoustic composition, variable size, log (local essence), transducer
17:30-18:30 Ludovic Landolt: Artist video presentation with Sabina Oroshi
21:30-22:30 The multi-channel composition This Forest Doesn't Exist Anymore Davor Sanvincenti, intro with Sabina Oroshi