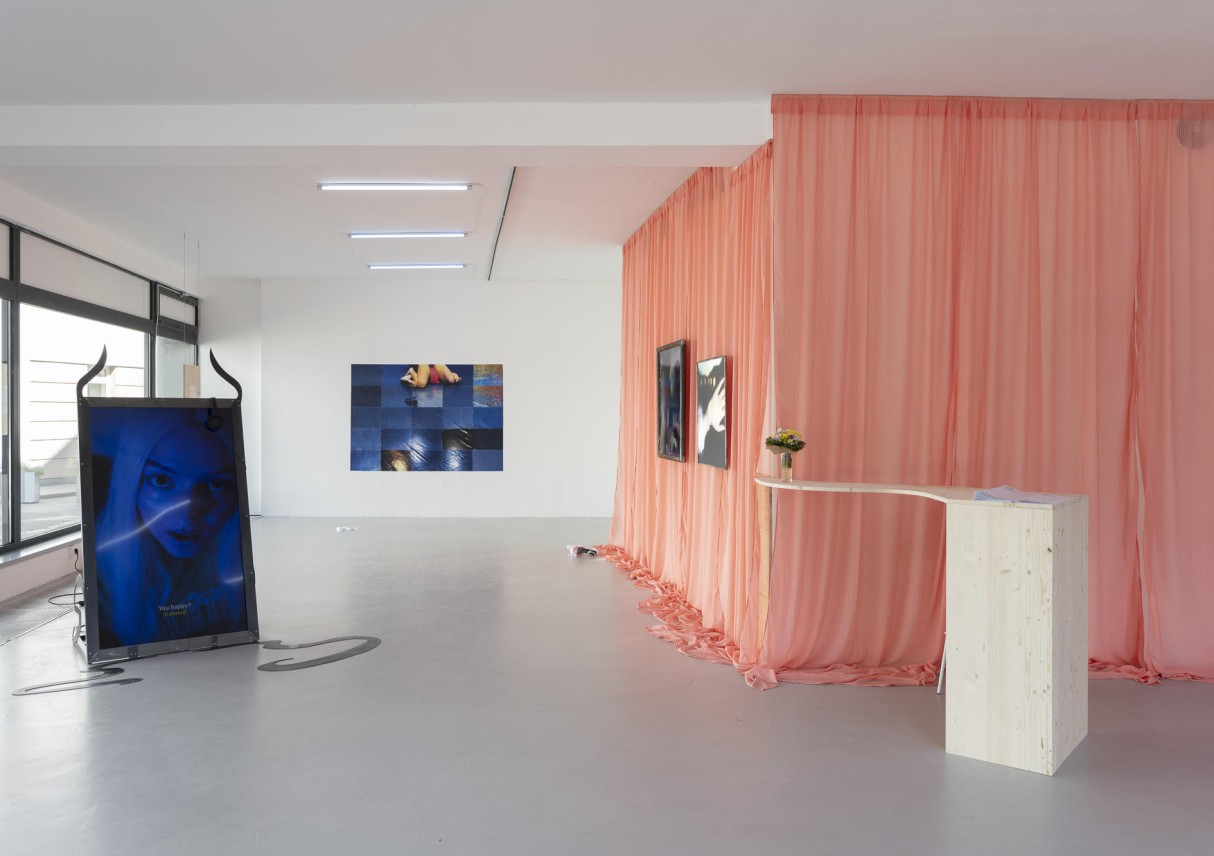 The rotten smell is you closing event: Guided tour, Performance, Discussion
15.10. 2023, 18:00h
Curated by: Jelisaveta Rapaić
A moment in time, a few years back, circa 2017, all the women around me started pursuing either boxing or pole dance; consciously or not, those choices were political – emancipating and, as most of them describe, liberating. Speaking from today's perspective as we are closing the exhibition The rotten smell is you, and this moment in time might have been the softest and most effortless entry of the fourth wave discourse into the mainstream. We can't say that these topics penetrated all the hermetic bubbles with this movement, but they did saturate it.
In the spirit of saturating thoughts, small movements, and temporary farewells, we gather once again around the imaginary table in the feminist household with a few additions, to unpack what might have been left unsaid.
We cordially invite you for an evening of closing events accompanying the exhibition The rotten smell is you on Sunday 15th of October at 18h in A Window at the Kunsthalle Bratislava and Rómerov dom (Zámočnícka 10). The evening will start with a guided tour led by the exhibition's curator Jelisaveta Rapaić at 18h, followed by a performance entitled Pole Dance, a performative lecture… by Aja Janković at 19h, and a discussion starting at 19:15h with Nikola Balberčáková, Markéta Garai, Sophia Giovannitti, Paula Gogola, Dominika Jašeková (Odyseus) & Pennie Key reflecting on the topics of sex work, art, boxing, transness, pole dancing, hyperfeminity and many more…
18h (A Window)
Guided tour with the exhibition's curator Jelisaveta Rapaić
The rotten smell is you is you (6. 9. – 16. 10. 2023) is curated by Jelisaveta Rapaić and houses works from the following artists: Nikola Balberčáková / Markéta Garai / Sophia Giovannitti / Paula Gogola / Đejmi Hadrović / Pennie Key / Anastasija Pavić / Camille Soulat
19h (A Window)
Performance: Pole Dance a performative lecture by Aja Janković
Aja Jankovic's performance combines pole dance and a concise lecture, creating a fusion of movement and theoretical discourse, or rather, drawing attention to the lack of it. Combining a sexualised turned athletic discipline with the voices of renowned fathers of contemporary art and cultural theory, she challenges the viewer to contemplate the dynamic interplay between physical expression, art theory, and societal norms.
19:15h (Rómerov dom, Zámočnícka 10, Bratislava)
Discussion with Nikola Balberčáková, Markéta Garai, Paula Gogola, Dominika Jašeková (Odyseus) & Pennie Key
Dominika Jašeková is the director of the oldest harm-reduction organization in Slovakia, Odyseus, that works with sex workers, people who use drugs, and youth experimenting with drugs. Dominika studied psychology in Bratislava and Krakow and represents Odyseus in several expert working groups, nationally and internationally. Narcotics users and those engaging in sex work are still strongly stigmatised in Slovakia, therefore breaking down the prejudices and improving the living conditions of these communities is something that she strives to accomplish every day. Her work and life philosophy is based on harm-reduction, dignity, respect, and acceptance.
Aja Janković is an interdisciplinary artist from Belgrade, Serbia, her practice delves into the realm of institutional art critique, often speaking directly to the audience through text and audio, utilizing irony to engage and provoke thought.