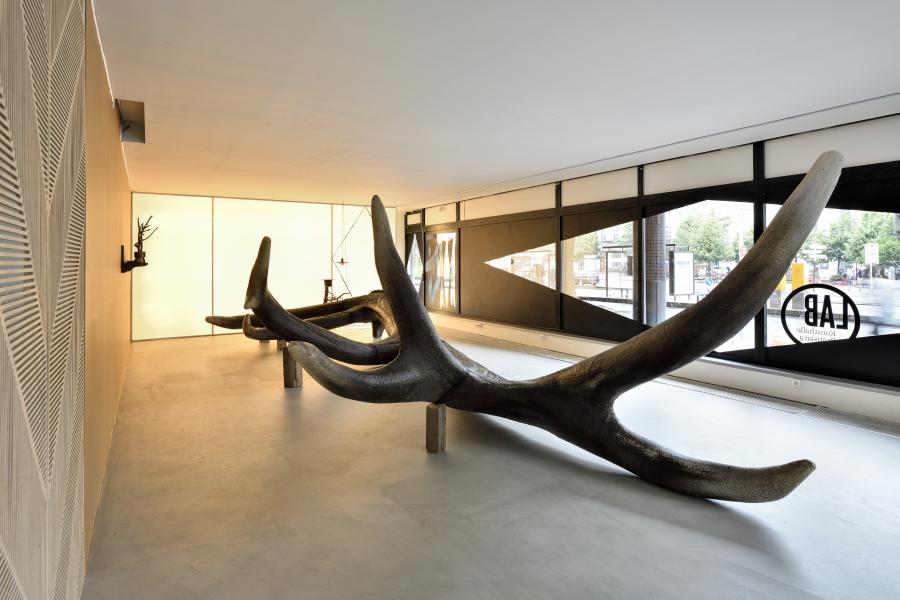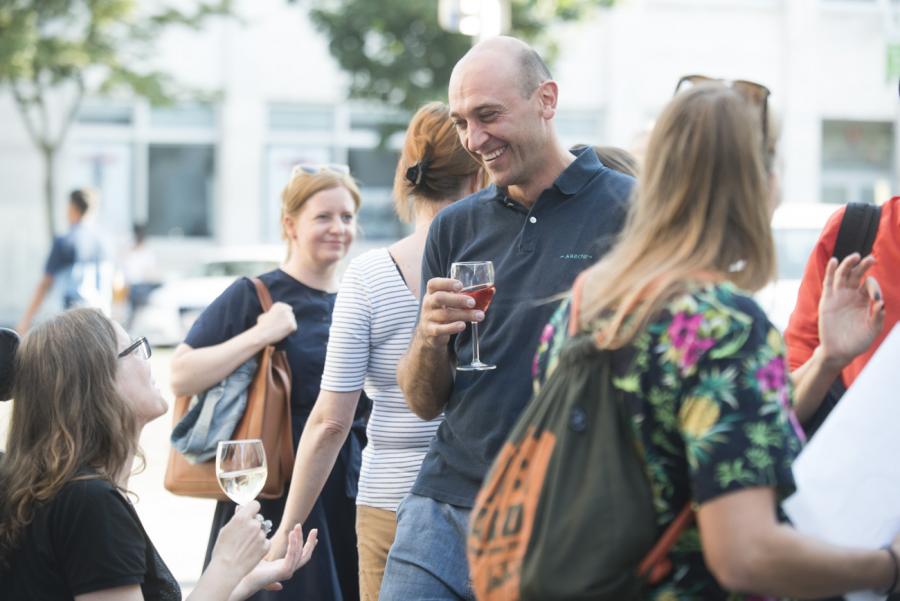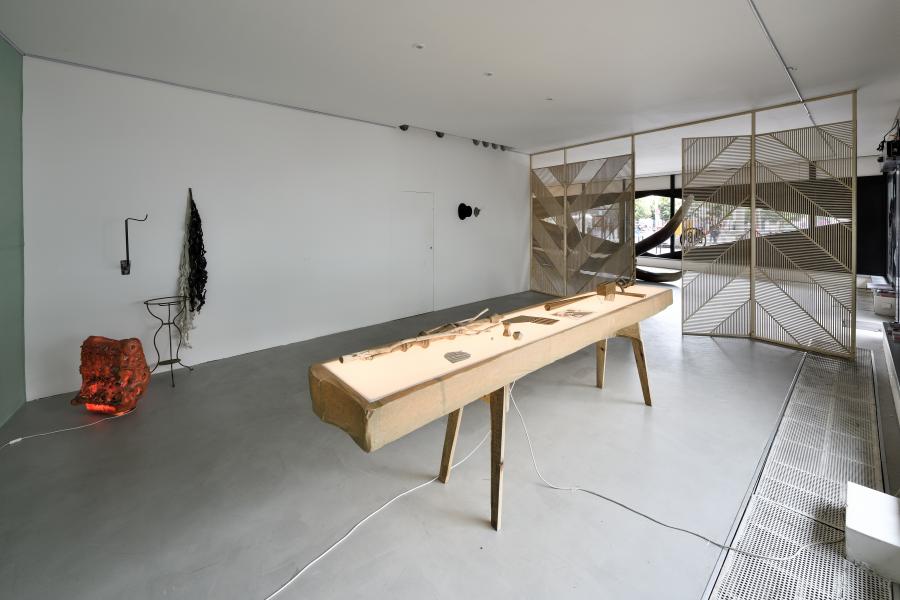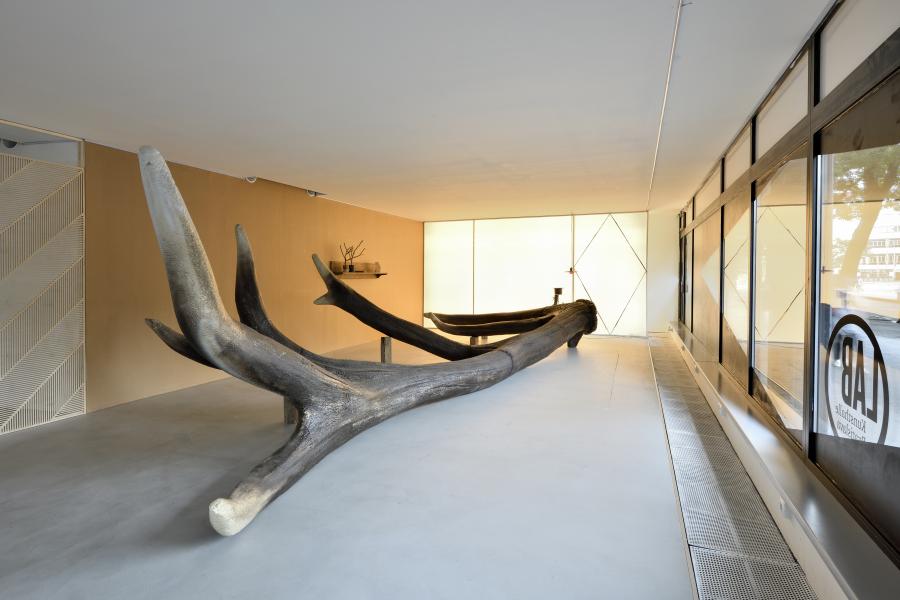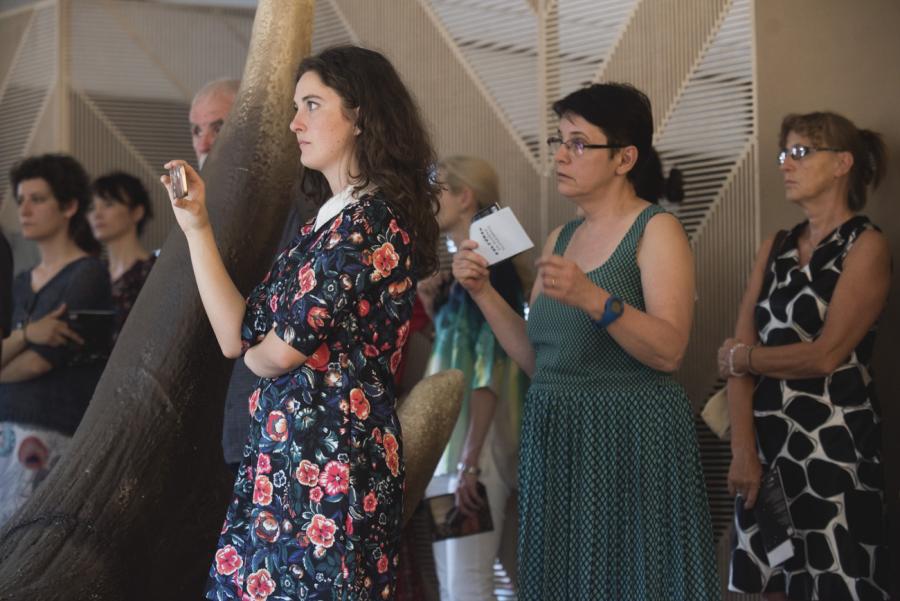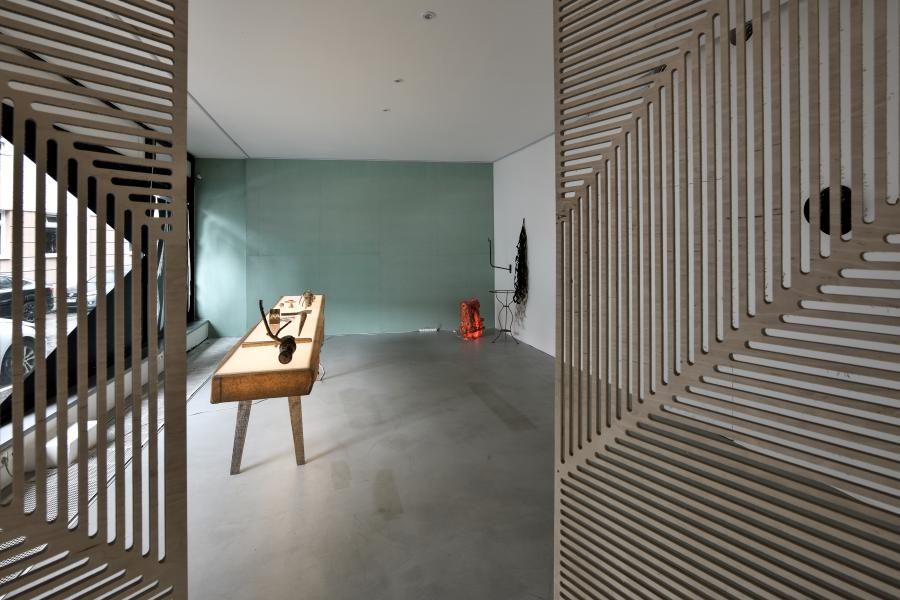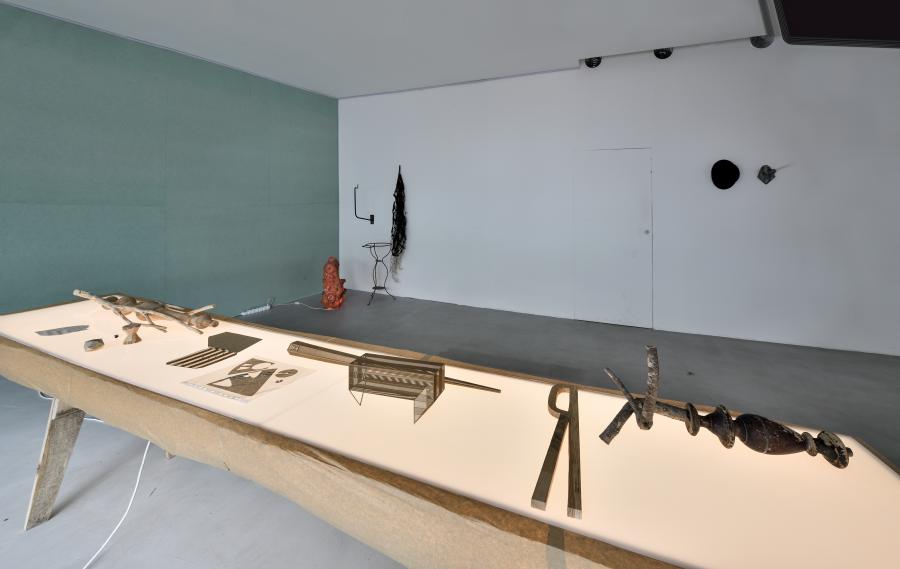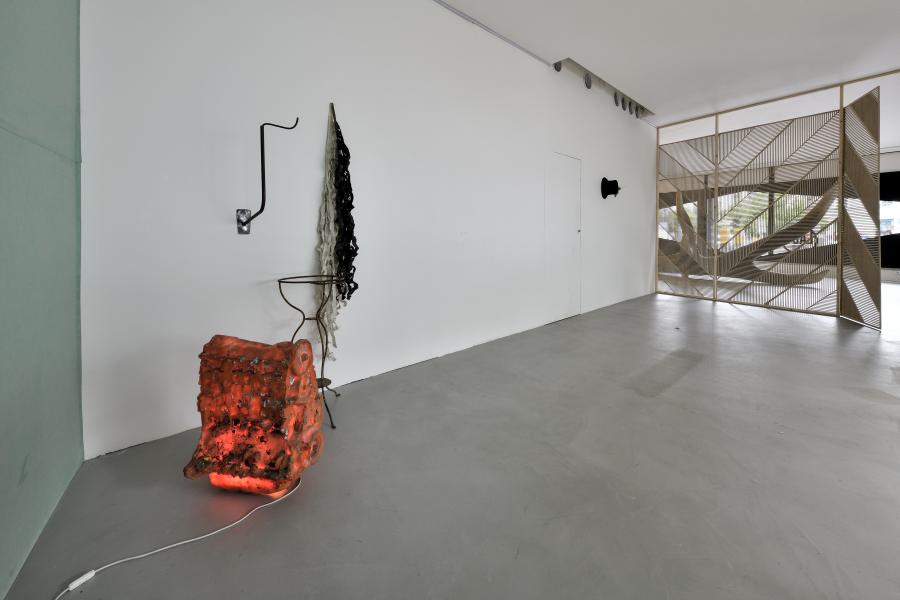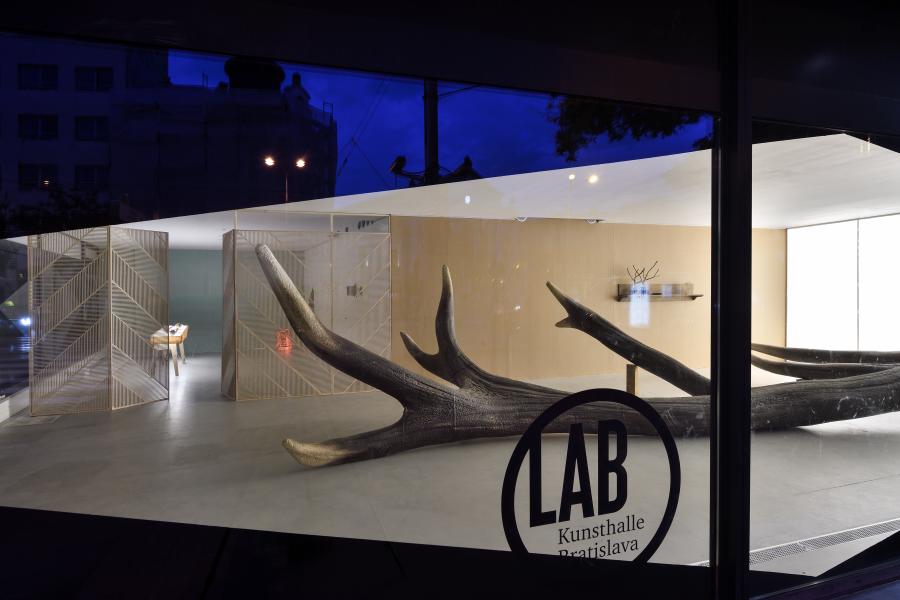 Photo © archive KHB / Martin Marenčin
The Fog
Žilvinas Landzbergas
05.07. - 01.09. 2019
Kurátorka Lýdia Pribišová
Opening
04.07. 2019, 18:00/20:00
Contribution Voluntary fee
Fog in a transferred sense means the concealment of meaning. Fogging is making unclear. Fog is invisible water, an element linking sky and earth. In the western world rationality rules and everything must be scientifically proven, tangible; only then does it exist. The Lithuanian artist Žilvinas Landzbergas, by contrast, focuses on contact with the invisible. He wants to tell stories non-verbally, holistically.
In Kunsthalle LAB the artist presents a site-specific installation consisting of heterogeneous natural and artificial elements. He uses diverse materials which refer to multilayered contexts, thereby creating works which he calls social portraits. In Landzbergas's works the meanings of colour and light are bonded in an indissociable conceptual whole; not less important is the abstract geometrical drawing in black, via which he relates his metanarratives. The installation works with the transparency of the glass windows of the exhibition space, thus linking the display interior with SNP Square. It evokes a museal diorama, a look into another far world.
In his current work for Kunsthalle LAB Landzbergas takes as his starting-point research by the Brazilian psychoanalyst and theorist of culture Suely Rolnik, who has studied indigenous cultures and examined their perception of invisibility in connection with contemporary culture. The project is also premised on studies by Maurice Merleau-Ponty (on the subject of perception).
Landzbergas's installations transform spaces to situations with their own time and space, and he creates linkages among diverse elements according to the logic of the stories' narration: however, he replaces the linear text with hypertexts, dream associations or messages which do not provide definite answers. Here the artist links his own experience with thoughts about the social and historical contexts, attempting to reverse the devaluation of non-verbal emotional language. He works with references to Baltic mythology and to demiurgic ideas on the origin of the world, often with ecological overlaps and in confrontation with present day consumerist culture. Landzbergas reflects on the consequences of the anthropocene period on our planet and future. He combines impermanent, minority, transitory materials (such as paper, plasterboard, black ink), used more for sketches, with objects of everyday requirement and objects found in the countryside. Those represent a mysterious moment of mythical thinking in his work. The atmosphere of northern fables and tales links the individual elements of the artist's installations. Right there in the fog eerie fairytale creatures are surfacing: werewolves, fairies, dryads, dwarves. They emerge from the subconscious, despite our trying to crowd them out. We fear them, we don't understand them. The enigmatic, sometimes even nihilistic mood of Landzbergas's works is always accompanied by a gentle humour and irony. This artist interprets everyday events and essential solitude. He elucidates the fragility of human existence. His spacious installations have a sophisticated and also humanist dimension; spirituality and contemplation intersect there with references to Baltic cultural history.
Architecture plays a conspicuous role in Landzbergas's work: most of his works are locally site-specific. Often they are reminiscent of architectural models and add emphasis to elements of the structure in which they are presented. His objects in installations are actually miniature architecture. He plays with measure, magnifying and reducing. Objects thus take on architectural qualities. Frequently architecture is rendered banal by domestication, and the artist seeks to strip it of its function, so that instead of representing a utilitarian space it directly evokes emotions – so that within it we feel our body, our movement – so that it is not a design with a specific function and the benefit from it is played out in the mind. Landzbergas perceives both the functions and non-functionality of the structure he is interpreting.
A strong ethical undertone sounds in his work, operating on the collecting memory, the subconscious, archetypes. The cultural references in his architectural installations are transformed into phenomenological experiences, and together with light and also sound and with specific materials (wood, paper, translucent materials, resins) they evoke a sensation of glowing, healing heat and create a special hypnotic world. Landzbergas's work with light makes the lighted objects take on graphic qualities in sharp contrasts. He composes the installations like scores and draws on musical terminology to describe his work, using expressions such as dynamics, rhythm, tonality, amplification. Landzbergas has an ambivalent relationship to work with the figure: it is represented indirectly in his works, as pars pro toto. Perhaps that is connected with the fact that he grew up in the Soviet Union with its doctrine of socialist realism. An exception was the recumbent figure of a goalkeeper, done for the Museum of Modern Art, Oxford (2005) as part of the series Arrivals > New Art from the EU. Later, human presence was indicated indirectly, as at the Biennale in São Paolo (2018), where he created the installation The Slow Bird. Its foundation was a quantity of fictive books made of wood, pointing to the intersections of visual art and literature. At the Venice Biennale (2017) he participated in the Lithuanian national pavilion with the installation R. Working with light and transparency, he evoked northern natural scenery. His starting point was a motif of the letter R, which represents such ideas as respect, romantic, real, rhythm, and reference. The artist there symbolically combined astronomy, fairy-tale quality, medicine, chemistry and music. In his view, R is the most complex letter in the alphabet, integrating as it does an entire spectrum of geometrical shapes and meanings which exceed the bounds of the rational and even the imaginary. R is an element that surfaces cyclically in Landzbergas's work as object, space, letter, symbol or door.
Lýdia Pribišová
Exhibition curator
– – – – – – –
ŽILVINAS LANDZBERGAS (*1979, Kaunas, Lithuania) studied sculpture at the Vilnius Academy of Art in 2004. From 2005 to 2007 he completed a postgraduate artistic residence at De Ateliers in Amsterdam. From 2011 to 2013 he headed an independent artistic space in Vilnius. Žilvinas Landzbergas sometimes works as a curator and teaches at the Academy of Art in Vilnius, where he is completing a doctoral study. In his extensive works he often collaborates with various artists. He has presented many permanent works in public space (in Utrecht and in Vilnius). In 2008 he was awarded the main prize of the art publisher Thieme Art. In 2017 he represented Lithuania at the 57th Venice Biennale with the installation R. Landzbergas has achieved several striking solo exhibitions, including Crown O in the Centre of Contemporary Art (CAC) in Vilnius (2015), in the Kim? Centre of Contemporary Art in Riga (2011) and in the Oxford Museum of Modern Art, UK (2005). He has presented his works at international group shows at the 33rd São Paulo Art Biennial (2018), Riga International Biennial of Contemporary Art (RIBOCA) (2018), About the Trees in Zentrum Paul Klee in Bern (2016), Sculpture Quadrennial Riga (2016), Million Lines exhibition in Bunkier Sztuki in Krakow (2015), Liverpool Biennial of Contemporary Art. (2010), and Baltic Triennial (2009). He lives and works in Vilnius.
– – – – – – –
LÝDIA PRIBIŠOVÁ (*1980, Bratislava, Slovak Republic) is a curator and art historian based in Bratislava. Since 2006 she is Slovak editor of Flash Art Czech & Slovak Edition, since 2015 managing editor. 2013 – 2015 she used to work as project coordinator in tranzit.sk. In 2012 she founded nonprofit initiative PILOT. In 2007 and 2011 she co-curated Slovak section of Prague Biennale, in 2019 she co-curated Kaunas Biennial in Lithuania. In 2019 she is guest curator of Hit Gallery, preparing the whole year program. In 2013 she obtained PhD degree at the University La Sapienza in Rome, in 2016 she published the book La Quadriennale di Roma. Da ente autonomo a fondazione (Quadriennale of Rome. From Public Body to Foundation) based on this research. She is a member of AICA. She collaborated with many institutions and galleries in various countries (short selection): Museum MAXXI and AlbumArte, Accademia di Belle Arti di Roma in Italy; Kunsthalle Athena in Greece; Museum of Art in Cluj-Napoca, National Gallery in Tirana, OI Futuro in Rio De Janeiro; Zentrum fűr Kunst und Urbanistik in Berlin, Museum of Contemporary Art in Novi Sad, Museum of Modern and Contemporary Art in Rijeka, ISCP in New York, and tranzit.org, Kunsthalle Bratislava, Hit Gallery, Medium Gallery and SPACE in Bratislava.
– – – – –