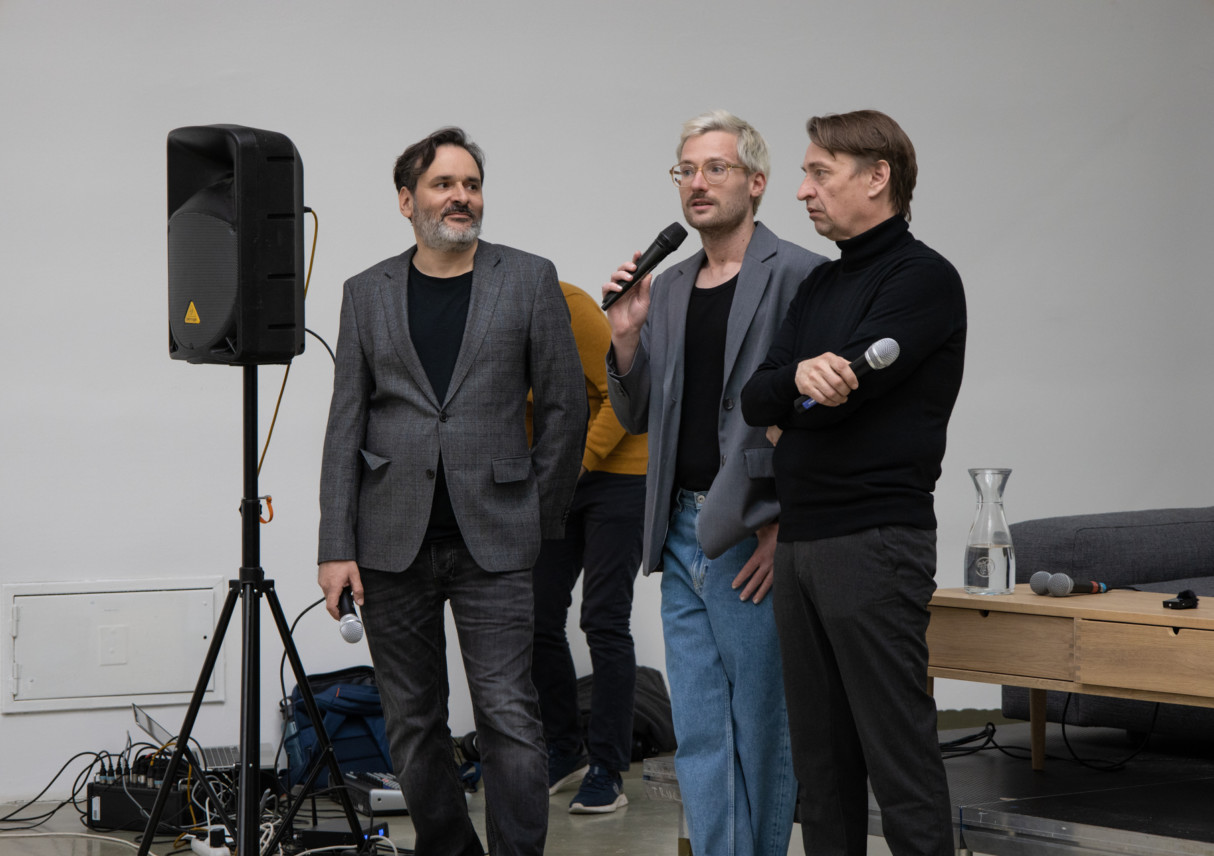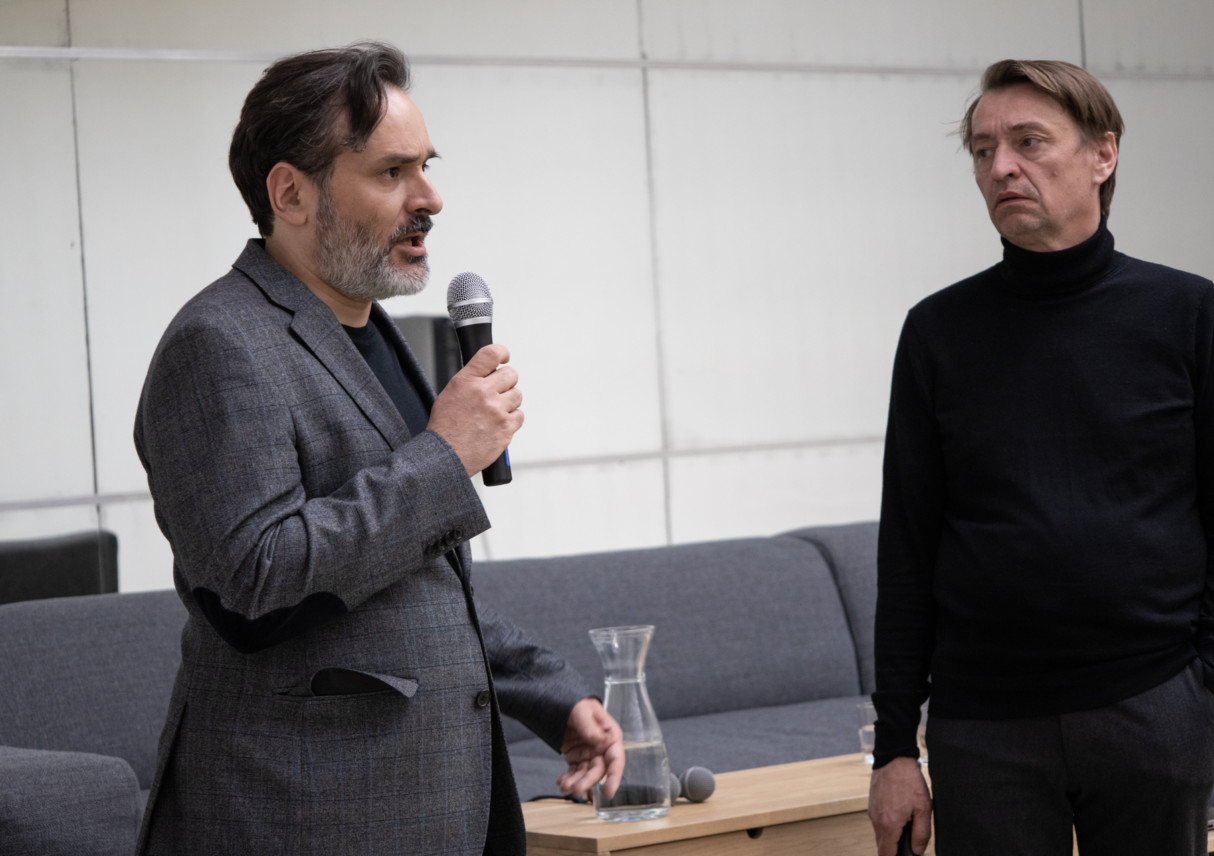 Photo: archive Kunsthalle Bratislava, ©Leontína Berkova.
S.O.S.
a series of panels on aspects of "mental health"
21.04. – 09.06. 2022
Curated by Ján Ballx and Boris Ondreička
Public program
21.04. – 09.06. 2022
Contribution Voluntary fee
S.O.S.
… – – -…, Sally Denham-Vaughan, Vít Havránek, Alexandra Hedako Mason, Lesia Prokopenko, Jan Roubal, Elena Vogman, Hana Vojtová and others will present in their program, with projections by Heather Anne Keyes and Kamila Biala.
Inspired by the structure of the SOS (*) eponymous relationship model by Sally Denham-Vaughan and Marie-Anne Chidiac, where instead of the original Save-Our-Souls, the exhibition project focuses on assessing problems from three perspectives: Self-Other-Situation. Situation):
I, which can be understood as either an individual, a group, a community or an organization;
the second, as the "second" in relation to the moment; a
the situation or overall context / culture in which the problems are embedded.
S.O.S. is a series of panels on aspects of "mental health" at the Kunsthalle Bratislava. S.O.S. curated by psychiatrist and artist Ján Ballx and curator and artist Boris Ondreička following their continuous dialogue on the relationship between art, philosophy, ethics / politics and psychiatry, which they explore in various public-related events. S.O.S. it is based on an atmosphere of global urgency accelerated by the causes of the pandemic isolation that surrounds the horrors of war. S.O.S. in its program, it invites experts from different disciplines to discuss these aspects together.
The program will consist of 4 live events accompanied by a series of screenings. Each event will consist of 2 speakers, with 1 expert in psychiatry, psychology and 1 in philosophy, theory and / or art. The events will be moderated by S.O.S. and will be accompanied by a subsequent public debate.
In addition to being busy with "body" (soma) issues, we are acutely aware of the growing urgency of interest in "mental health" (psyche) issues. At present, these issues concern the explicit problems of at least a quarter of the world's population. These problems appear to be objective causes of the isolation and logical fear of public dynamism caused by the pandemic, which has been exacerbated by Russia's unprecedented aggression against Ukraine.
We are interested in researching various epistemological / diagnostic, categorization tools and methods. We believe that due to the massive transformational nature of the advanced technologies that surround us (inside and out), it is necessary to re-evaluate each of the meanings of Self-Other-Situation separately and then together again. We are interested in language developments related to this context. We believe that language cultivation is essential for a change in thinking and a consequent change in behavior. That is why we are inviting experts to talk to each other.
We are convinced that interdisciplinary dialogue is necessary and for such an exchange we consider the premises of the artistic institution to be very fruitful (due to a certain neutrality of openness) for mutual interpretation / understanding.
* S.O.S. is inspired and named after Sally Denham-Vaughan and Marie-Anne Chidiac. 2013. SOS: relational orientation to social inclusion. IN MENTAL HEALTH AND SOCIAL INCLUSION, vol. 17, no. 2, 2013, p. 100-107, Emerald Group Publishing Ltd. ISSN 2042-8308.
---
MUDR. Ján Ballx (1973) is a psychiatrist and artist. He has exhibited collectively at the Slovak National Gallery (2010 and 2013), Phytomedia (2009), Exlibris (2010, 2012), CSG, Banská Bystrica (2018) and independently at AMT, Bratislava (2013), HIT, Bratislava (2015), Psychiatric clinic, Nitra (2016), Old Theater, Nitra (2017), DDS, Liptovský Mikuláš (2020). He curated and interpreted with the APART team in AUTOGENE (2017), published X (2017), co-edited the anthology Climate Crisis (2020). He is a former director of SPIRIT n.g.o. (Society for the Development of Informatics and Information Technologies, 1998-2008) and the subterra cyber project (1999-2004), co-founder of SAGT (Slovak Association for Gestalt Therapy, (2012-2016), vice-president of the Slovak Psychotherapeutic Society (2013-2017). He has been teaching at Gestalt Studia Czechia, having previously worked at the Academy of Fine Arts (2016), Comenius University (2006-2007) and the University of Constantine the Philosopher in Nitra (2003-2006). medical and non-clinical facilities.
Mgr. Boris Ondreička (1969) is a curator and artist. He graduated from the Academy of Fine Arts in Bratislava. He also worked as a production manager at the Soros Center for Contemporary Art, as the director of the civic association tranzit.sk, Bratislava, and as the curator of the Thyssen-Bornemisza Art Contemporary (TBA21) collection, Vienna. He currently works as the artistic director of viennacontemporary. In TBA21 he co-curated the exhibitions Rare Earth, Supper Club, Tomorrow Morning Line, Olafur Eliasson "Green Light-An Artistic Workshop", Discusiones & Demostraciones and 6 seasons in the performative Ephemeropteræ, as well as seminars Forgotten Space, The Alchemical Paradigm and others. In the past, he co-curated Manifesta 8, The European Nomadic Biennial Of Contemporary Art, Murcia, Cartagena, (ES); Being The Future, Palast der Republik, Berlin, (DE); Symposion / The Event, Birmingham, (UK); Auditorium, Stage, Backstage, Frankfurter Kunstverein, (DE); Question of will before OSF, Bratislava and Empire of The Senseless in Meet factory in Prague. He independently curated projects Lois & Franziska Weinberger, Stano Filko, Miloš Laky, Denisa Lehocká, Zbyněk Baldrán and others. He is a co-founder of the Július Koller Society. His art projects have been realized at the Biennial: Manifesta 2, Luxembourg, Venice (Czech-Slovak and Roma Pavilion), Prague, Gyumri, Turin, Anzengruber, Taipei, Athens, Kiev, Jakarta, and at the Bergen Assembly. He also exhibited at MoMA-PS1 NYC (USA); New Museum, NYC (USA); BAK Utrecht (NL); Smak, Ghent (BE); Tram Glasgow (United Kingdom); Tura Regaudengo Foundation (IT); Air de Paris, Paris (FR); Frankfurter-, Kölnischer-, Badischer-, Münchener-, Stuttgarter Kunstverein- (DE); Kiasma, Helsinki (FI); HKW, Berlin (DE); ACAF, Alexandria (EG); Slovak and Czech National Gallery, Moravian Gallery, (CZ); Art Nouveau, Mumok, Kunsthalle, TQ, Vienna, (AT); Danube Festival, Krems, (AT); Magazine 4, Bregenz (AT), and others. Collection of his visual poetry HI! lo. (Jrp Ringier, CH); One Second / Out of Time (Revolver, DE) and SONG (Brak, SK). Over the past year, he published the Les collection at his own expense. Ondreička contributed to the Slovak monthly Kapitál. At present, together with Václav Janoščík, he leads the Interpretation Class project at the Academy of Fine Arts in Prague, where he recently prepared the extensive project Last 30 Years of Emancipation for the 220th anniversary of the founding of the Academy of Fine Arts. More recently, they have curated a solo project by Joey Holder at the Futura Gallery in Prague; Stano Filko at the Fait Gallery in Brno; Fabian Erik Patzak at Das Weisse Haus in Vienna in collaboration with the Jüdisches Museum Wien and Denisa Lehocká at the Kunsthalle Bratislava.
S.O.S program
21.4. 18h
Other – Elena Vogman & Hana Vojtová
11.5. 19h
Situation – Alexandra Hedako Mason & Jan Roubal
26.5. 19h
ethical presence & co-emergance: Sally Denham-Vaughan & Lesia Prokopenko
9.6. 19h
Self – Vít Havránek & Barbora Vašečková
---
Main partner:
The Goethe-Institut is a worldwide cultural institution of the Federal Republic of Germany. The staff of 158 institutes in 98 countries promotes the German language abroad, supports international cultural cooperation and environments the current image of Germany. The Goethe Institute in Slovakia offers a differentiated program of language courses, language exams, as well as workshops and seminars for teachers of German as a foreign language. The program department organizes the cultural program in all areas in cooperation with local partners. The "Information and Library" department provides information on current aspects of cultural and social events in Germany. The library has an extensive media collection for all those interested in Germany who want to learn German or are already learning.