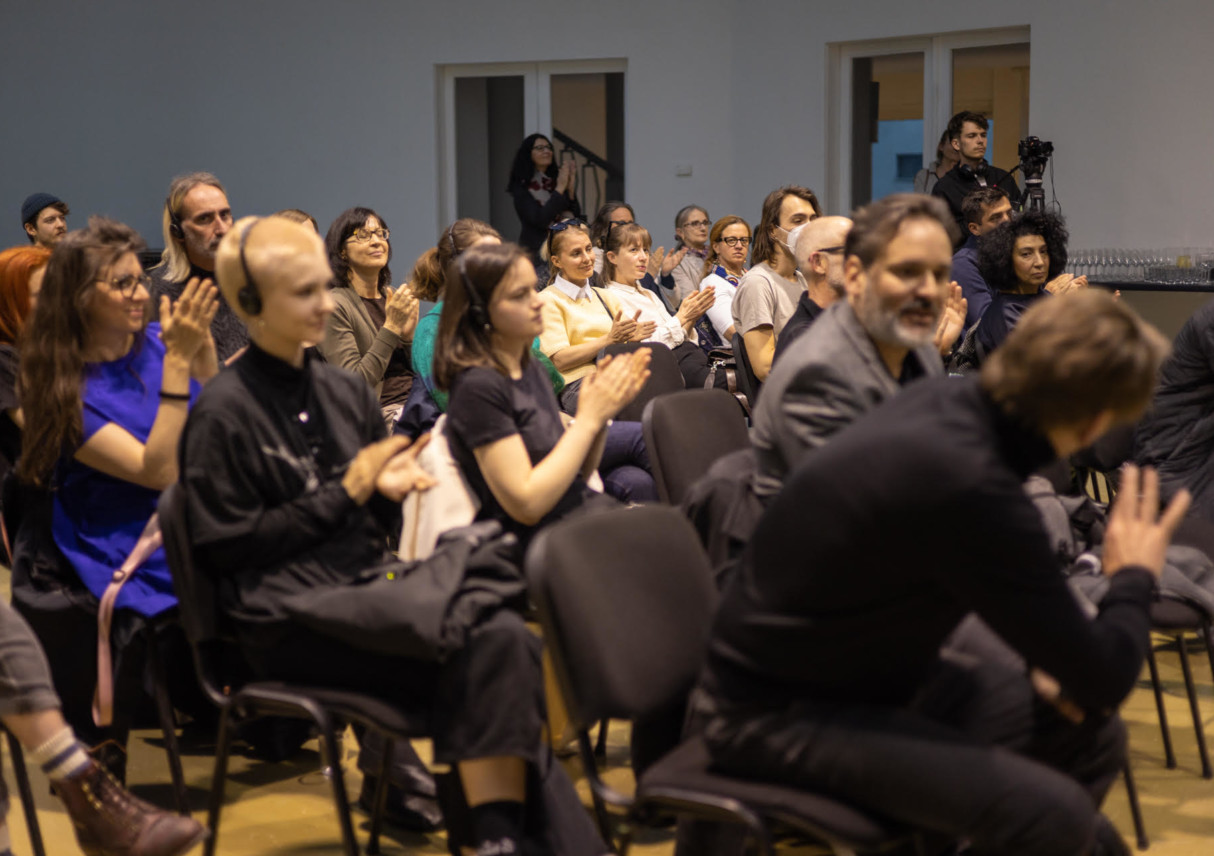 Photo: archive Kunsthalle Bratislava, ©Leontína Berkova.
S.O.S …—… Situation with Alexandra Hedako Mason and Jan Roubal
the second event from the S.O.S. series
11.05. 2022 at 19h
Curated by Ján Ballx a Boris Ondreička
We invite you to the second event from the S.O.S. series entitled Situation, with guests Alexandra Hedako Mason and Jan Roubal, hosted and curated by Ján Ballx and Boris Ondreička. The lecture will take place at Kunsthalle Bratislava, in the exhibition space A HALL on 11.05.2022 at 19h.
Alexandra Hedako Mason, based in the United States, deals with cultural criticism, social movements, biopolitics, techno-futurism and "the nature of the libidinal economy in regard to personal and collective forms of desire". Jan Roubal, based in the Czech Republic, develops the field theory perspective in clinical psychotherapy work, researching the phenomena of depression "from psychopathology to the aesthetics of contact" in a situated curative phenomenology that can guide us further from the Other to morality questioning chapters of subjectivities.
Alexandra Hedako Mason's Shattering of the Vessels explores an as-of-now imagined but possible future in which everyone has equal access to sex robots with advanced AI capabilities. Using an Afro-pessimist account of the subject and Paul B. Preciado's "edible panopticon" to lay a foundation, this piece moves outwards in a trans-disciplinary fashion to explore the idea that what "happens between the purchaser of a sex robot and the toy during copulation is an act of play which pairs the organic with the synthetic." Through BDSM games and pornographic films, we are able to examine sexuality in relation to power exchange and imaginative thought. Even in present day synthetic-organic partnerships, such as those between "real dolls" and their human counterparts, feelings of sadness and a larger sense of dread seem unavoidable, much like the sense of loss felt when one's doll partner is severely damaged and in need of repair. Additionally, despite our best efforts, a certain amount of tension may always exist between what fosters arousal and the actions and ideas we might otherwise resist as political beings. All this exposes that, while we have an inability to fully grasp all that is contained within the Self, we cannot help but try and comprehend it in all its complexity.
In his contribution Jan Roubal elaborates on the field theory perspective that allows us to look at processes in the clinical situation that transcend the individual. Fear, shame, pain, but also hope and joy can then be seen as movements of the field, as gusts of wind that lean into the clinical situation. Both client and therapist are exposed to these gusts and bend under them. The therapist thus experiences the movements of the clinical situation on himself but does not appropriate them or takes his experiences personally. Such a conception has quite radical implications for both for clinical work and the encounter with the experience of suffering in a wider context.
---
Alexandra Mason's work spans various topics including cultural criticism and social movements within America. Much of her research centres around the division between public and private, underground networks and alternative economies, and eroticism as it relates to personal and collective forms of desire. She completed her Master's degree at CUNY's School for Labor and Urban Studies and her undergraduate degree at The New School. Alexandra has given talks for Seattle's Red May, Class of Interpretation in 2018 in Prague, and has participated in Regenerative Feedback, a festival curated by Sonia de Jager. Most recently she presented her essay Degrees of Lewdity: A Review for The Slow Readers, a transdisciplinary event aimed at examining gender inequality and AI. Her work and thoughts have been featured in High Tech: A Magazine by Highsnobriety; Glass Bead, a journal and research platform; and she has worked on various projects with Anon and altwoke collective. More of her essays can currently be found at sadgirltheory.com
Associate Professor MUDr. Jan Roubal, Ph.D is a psychotherapist, psychiatrist, supervisor and lecturer of psychotherapeutic trainings in the Czech Republic and internationally. He teaches at the Department of Psychology at the Faculty of Psychology of the Masaryk University in Brno, where he also participates in the activities of the Centre for Psychotherapy Research. He co-edited the books Contemporary Psychotherapy (Portal, 2010), Gestalt Therapy in Clinical Practice. From Psychopathology to the Aesthetics of Contact (FrancoAngeli, 2013) and Towards a Research Tradition in Gestalt Therapy (Cambridge Scholars Publishing, 2016). Jan Roubal has worked in a psychiatric hospital, mostly with depressed and anxious patients, and he currently works as a psychotherapist in private practice. His book, Not standing in the way of hope. Therapist's guide through depressive field, develops the field theory perspective in clinical psychotherapy work.