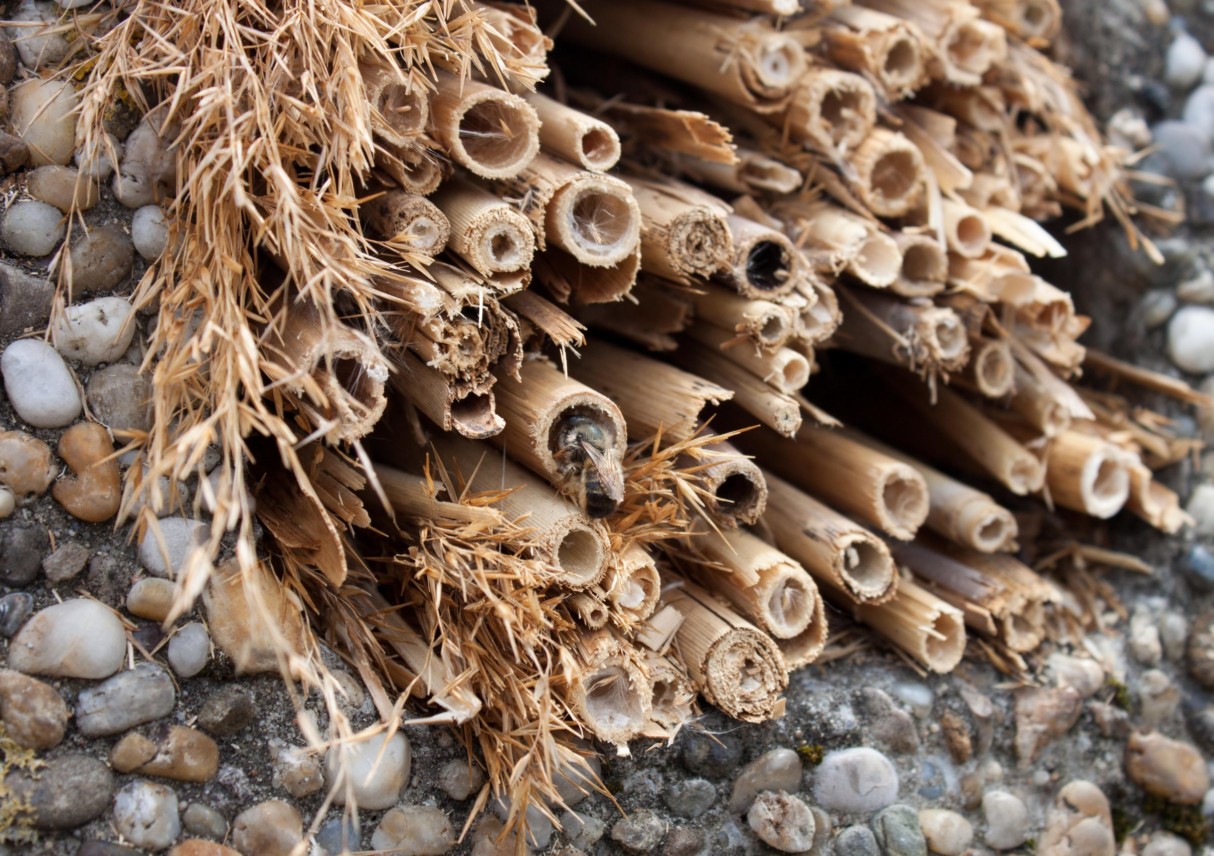 Dissecting landscape: multi-limbed, sometimes winged, tiny companions.
02.04. 2023, 16-19h
Curated by: Jelisaveta Rapaić
We invite to a programme dedicated to insects, which consists of a lecture by Marek Semelbauer analysing the different types of pollinators, their role, needs and purposes and a workshop by Jozef Dodo Kršek, which will propose urban hospitality solutions for our tiny companions, in the form of building insect hotels. The public program, entitled Dissecting landscape: multi-limbed, sometimes winged, tiny companions, curated by Jelisaveta Rapaić, is held in conjunction with Anna Hulačova's current solo show Edible, Beautiful, Untamed, curated by Tjaša Pogačar. Through this event, we will try to better understand the habits, conditions and future of insects by magnifying their lives and speculating on possible aids and adjustments to our private and public spaces we can practice to make the urban environment a more pleasant place to live. We hope that this event will provide participants with the tools they need to engage with the cause and raise awareness of the need to protect pollinator species other than the honey bee.
"You are standing in a field of an ecologically fragile, perhaps catastrophic but not apocalyptic world that calls for reimagining of rural life – a new kind of agro-futurism, one shaped not by the horizon of utopian promises or idealizations of the countryside, but an open future of unknown possibilities." – Tjaša Pogačar (exhibition text)
There is no age limit for participation in the programme. All necessary materials for the workshop are supplied by Kunsthalle Bratislava and participation is free of charge. No registration is required for Marek Semelbauer's lecture at 16h. For the workshop at 17h, please reserve your place by sending an email with your full name and phone number with the subject "Dissecting landscape" to jelisaveta.rapaic@kunsthallebratislava.sk by 2.4.2023. Unregistered candidates will be able to attend if space is available, but registration is recommended.
Schedule:
16h: A lecture on different kinds of pollinators and their environments with Marek Semelbauer (in Slovak)
17h: Insect hotel building workshop with Jozef Dodo Kršek (in Slovak and English)
---
Mgr. Marek Semelbauer PhD graduated in zoology at the Faculty of Natural Sciences of the Comenius University in Bratislava. He currently works as a researcher at the Institute of Zoology of the Slovak Academy of Sciences. His research is devoted to insects, especially flies. He pays great attention to pollinators and nature conservation; he has been working for a long time on the management of non-forest habitats. He has been cooperating with BROZ, DAPHNE and Živica associations for a long time, he is an active member of civic association KOZA. His conservation projects have focused on improving the conditions of diversity in urban environments, but also in cultural landscapes, e.g. restoration of pastures in the Danube meadows or restoration of arid and thermophilic grassland communities with high biological value.
Jozef Dodo Kršek strives to apply sustainable and regenerative solutions for the buildings and grounds of the Academy of Fine Arts and Design (AFAD) in Bratislava. His projects of insect hotels and meadow area for pollinators were created in this spirit.  Under the umbrella of the vvv studio, at the end of May he will open at the AFAD the apiRa project – a platform for integrative therapy. ApiRa combines multiple healing and energizing actions of natural components and entities (bee colonies, building geometry, the Earth's electromagnetic field, etc.).  He is currently studying and practicing in the fields of human biomechanics optimization, quantum biology and biodynamics with overlap into beekeeping.