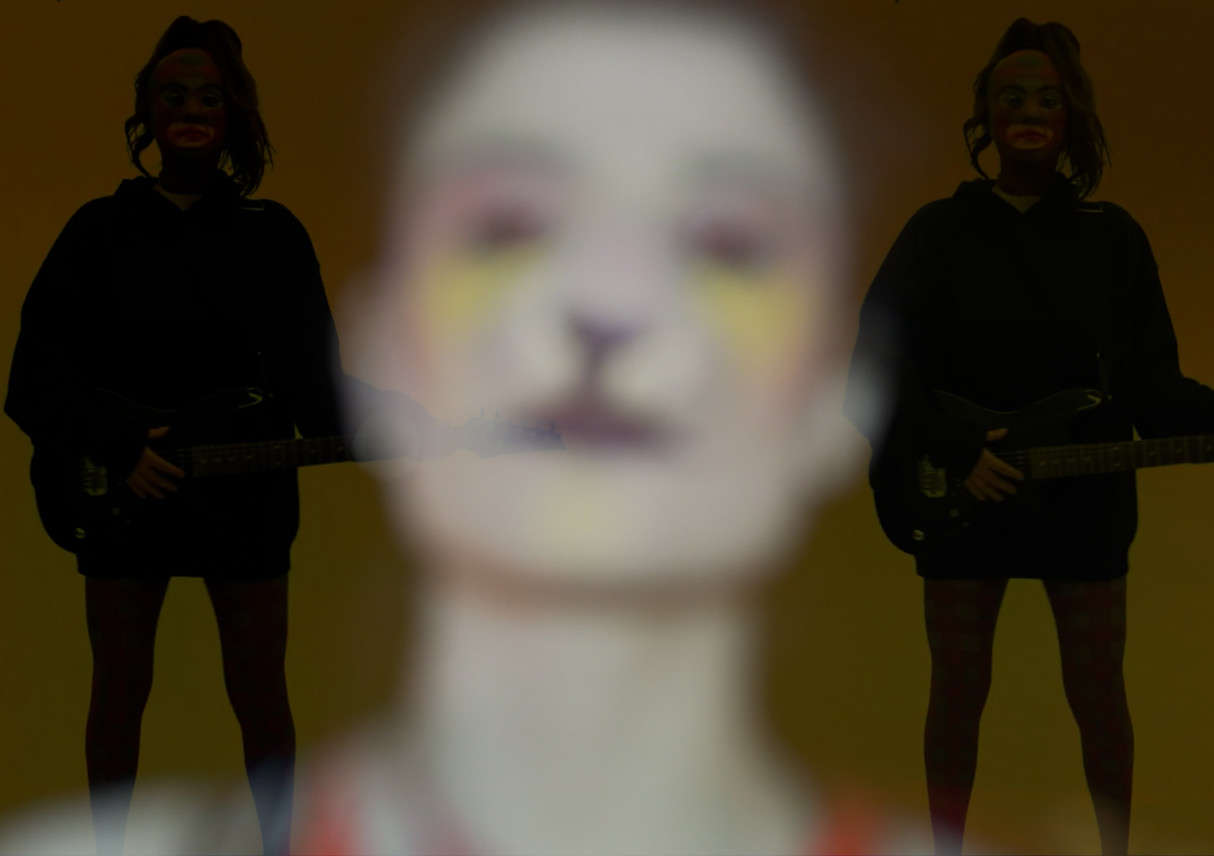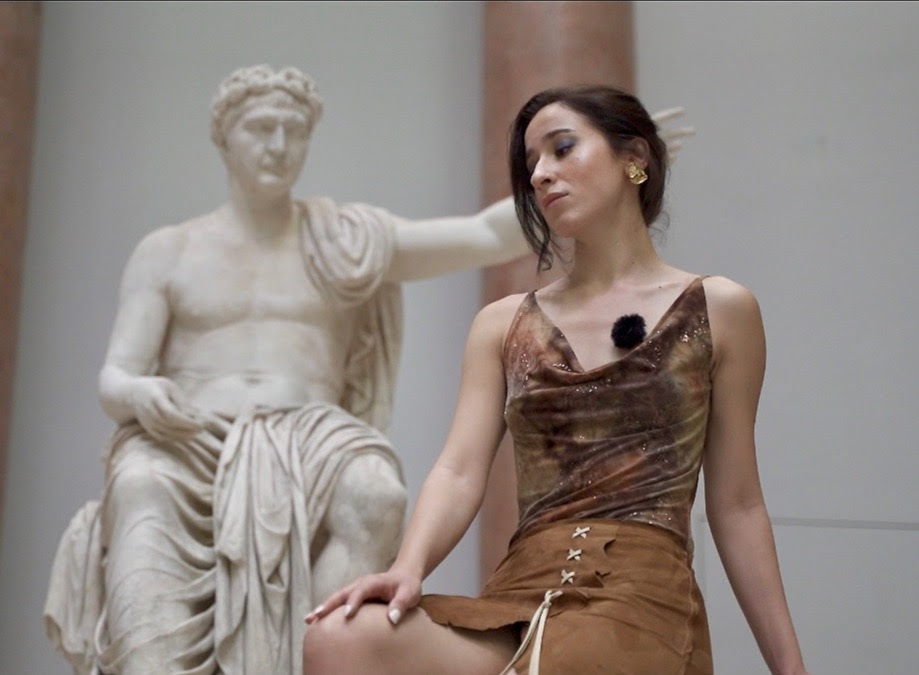 Image: Johanna Odersky and François Pisapia; Selin Davasse
Performance programme: SOMETHING IS BURNING
7. 10. 2022, 18h
Curated by: Julius Pristauz
As part of the current exhibition entitled SOMETHING IS BURNING, curated by Julius Pristauz, two performances will take place on 7 October at Kunsthalle Bratislava. At 18:00h a performance by Selin Davasse  will take place at A HALL, and at 19:00h a performance – entitled The Itch – by Johanna Odersky & François Pisapia will be held in the exhibition space, A BLACK BOX.
---
The group exhibition SOMETHING IS BURNING looks at aspects of identity construction in the context of economic and individual well-being. Tracing different realities and trajectories of representation over time, the exhibition aims to map different bodies – many of which have been subjected to processes of othering – and locates them in an intrinsically commodified space. Drawing on observations of contemporary culture, its production and related pressures, this exhibition illustrates perceptions of the current moment and collects them in a relational survey format. Reflecting on exhaustion and velocity in both personal and professional terms, this exhibition considers how queer subjects are to be situated within these reflections. The exhibition, which is to some extent also a contestation of the exhibition format at a time of growing economic crisis and generally precarious working conditions in the arts, could also be a testimony to the self-exploitation and growing corporate tendencies in the field. Simultaneously it is however also indicative of the 'making it work' attitude and criticism inherent in artistic work – in this case, particularly within practices informed by queer-feminist thought. It both honours resistance and questions obedience – aiming to interrogate however consciously or unconsciously we follow certain streams of thought and imagery. The tensions between various fields, ideologies and the critical examination of categories and things taken as given, perceived as fact, are being discussed.
Exploring the human experience can be empirical, but never objective. We can compare ourselves, follow certain tropes, or oppose them. While collectively rehearsing forms of expression and ways of reading, SOMETHING IS BURNING hints at hybrid and non-binary states in relation to social settings. Movements around social codes and patterns are visualized. The works presented either map perceived categories or assert a certain openness. At the same time, they clearly illustrate a construction, a structure, which – in its combination of single parts – may suggest problems on a larger scale. The exhibition, which ultimately locates the individual as part of a predetermined order, identifies a moment of reorganization and reshuffling.
Julius Pristauz
Johanna Odersky & François Pisapia, The Itch (Teaser)
Johanna Odersky is a visual artist and musician based in Berlin, known under the alias Iku. She is a graduate of the Städelschule in Frankfurt am Main where she studied in the class of Judith Hopf and did an exchange semester at The Cooper Union School of Art in New York. Multidisciplinary in her approach, she is an active figure in both the fine art and music scenes, asserting that the two practices complement each other. Her audio work layers and carefully weaves associative samples into a complex entanglement of emotionally-charged sounds, creating a sensory mesh of hypnagogic piano progressions, alien insect sounds, and horror movie soundscapes. Her work has been shown in festivals, galleries, and art spaces across Europe, in Japan, Mexico, and the US.
François Pisapia is an artist and filmmaker living and working in Berlin. His artistic practice moves through sculpture, installation, photography, performance and video, channeling the amateur and the scavenger to frame desires in cinematic images of love and decay. Pisapia completed a BFA in Design from Concordia University and graduated from the Städelschule film class of Douglas Gordon, having also studied with Laure Prouvost, Gerard Byrne and Wu Tsang. His work has been screened and exhibited at the Centre for Contemporary Art (Glasgow), Staedel Museum (Frankfurt), Echo Correspondence (Vienna), Palais de Tokyo (Paris), Czech Centre (New York) and Centre Clark (Montréal)
Odersky (Iku, music) and Pisapia (FAUN TV, film) started collaborating in 2021 when they did a performance at Arsenic (Lausanne, CH) for the Lemaniana Festival organized by the Centre d'Art Contemporain Genève. They will release The Itch as a visual album in 2023.
Selin Davasse was born in Ankara, lives and works in Berlin. In her research-based performance practice, she repurposes disparate textual and performative techniques to conceptualize and collectively enact the ethics of alternative presents and speculative futures. Composed of narrative and sonic textures, her work condenses systems of thought into intimate feminine expressions; and takes shape as spoken and sung performances with playful and participatory layers which form heterogeneous hospitable relationships with the audience. Recent performance settings include Škuc Gallery, Ljubljana (2022); BJCEM – Biennale des Jeunes Créateurs de l'Europe et de la Méditerranée, Procida (2022); Centrale Fies, Dro (2022); Wiener Festwochen, Vienna (2022); among others.
Perfuming the contradictions of institutional critique with flowery diva rhetoric, Selin Davasse sings in the narrative voice of a politically self-reflective, aesthetically self-conscious and financially self-exploitative artist from the peripheries of Europe. Once upon a time, with the hopes of one day being inducted into the elite club of polite nations, her origin country banned its own Turkish classical music for being incompatible with western polyphony. The songs the artist sings are adapted from such tragically monophonic melodies. Embodying her region's historical self-doubt—in addition to contemporary artistic and economic anxieties—she yearns for a creative voice stripped of insincere careerist ambitions and othering western projections, but will her words fall on deaf ears?