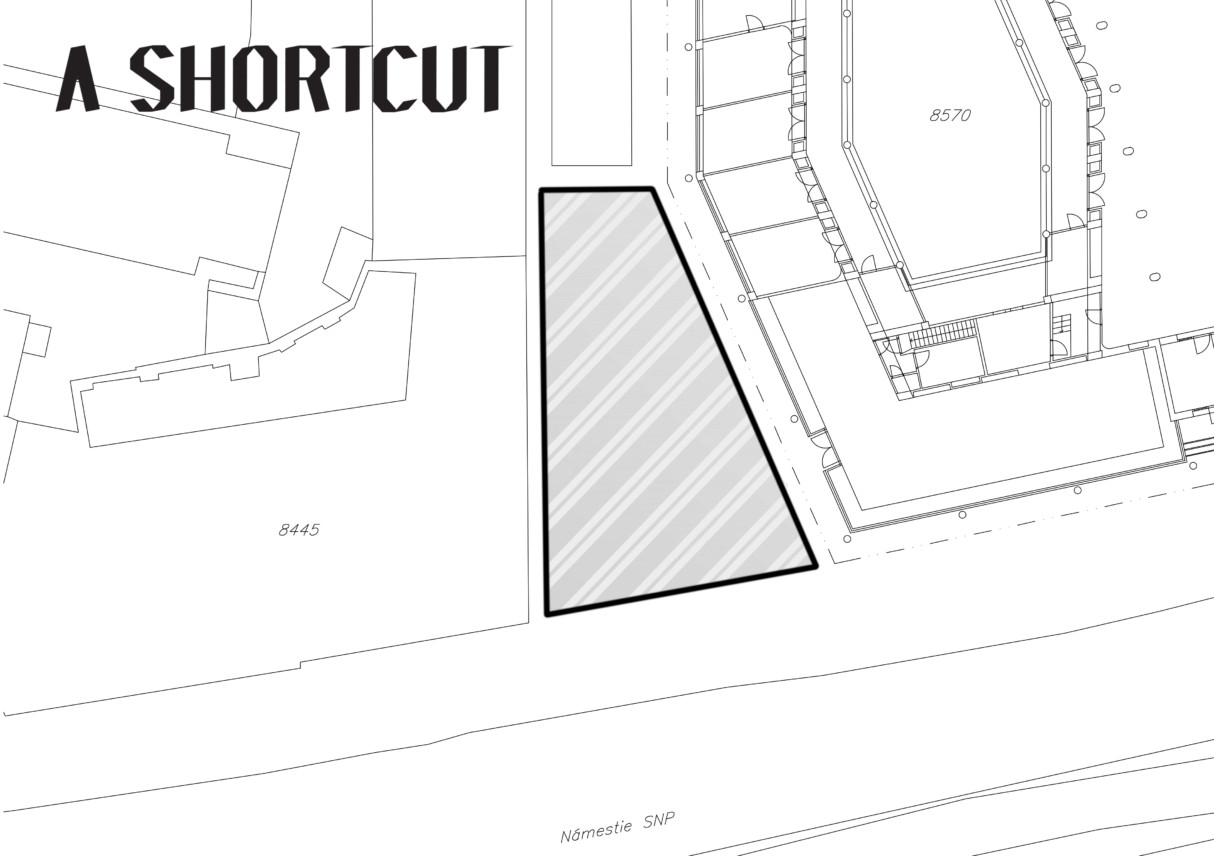 Open Call for projects in public space
Open Call for A Shortcut space is a trial run for a space sharing a network and a model focused on the relationships we want to establish with the creative community. 
Due to inflation and the economic struggles of the past months, we have found that the institution is unable to optimally utilize all the spaces it manages at the same time. Recognizing that not many organizations, collectives, or institutions have such spaces available or often operate without a permanent physical space – we considered this pilot project a suitable testing ground for such efforts.
It is important to highlight that these types of space sharing collaborations and activities are not new for Kunsthalle Bratislava, but in the past they were rather communicated internally on the basis of received requests. We believe that publishing an open call would contribute to transparency and ease of submissions from applicants by encouraging engagement and publicly declaring our ambitions.
Therefore, this is a public call for these types of collaborations in the hope that we can establish more direct interactions and expand our outreach. This is a model we will be focusing on and developing in the coming year, which will include open dialogue in the form of panel discussions on how best to operate a public institution in relation to the needs of our community. In the meantime, we are very excited about the ways in which we can help you to use A Shortcut – our outdoor exhibition space.
The exhibition space, entitled A Shortcut, is situated on the corner of Treskonova street and SNP Square in front of the House of Arts building, more specifically in front of A Window gallery of Kunsthalle Bratislava (previously called LAB). 
This occasion motivated us to name the space – A Shortcut, as we feel it is one, in every sense of the word: urbanistic and conceptual. On that note we encourage its use to its fullest potential. 
The paths to the use of public spaces, in city centers especially, can often be a draining process, we hope this serves as a shortcut for some of your plans. Let us know how we can help!
---
OPEN CALL
For the upcoming months of 2022, we would like to invite cultural workers, artists, curators and activists to propose a short-term project which will be carried out approximately from the end of August to mid-October in the exhibition space A Shortcut at Kunsthalle Bratislava (located in front of A Window gallery (previously called LAB) on the corner of SNP Square and Treskoňova street).
This call is a pilot project for future collaborations that Kunsthalle Bratislava intends to open up and expand the institutional scope to local and regional formations with a prompt response to current emergencies. It is preferable, but not necessary, that the proposed project complements our exhibition programming and our public programme.
Preferred but not required types of projects: community engaged, oriented toward an existing group(s) in need, environmental, site specific, discursive, youth or senior oriented, program for the public may also lean toward written word, performance, sound, dance, etc.
What we offer: 
production assistance within the internal team of Kunsthalle Bratislava (independently commissioned external production assistance is not covered by the institution, unless agreed otherwise)

promotion of the project/event(s)

use of the Kunsthalle Bratislava premises and available technical support

available mediators during the opening hours of the gallery space, A Window (formerly LAB)
Who can apply? 
Anyone. Local or foreign artists, curators, activists and other cultural workers.
The call is also open for duos, collectives, organisations and other types of group formations.
How to apply? 
Send us:
Project proposal/summary (up to 600 words)

Technical needs (It must include what you will need from us for the realisation of the project. It should also include some visual material, technical specifications, useful links etc.)

Portfolio with a short biography containing contact information (phone number, name, place of residency) and useful links (website/social media) Video and sound works should be accessible by a link.
All the materials can be sent in Slovak or English and must be submitted in PDF format. All files should not exceed 10mb, otherwise the application will not be considered. Applications should be sent to info@kunsthallebratislava.sk with a subject title: A Shortcut Open Call (first name, last name), no later than 31.07. 2022. Applications received after this date will not be considered.
The material will be reviewed by the jury composed of Jen Kratochvil, Lýdia Pribišová, Jelisaveta Rapaić and Denisa Tomková. The applicants will be informed of the jury's decision no later than 08.08. 2022.
We are looking forward to your applications. Good Luck!