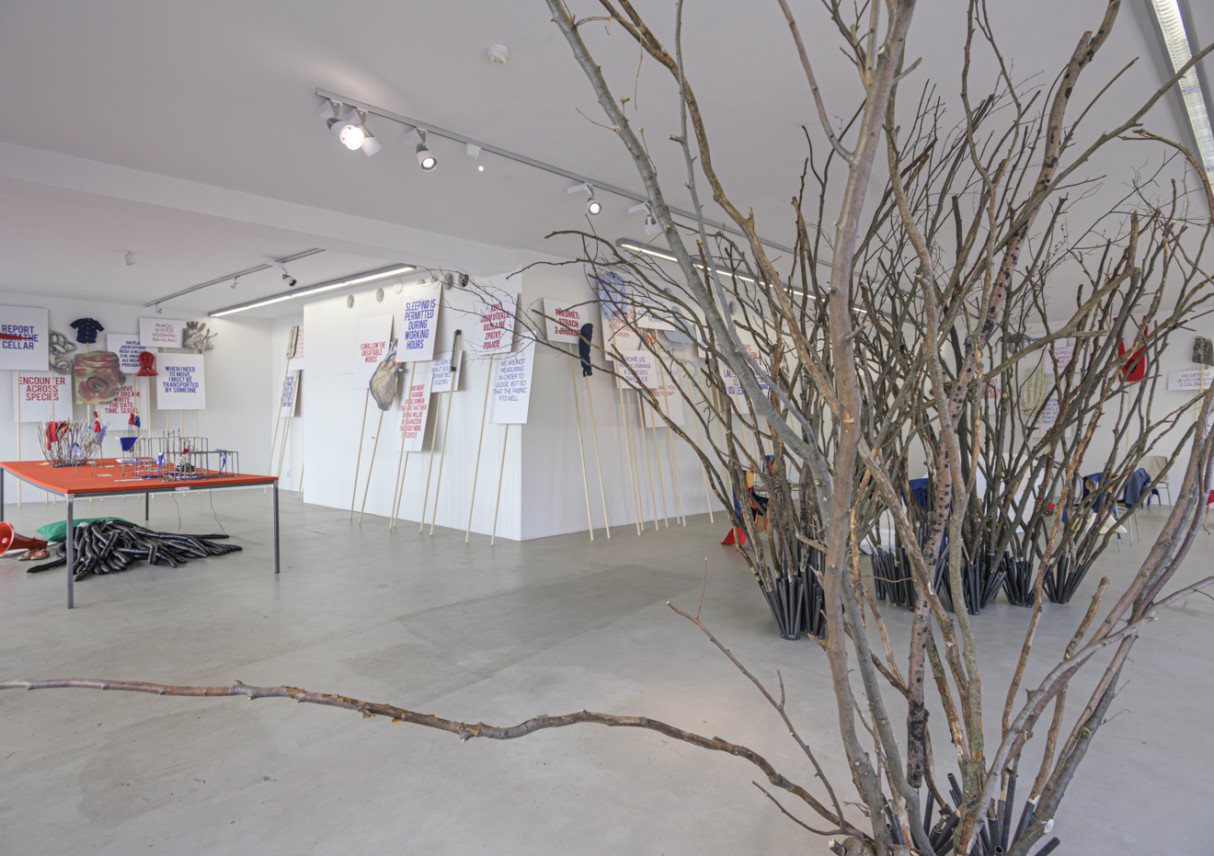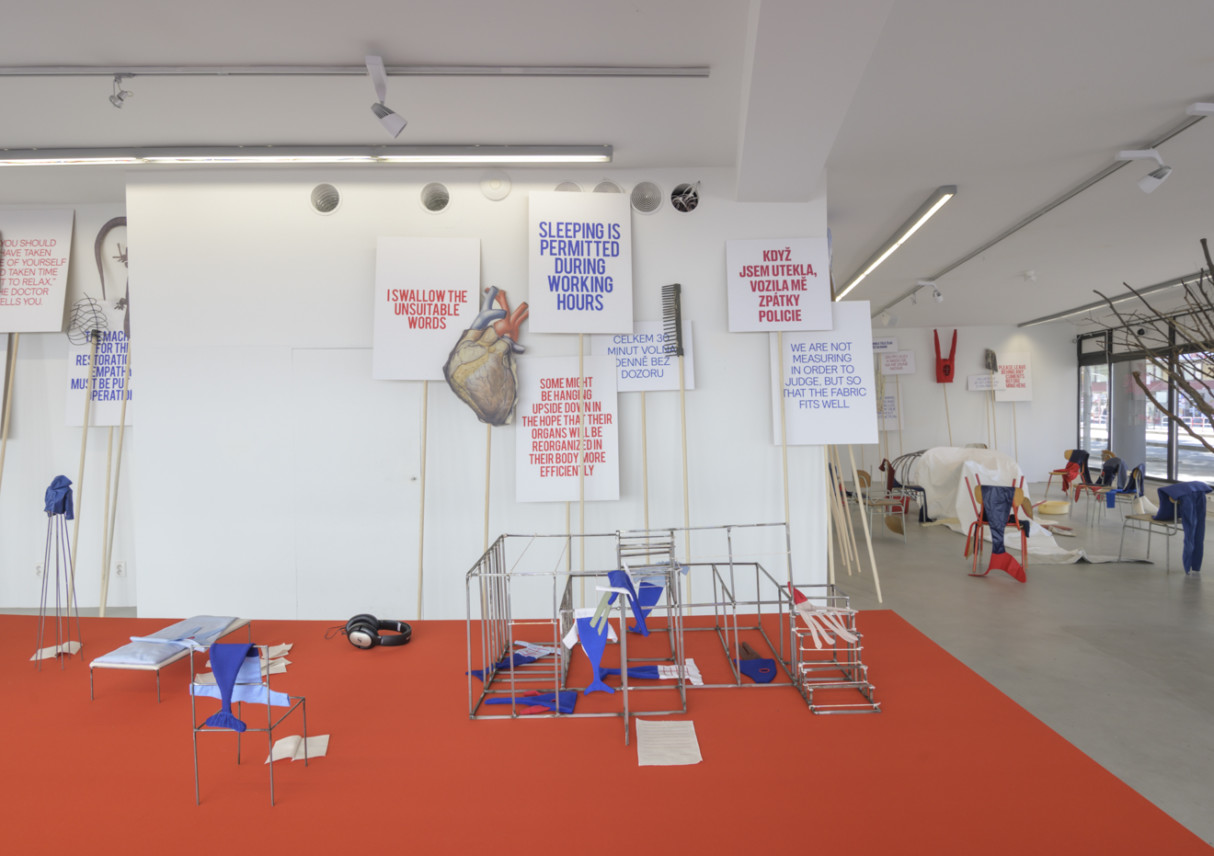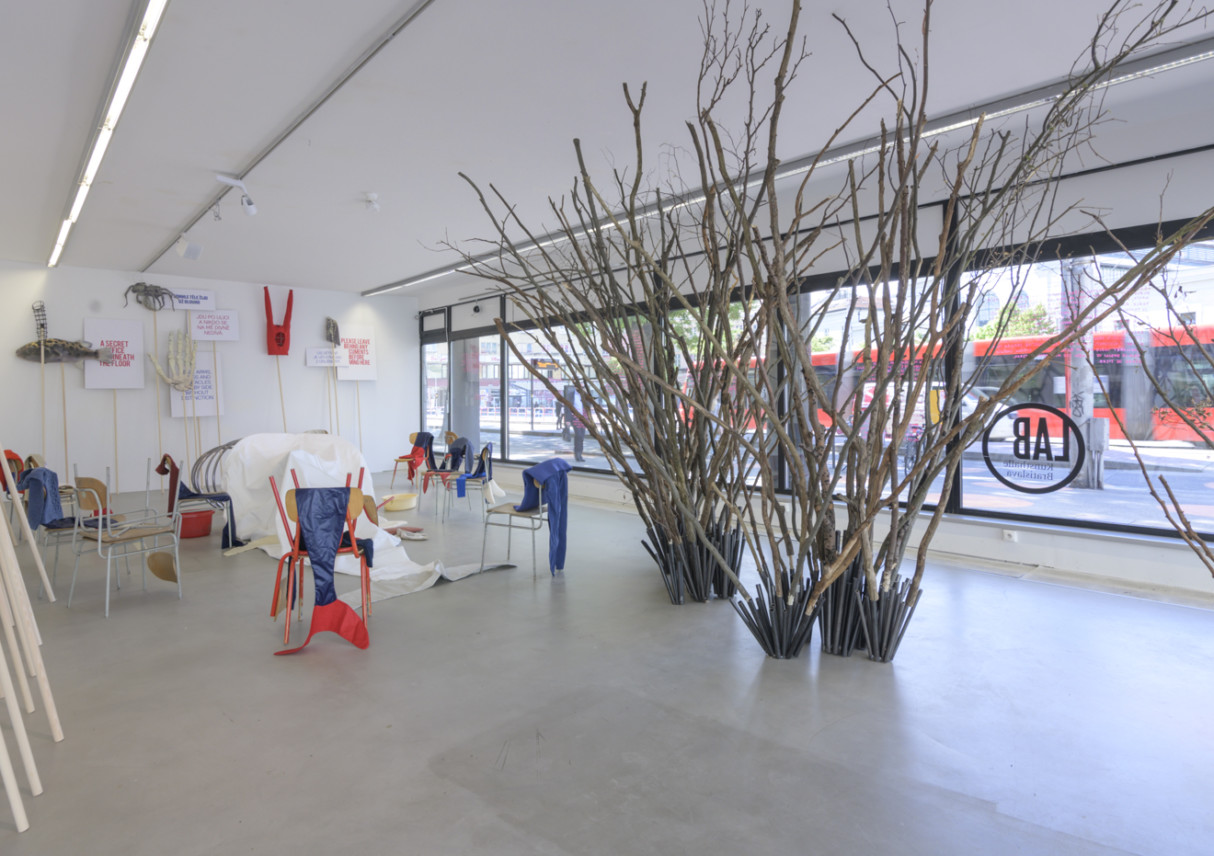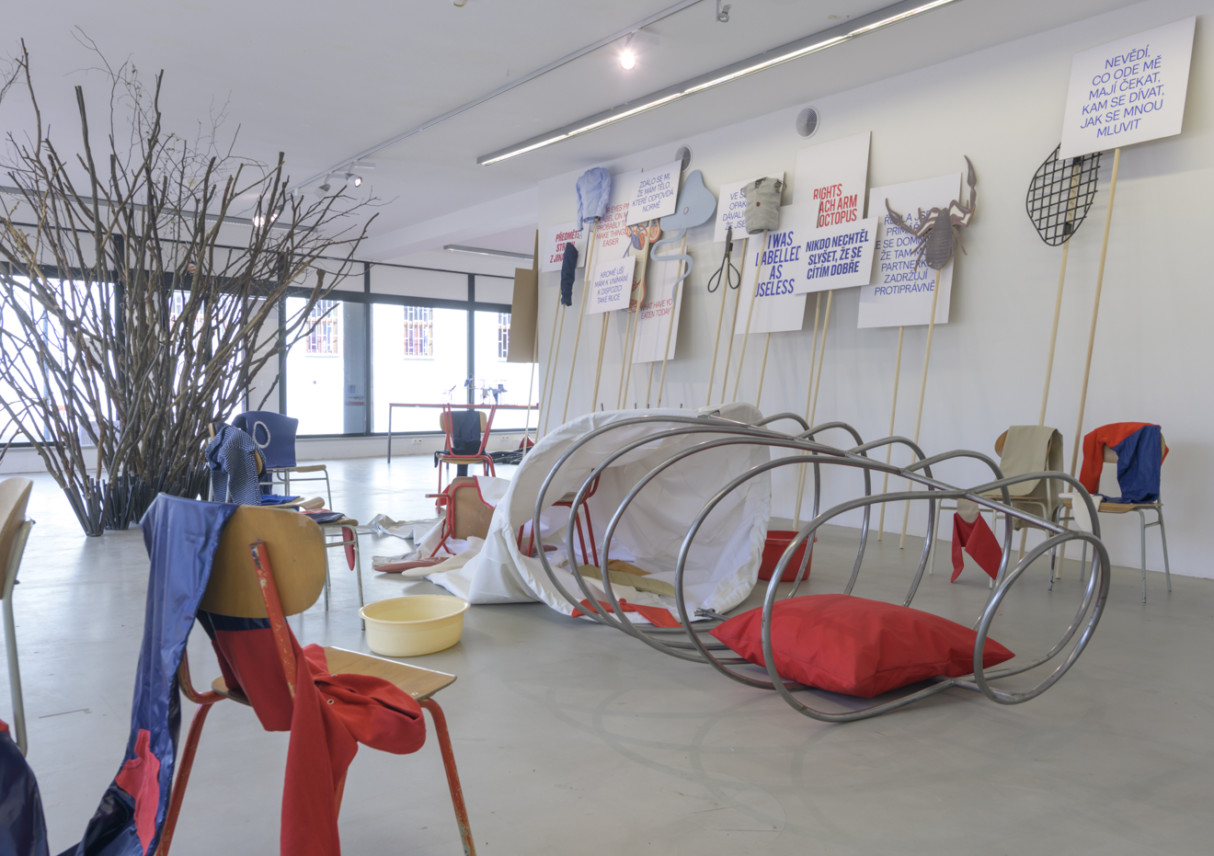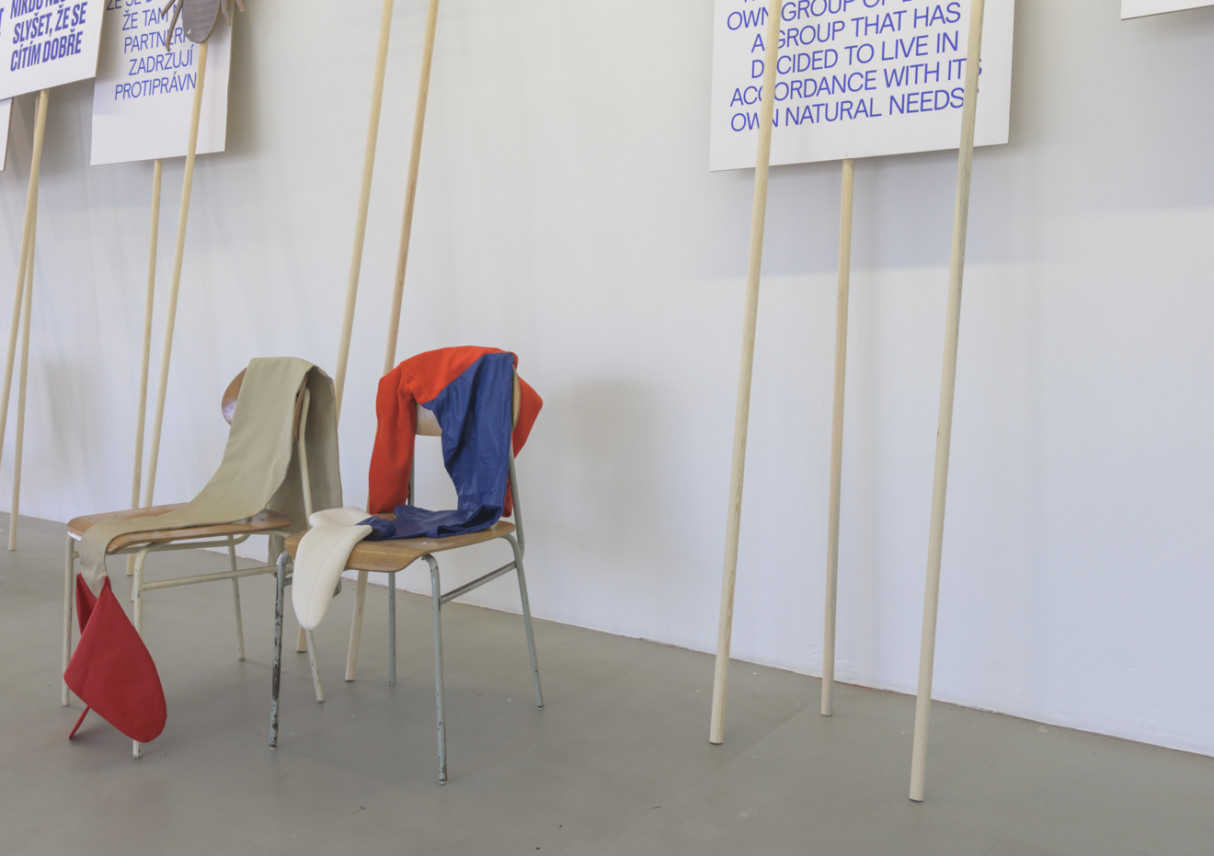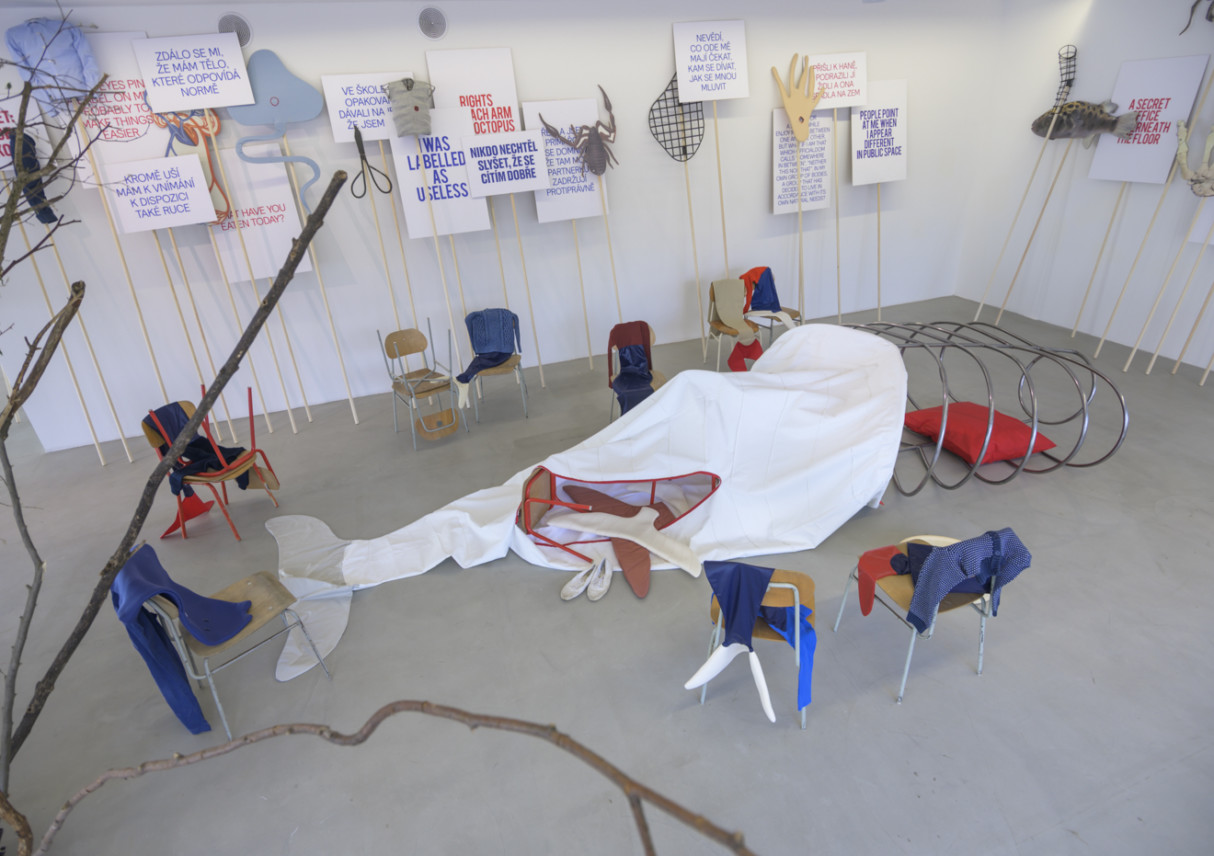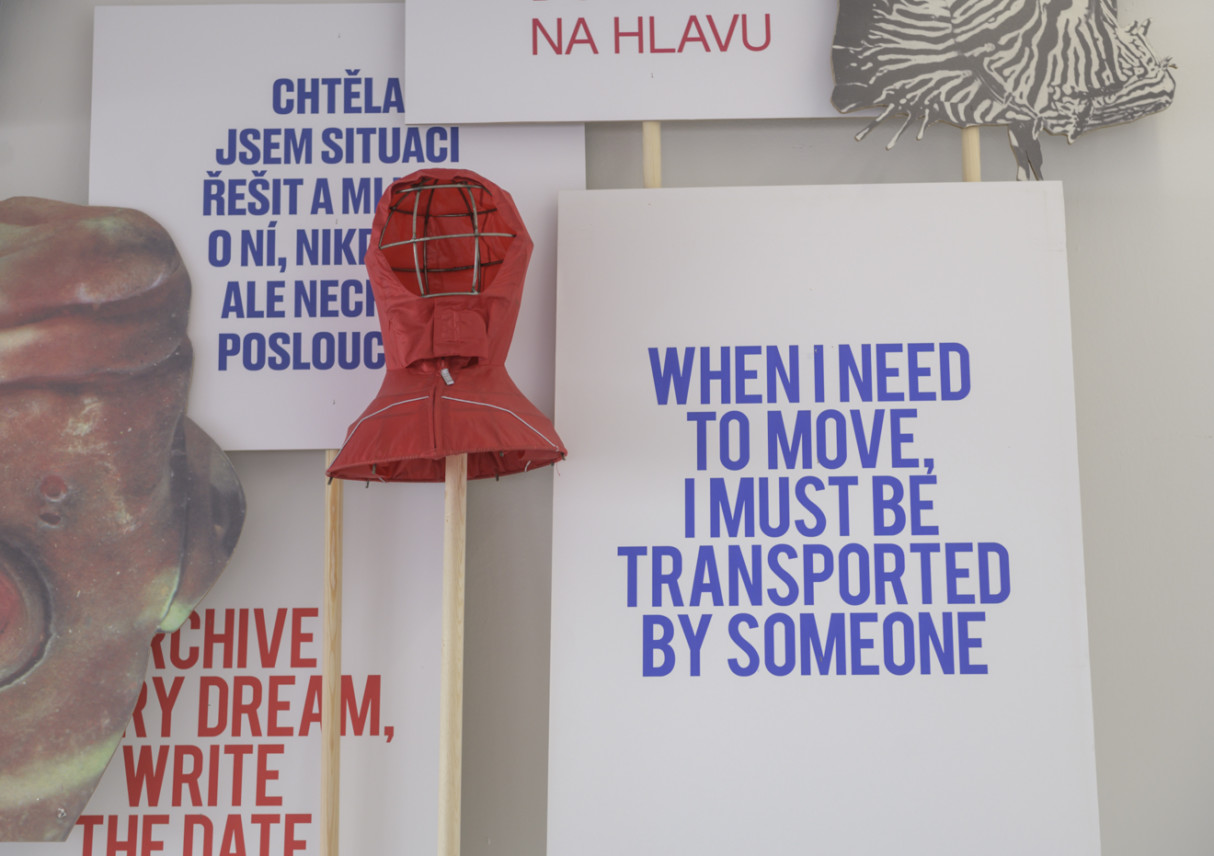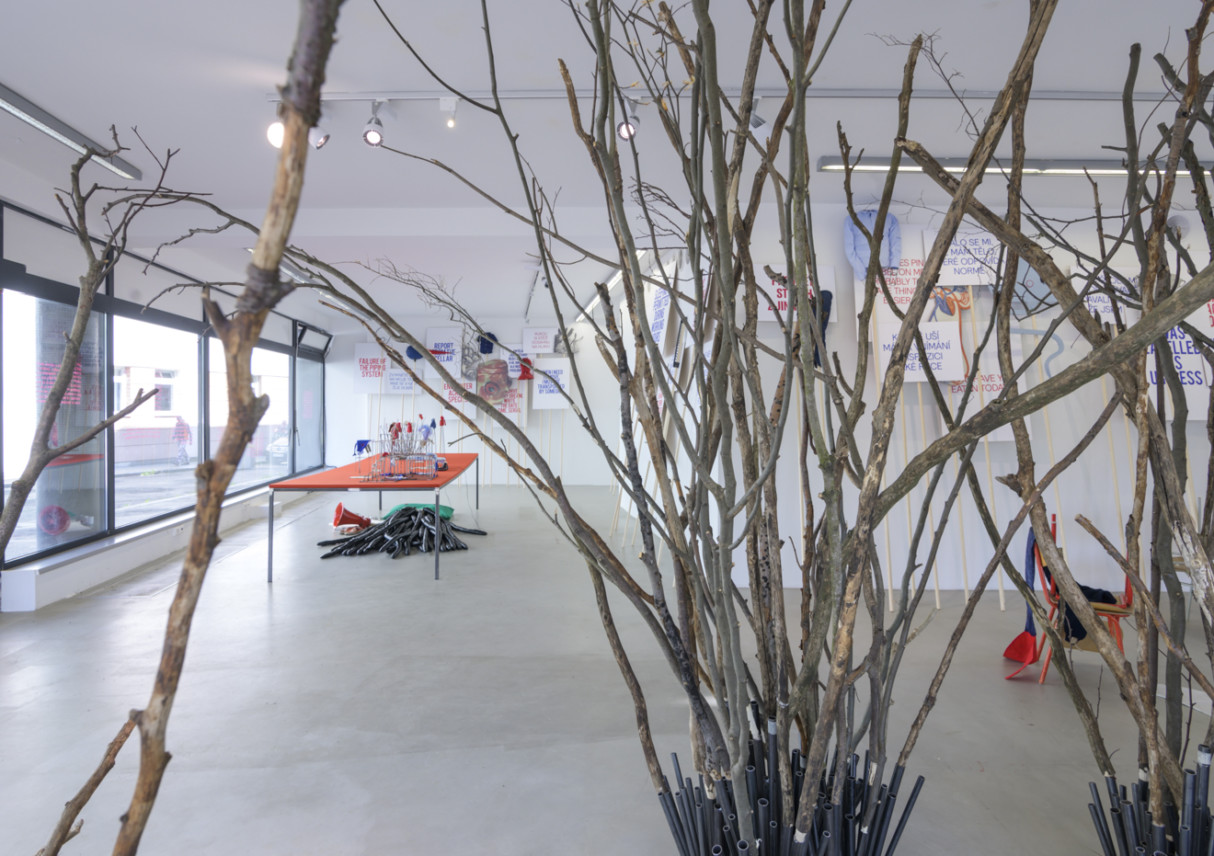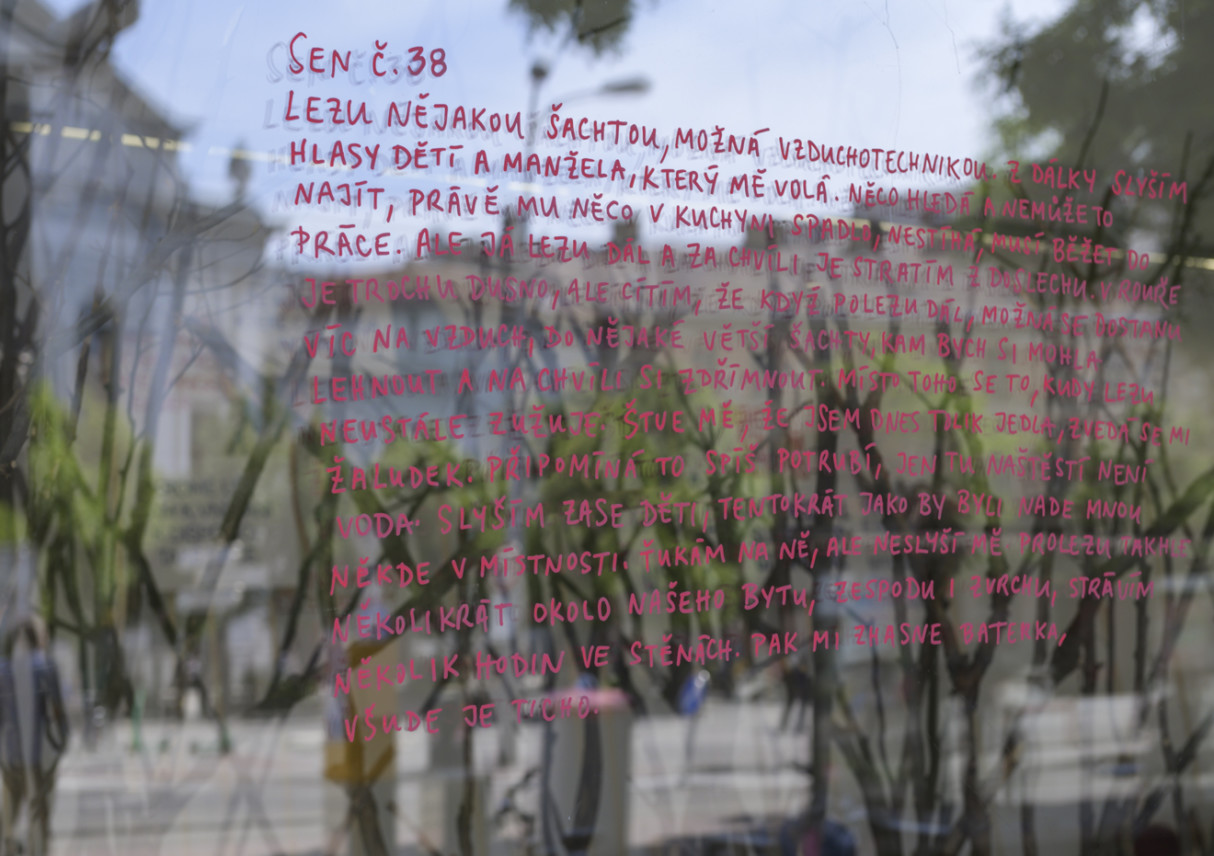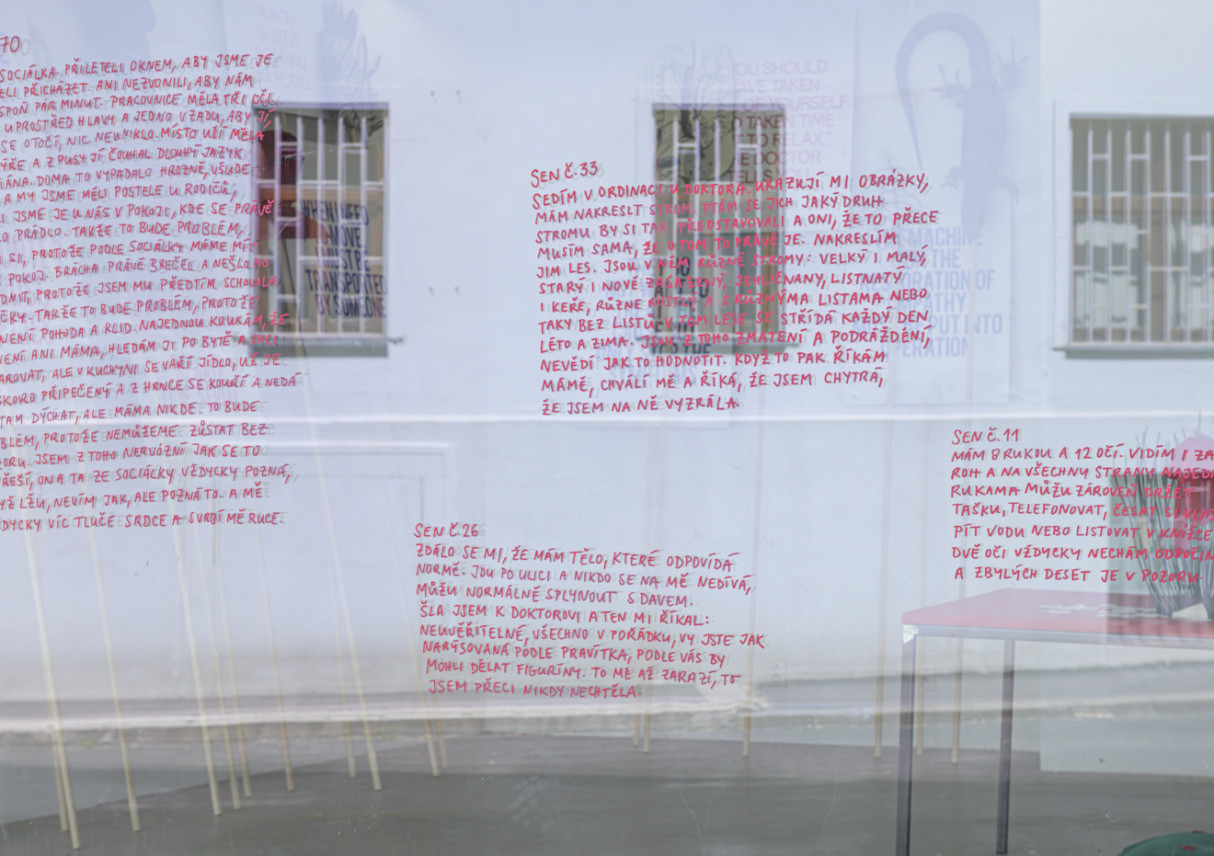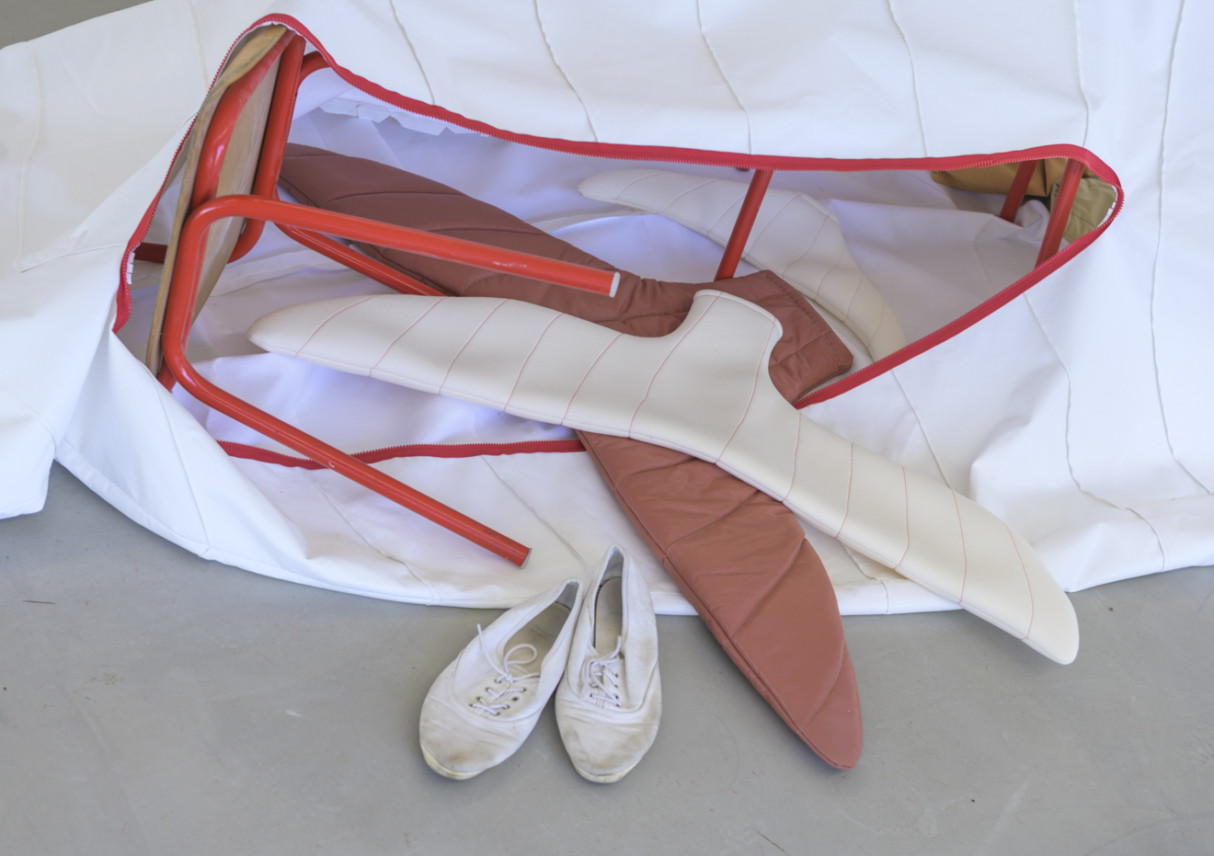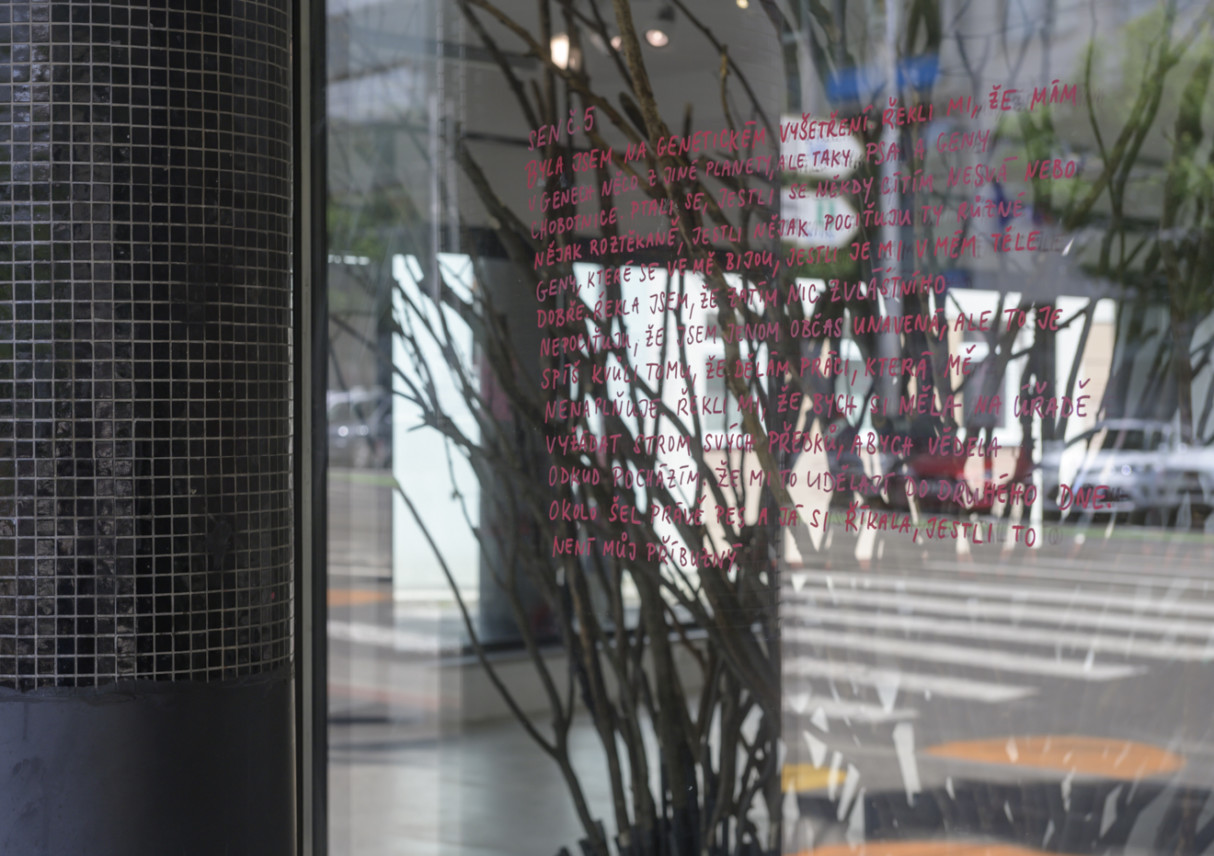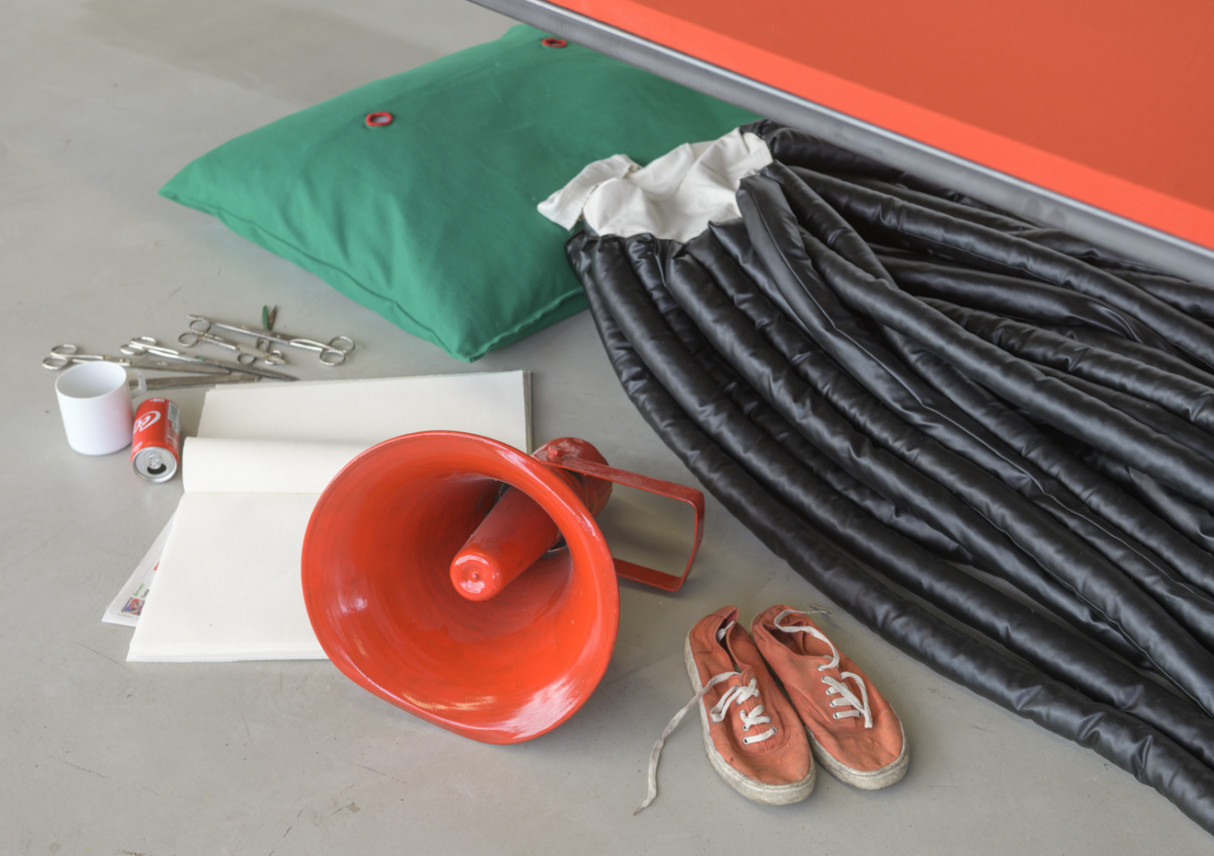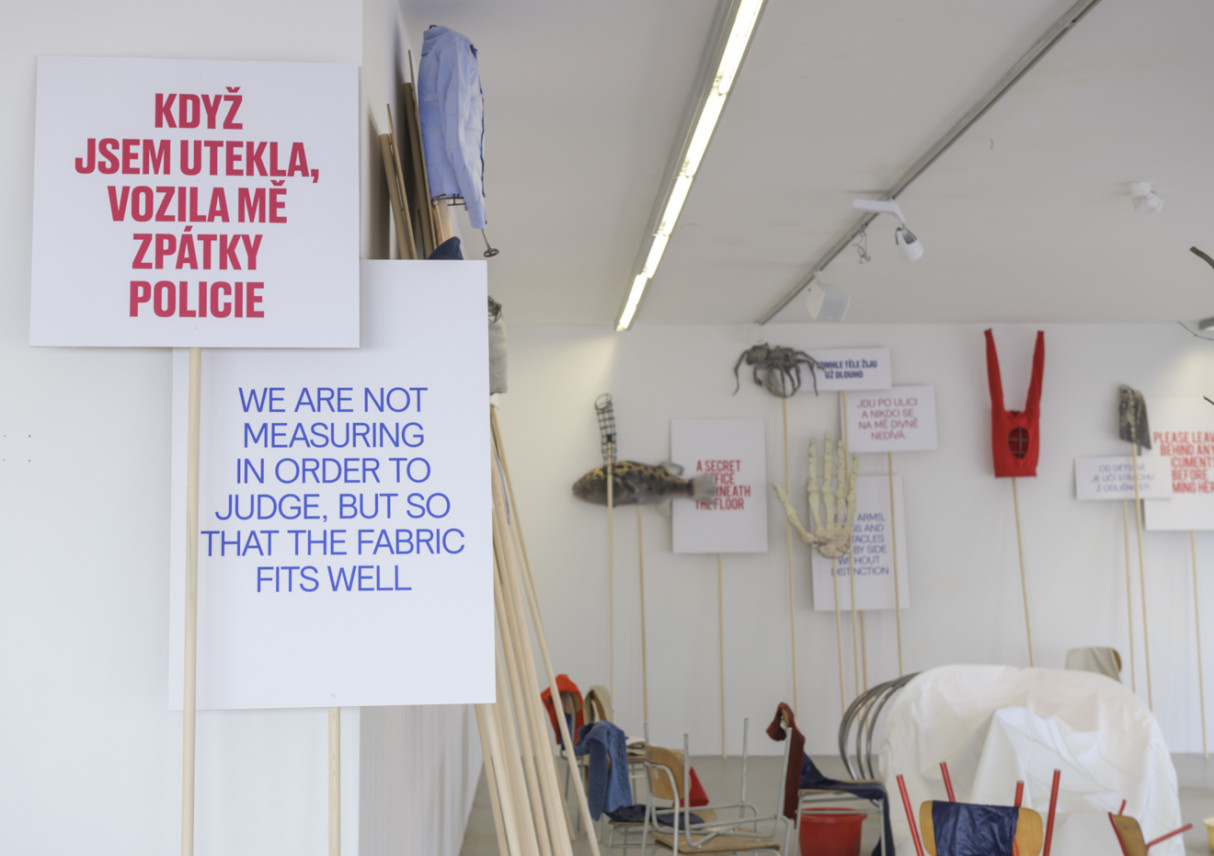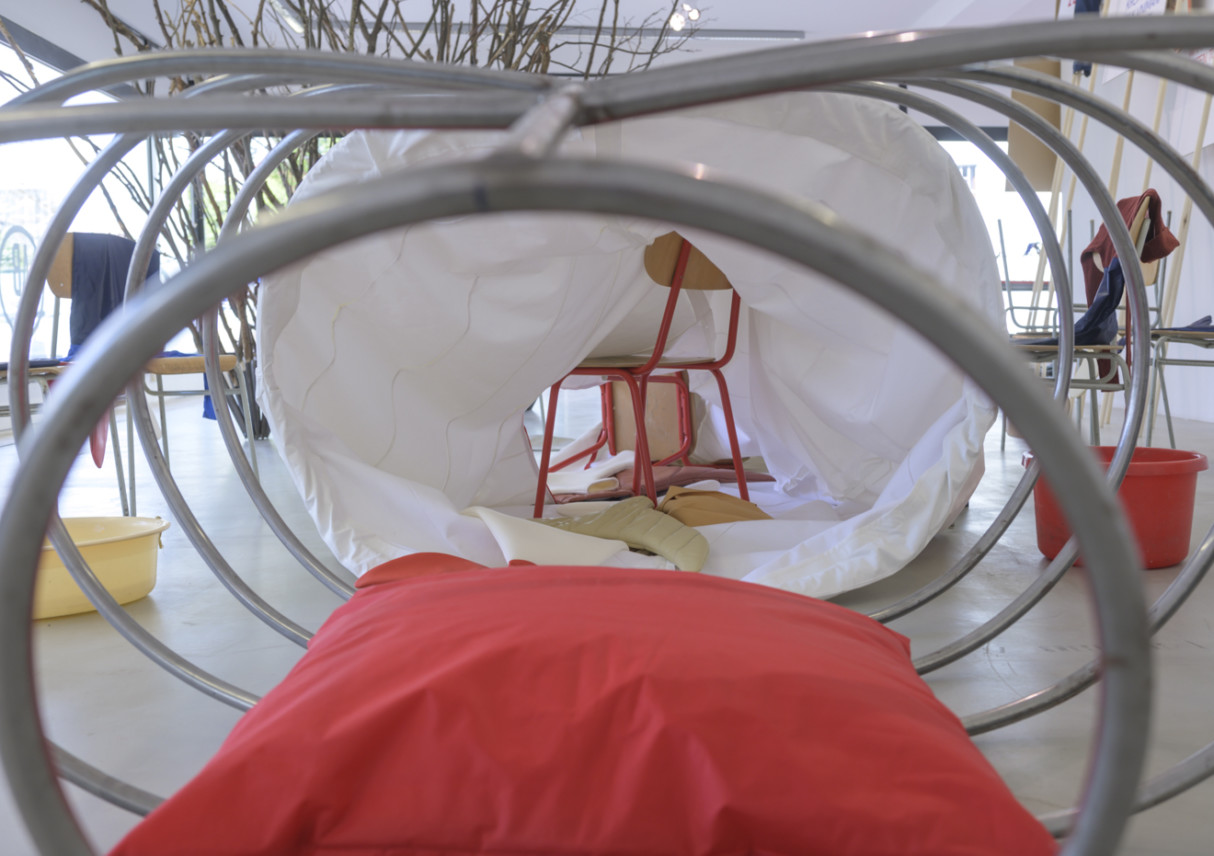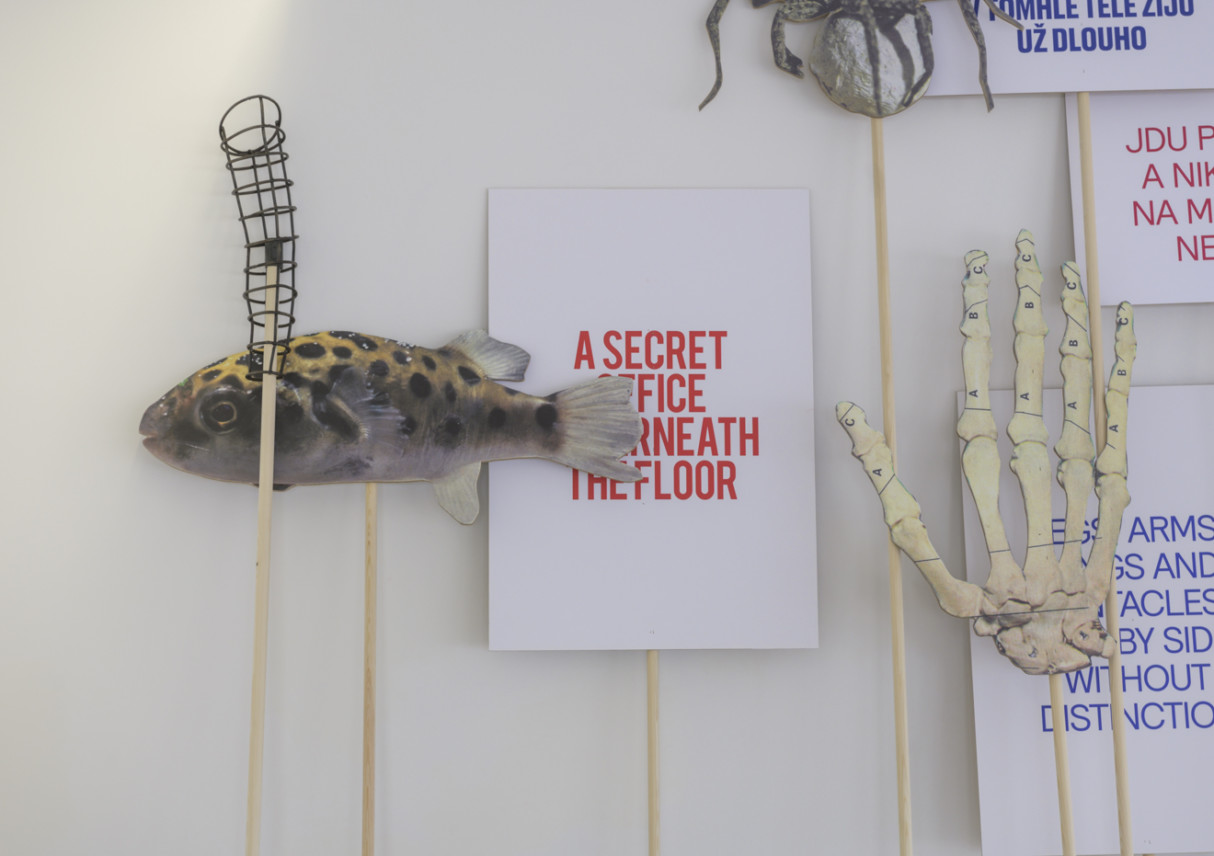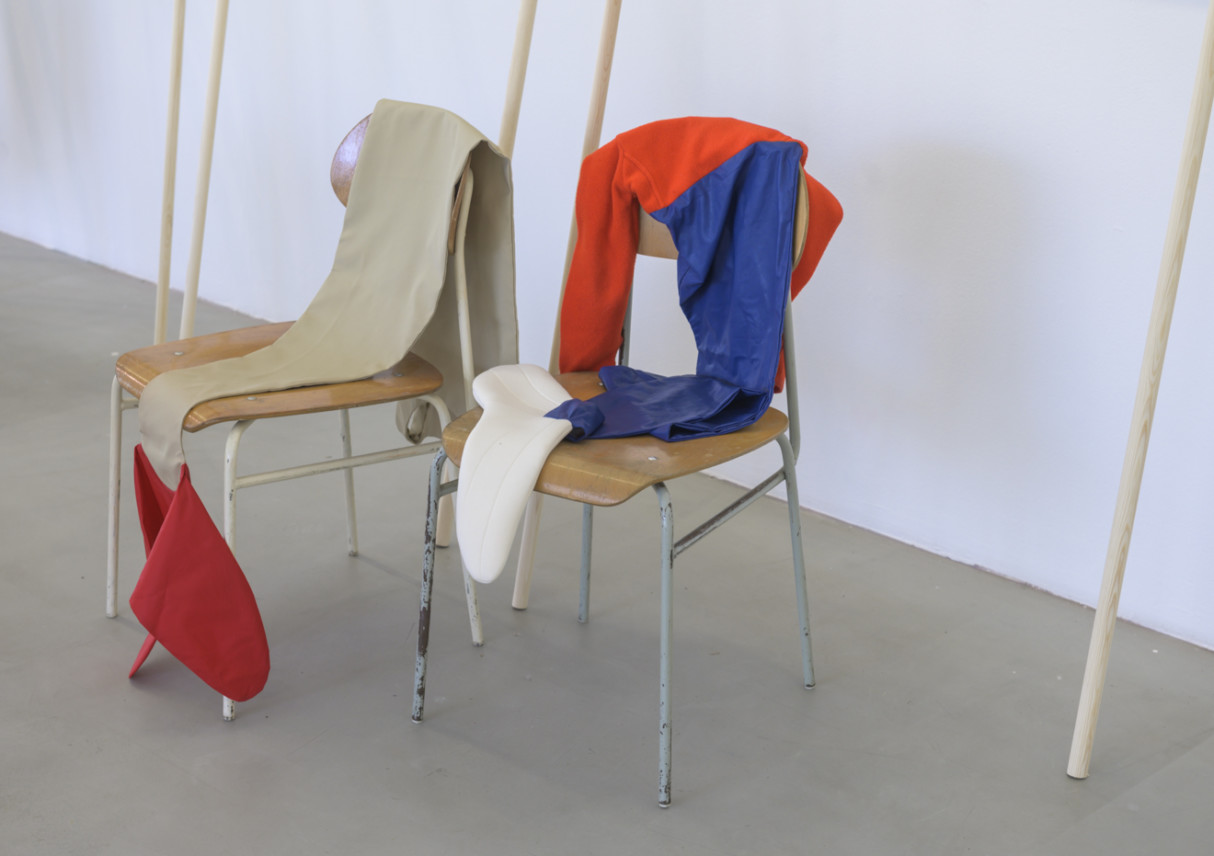 Photo © archive Kunsthalle Bratislava / Adam Šakový
Get Used to My Body, I Live Quite Comfortably in It
Eva Koťátková
26.05. 2021 - 11.07. 2021
Kurátor Jen Kratochvil
Opening
26.05. 2021, 16:00 - 20:00
Contribution Voluntary fee
The square never truly sleeps, being filled with various types of inhabitants throughout the day. Houseless people, beggars, drivers, policewomen and policemen, pigeons, shoppers, ants, governmental officials, flies and, sometimes, even bees, couriers, pub-goers, plants and trees, teenagers, protesters, pharmacists, insects, and countless others, visible and invisible.
The square has many eyes, observing, witnessing, and controlling, yet it often intentionally overlooks things that call for a sharp focus, while none is given. Its structured character allows for various types of gaze; from one place to another, from sites visible to ones unseen.
There are many edifices and many windows; state institutions, shops, cafes and bars, stores, passing trams, cars, or parked police patrols. Each of them offers a different opportunity to give attention to what's happening around. Still, it often feels more comfortable not to look or listen.
Each and everyone crossing the square has different privileges as to where they can go, where enter, or not to be allowed to. All that depends on their social role and status, their place in the hierarchy of the city. Yet everyone, despite their position, meets somewhere in the middle. Mostly without any possibility of interaction, even though they might desire it.
Czech, internationally renowned artist, Eva Koťátková's first solo exhibition at Kunsthalle Bratislava – stepping into the complex web of ongoing relations in the square – is presented on the ground level of the institution, in direct contact with the surrounding environment through the large storefront windows. Koťátková's practice explores, analyses, and symbolically relates to, and comments on, situations precisely like those taking place in the square. Her long-term interest lies in the role of institutionalized forms of power and established social units, such as community, family, and their politically-defined controlling mechanisms. Through her complex artistic practice, Koťátková maps their formative influences on an individual, no matter how and if such a person, can or wants to, actually belong to the given predefined structures.
Koťátková's carefully constructed scenographies consist of a multitude of elements; welded objects, at times in their abstract character resembling or alluding to figurative properties; ready-made objects holding specific clearly recognizable references, such as typical school chair units; miniature models of various scales; hand-sewn costumes and clothing; collages composed of found material complemented with drawings, often altered intervened in by her young daughter or other children; pieces of reformulated household furniture like tables or beds; all accompanied by and bathed in the sound of voices of people elaborating on their social experiences.
Koťátková's interest lies in marginalized voices, voices of people who don't fit, or intentionally don't want to fit, into conventionalized categories the given political system offers, who struggle to find their place within society or even within their own bodies. Lately, she has started to use the symbol of a fish: a creature lacking an ability to form a sound, to have a voice. Additionally, these fish are placed out of their watery natural environment. They are playful at first sight, yet inherently lost and in a constant search to express their identity and a rightful legitimate place.
A man completely covered in a sleeping bag lies on one of the benches in front of the Old Market Place. It's Saturday and finally nicely sunny, even though the morning is still young, and it will take an hour or two for the square to warm up properly. Saturday is a market day, so the whole area is filled with people carrying baskets or tote bags gradually filling with pricy farmer's products. The newly reinstituted chance to sit down and have a drink outside, not only in a compostable cup but also in real porcelain or glass, has recently gathered quite an unprecedented crowd. People are sipping their coffees, or even proseccos, sitting on all the benches, yet keeping an appropriate distance from the sleeping man. He slowly wakes up and carefully steps from his shelter to join other houseless people spread throughout the crowd the crowd of happy weekend shoppers. Beggars are asking for money, though not many people seem to listen. They are already used to the same faces: all around are somehow familiar. This is a small town situation, and it's hard not to get used to the group of regulars.
There is a much calmer, more of a transition zone on the other side of the street: people are mainly only passing through yet there, behind those large windows, an exhibition by Eva Koťátková is talking about all the ingrained pathologies taking place around the square.
A new dialogue is being established through the existing paths of networks and connections. All imaginable or imaginary elements are being invited to take part in the play. Not only the human beings around, but also all the animals, plants and buildings. Those, like invisible lines of thought, form the square as a living entity, an organism with its own emotions, moods, frustrations, desires, anxieties, stories of love or pain, discrimination and oppression, little joys and delights. There are many monsters living within the bounds of the square or passing through it. Identifying them may or may not bring a certain relief. Nothing is inherently bad or good in the world of imagination of Eva Koťátková's practice. But everything has its place in it. It is a space of inclusion. It is a space of dialogue. It is a space you are invited to enter.
Jen Kratochvil
exhibition curator
Eva Koťátková / Get Used to My Body, I Live Quite Comfortably in It
Support: