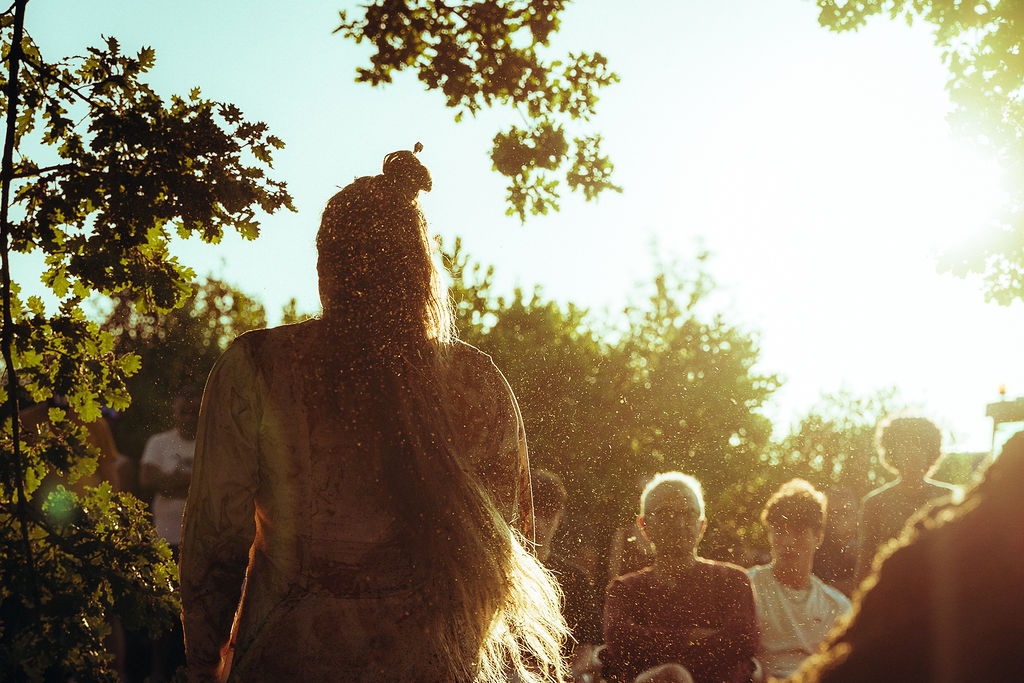 Egle Oddo, Insaturo, performance at Sequerciani Arte Clima, image courtesy the artist. Photo Matteo Neri, 2023.
Egle Oddo: Evolutionary Garden and Performative Habitat: Insaturo
In collaboration with: music composer Timo Tuhkanen, fashion designer Suvi Hänninen and botanist Anna Scialabba.
22.09. 2023 at 18h
Curated by: Lýdia Pribišová
Venue: inner yard of Pistori Palace, Bratislava
Kunsthalle Bratislava and the Old Town Library present the performance Insaturo, as part of the Evolutionary Garden project created by Finnish-Italian artist Egle Oddo in March 2023. The garden, located on the green space opposite the Old Town Library in Bratislava and developed in collaboration with the neighborhood community, is part of the project A PLANT curated by Lýdia Pribišová. Insaturo is a performance celebrating the precious qualities of soil. After the performance there will be a feast near the garden, in front of the Old Town Library on Blumentálska Street in Bratislava.A curated reading list will be made accessible to the public on the Library′s web page, encompassing themes related to the project. This compilation has been selected by philosopher Leonardo Caffo and artist Valentina Viviani (Mater Matuta Studio), in dialogue with Egle Oddo and caters to a diverse readership, including children.
The soil serves as a home to biological communities that interact with each other and collectively sustain life on the entire planet earth, which derives its name from this precious living substrate. Soil is an element defined by an unequivocal materiality, while also significant symbolic weight, oscillating between vitality and mortality. Decomposition is a vital force for the continuous regeneration of the soil and its biological communities. Borrowing from botany and pedology—the field studying chemistry, morphology and the classification of soils—the performance Insaturo directly refers to specific soils, earths and terroirs. Incorporating the processes of disintegration, decomposition and recombination of elements, the performer's body melts together with the biological communities, thus becoming an additional determining factor within soil ecologies.
"Engaging with the soil as a theoretical and structural framework for working across the boundaries of disciplines, I draw out the potential for learning in concert with distinctive soil ecologies. The standard definition of soil describes it as a natural body composed of solids, liquids, and gasses that occurs on the land surface, and is characterized by horizons or layers that are distinguishable from the initial material (Bockheim et al. 2005). The contact with soil provokes intense multi-sensory awareness, and by using an interdisciplinary approach I strive to move the perception of soil from that of an inert medium into the sensuous realm of affinity. Is soil an infinite medium in the perception of earthlings? Does this misconcept grant the fearless exploitation of soils by fracking, industrial monocultures, deforestation, and pollution? In my trajectory I associate various biotopes, which shelter pivotal species important for the planetary balance. The Mediterranean Basin is the third richest hotspot of plant biodiversity in the world, but desertification is advancing at a fast pace. This
leads to a progressive impoverishment of the soil caused by anthropogenic disturbance and by rapid climate change. Through my expanded, experiential research, bringing different knowledge practices into dialogue, I wish to address different layers of perception in relation to the future of soils."
Egle Oddo
The research is supported by The Finnish Cultural Foundation and the event by SPP Foundation, Frame Contemporary Art Finland, by the Italian Institute of Culture in Bratislava, the Gene Bank of the Slovak Republic, BKIS.
—————————————————————————————————————–
Egle Oddo b. 1975 in Italy. Her work focuses on linear and non-linear narration as an art form. Interested in operational realism, defined as the presentation of the functional sphere in an aesthetic arrangement and its inter-relations, she combines photography, moving image, installation, sculpture, environmental art and experimental live art. In her pieces, industrial production morphs towards delicate handcraft, life forms appear and emerge out of sculptures and objects, film photography appropriates digital images, selected trash mixes with fashion and precious edible mineralsand ancestral recipes are served as part of ritual meals. Her work is present at international biennials, Museums and relevant institutions, as well as cutting-edge and independent alternative spaces and events. A few examples include the summer school of Helsinki Biennial at HAM Museum, MAXXI National Museum of 21st Century Art, Manifesta 12, Zilberman gallery, 3me Biennale Internationale de Casablanca, Finnish National Museum of Photography, 54th Venice Biennale, Triennial Agrikultura, MACRO Museum of Contemporary Art, gallery Bikini Wax, Fondazione Sandretto Re Rebaudengo, Club Solo, Kunsthalle Exnergasse Vienna, Transmediale, Pace Digital gallery New York and Loop Barcelona. She lives and works in Helsinki.