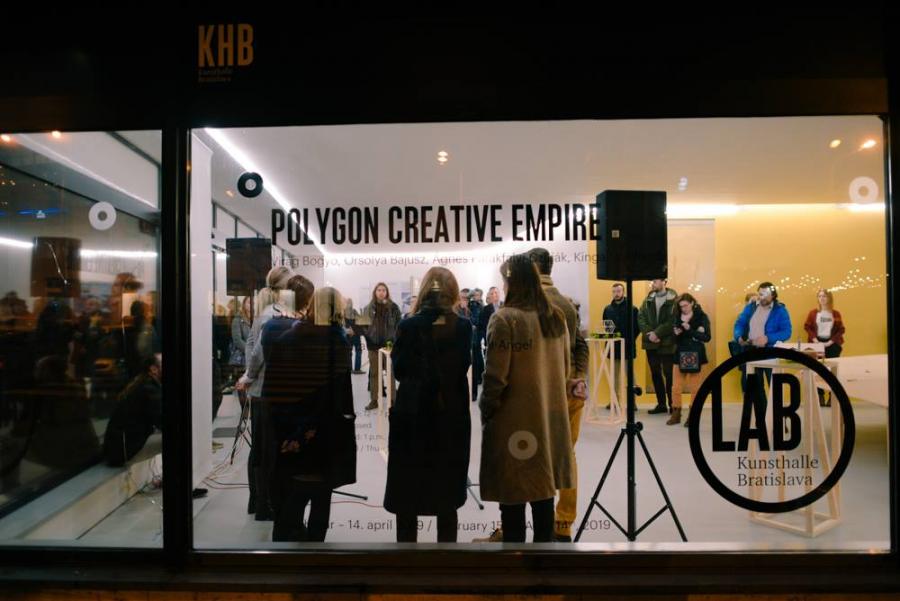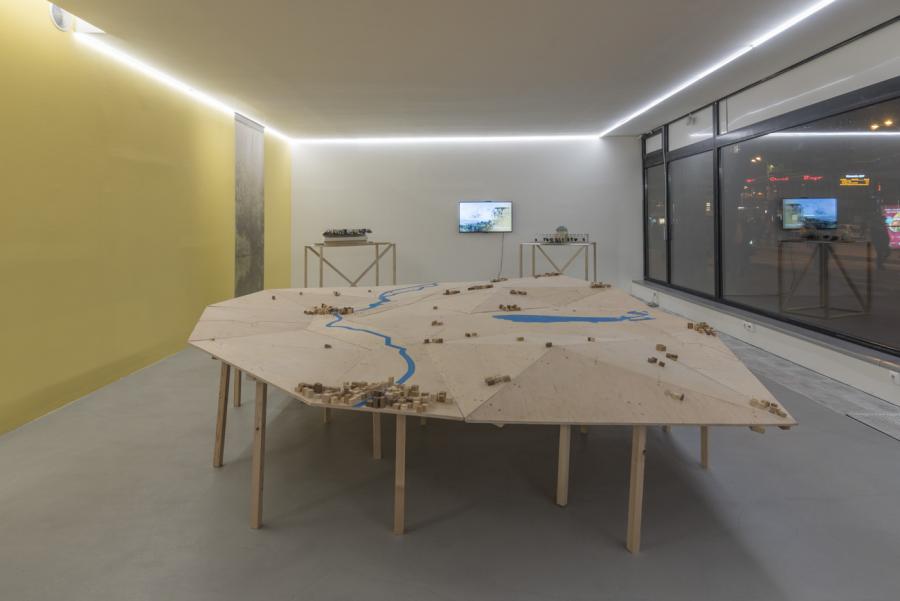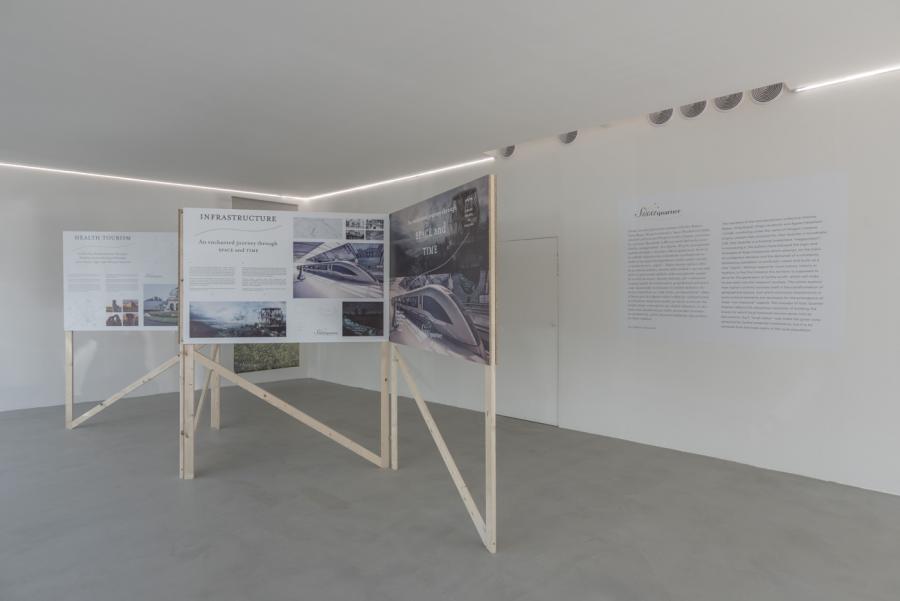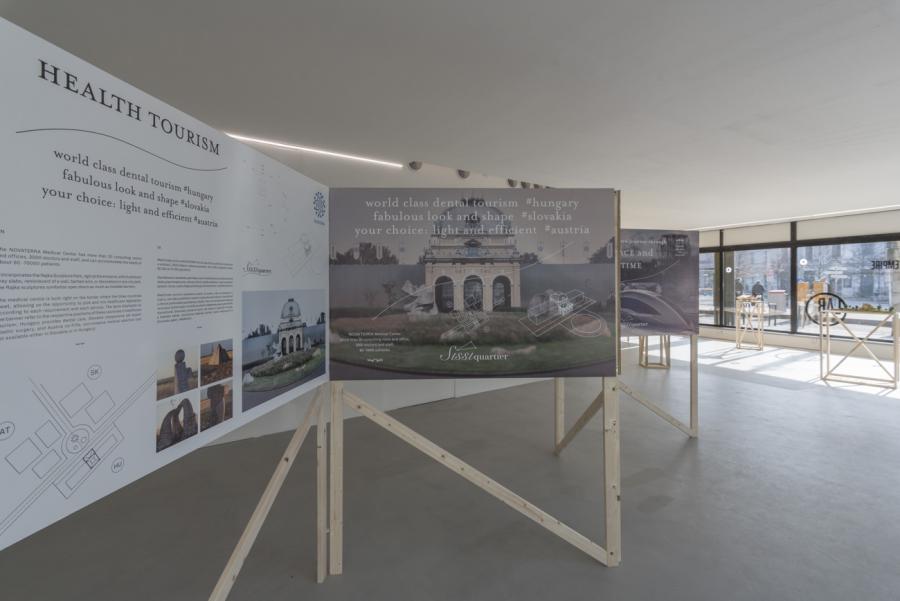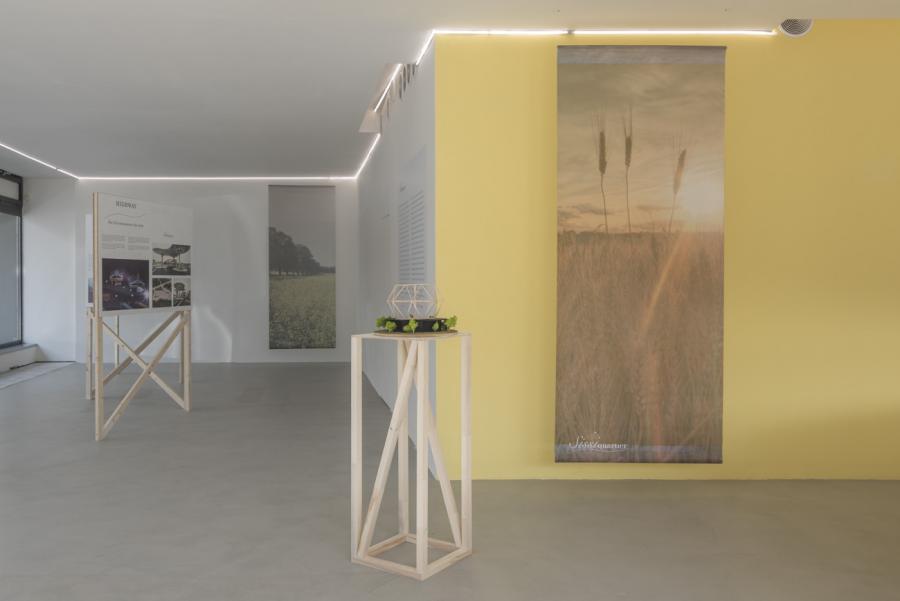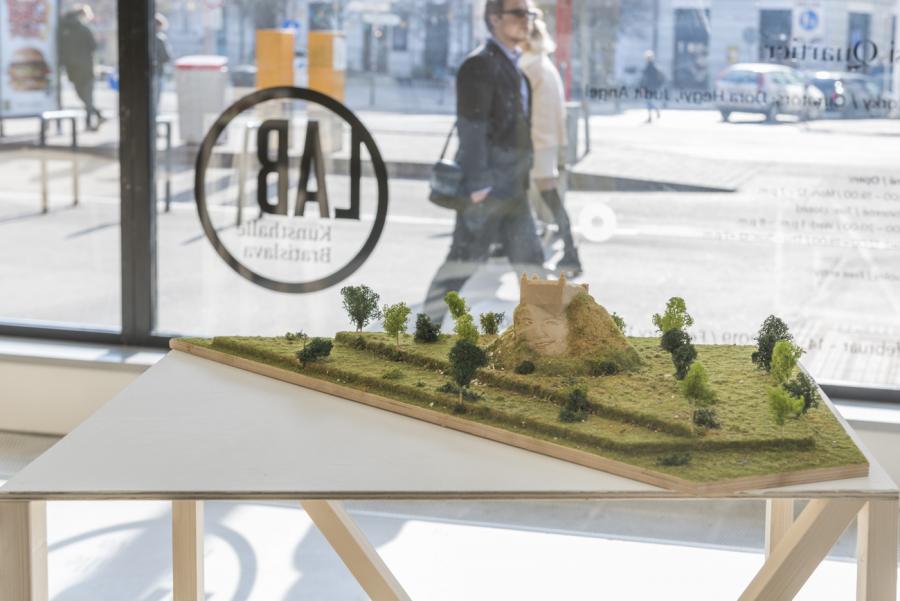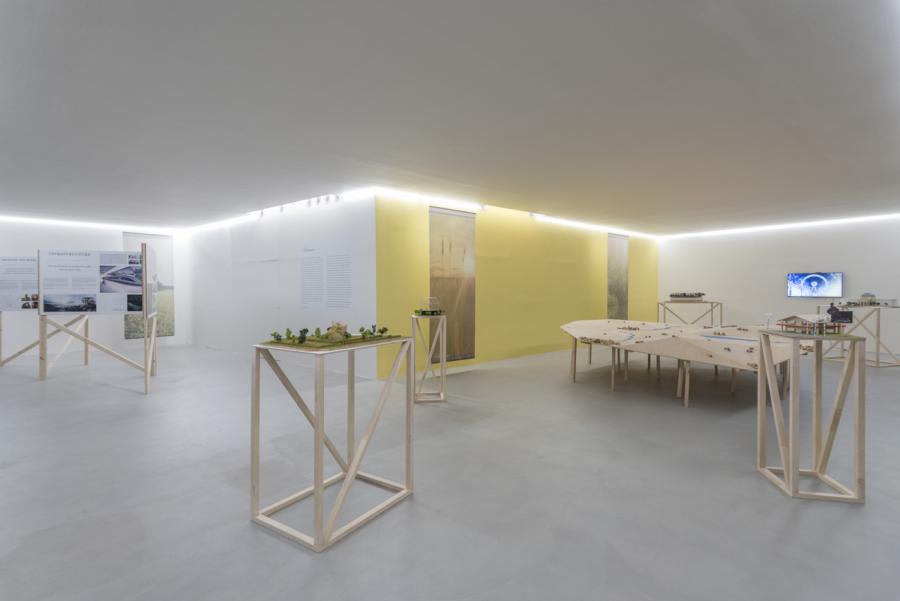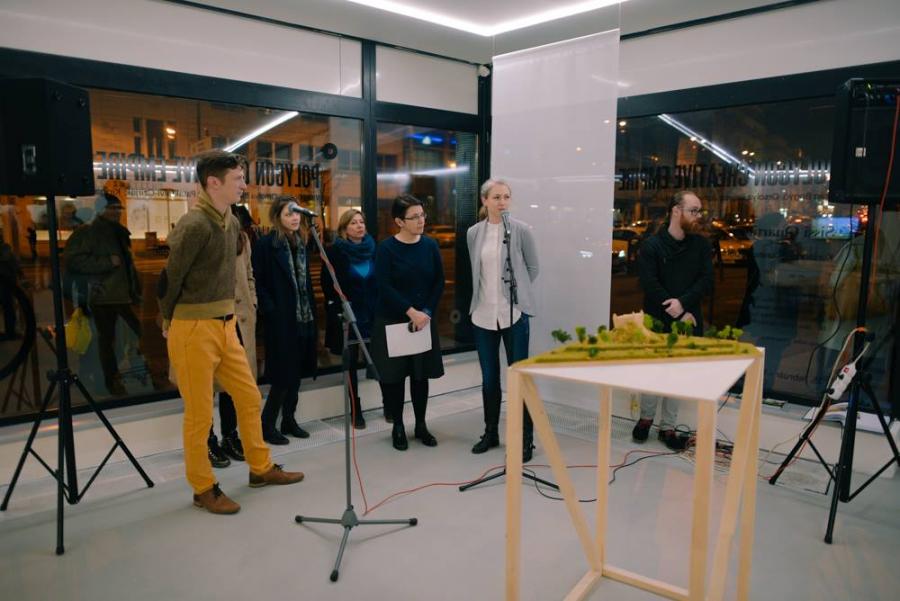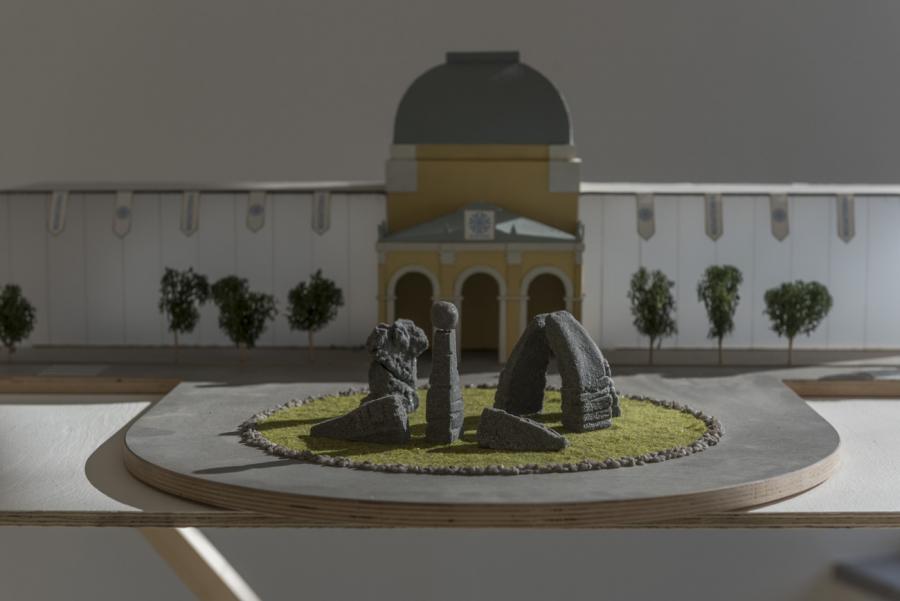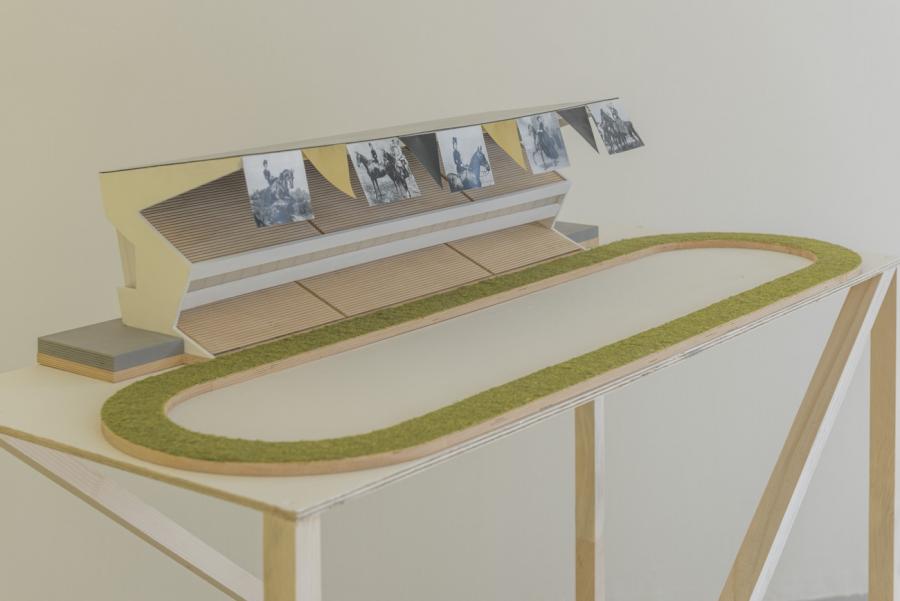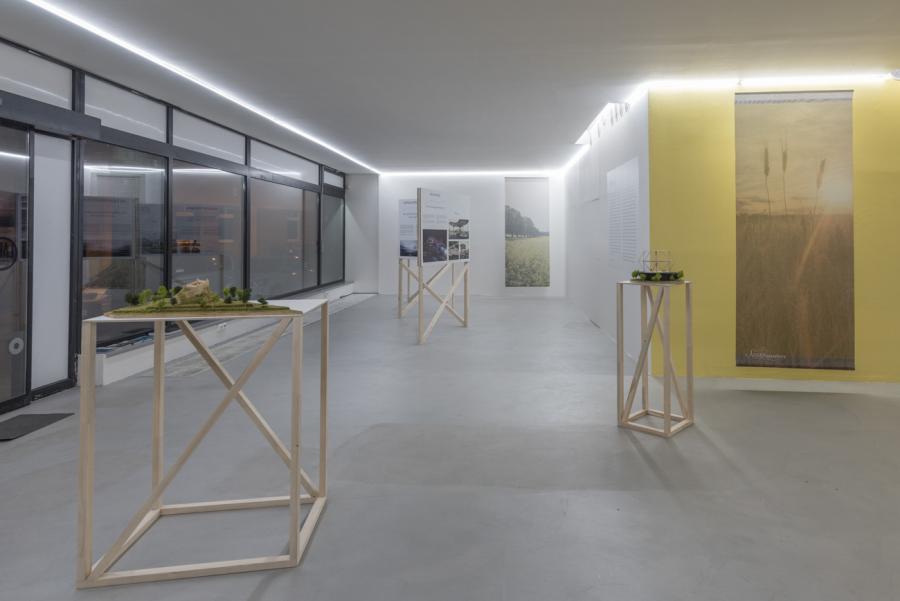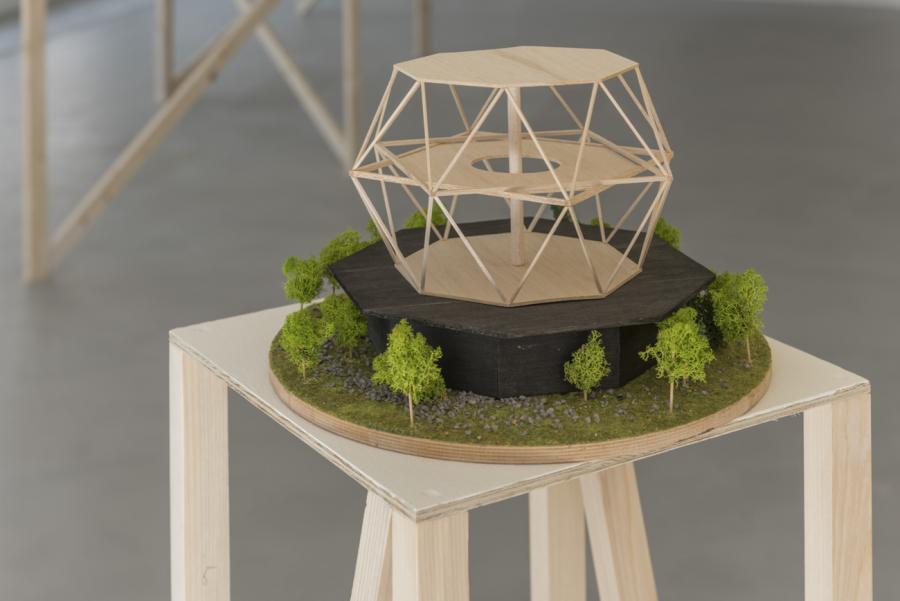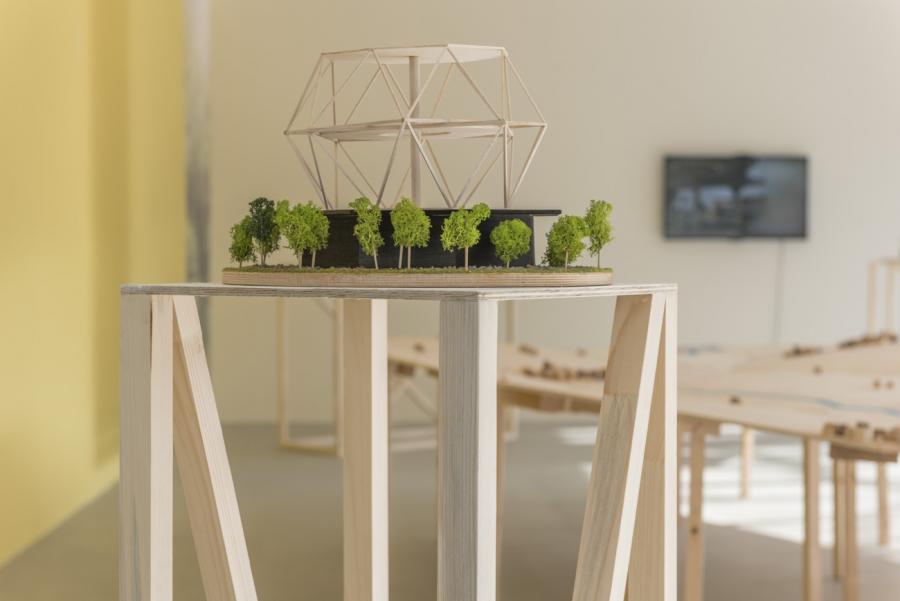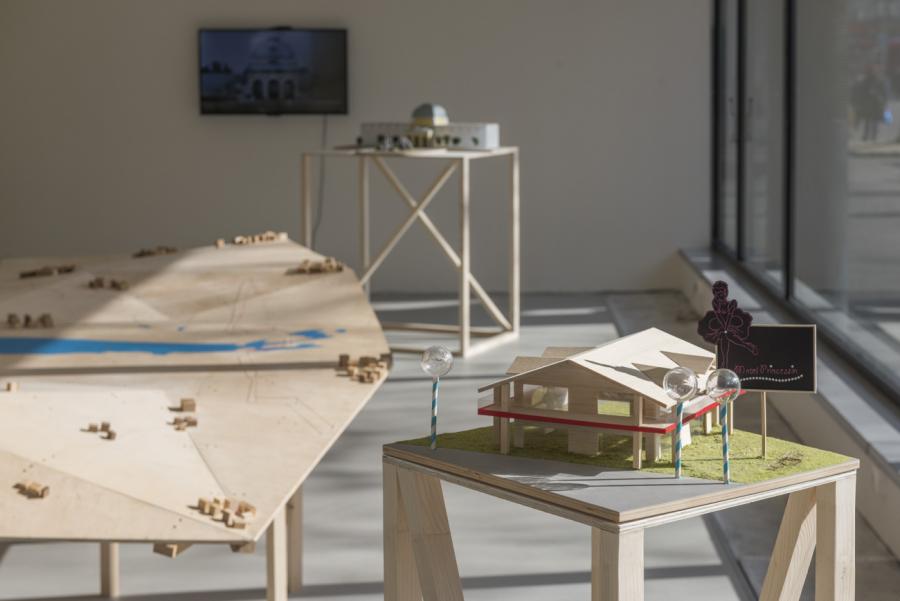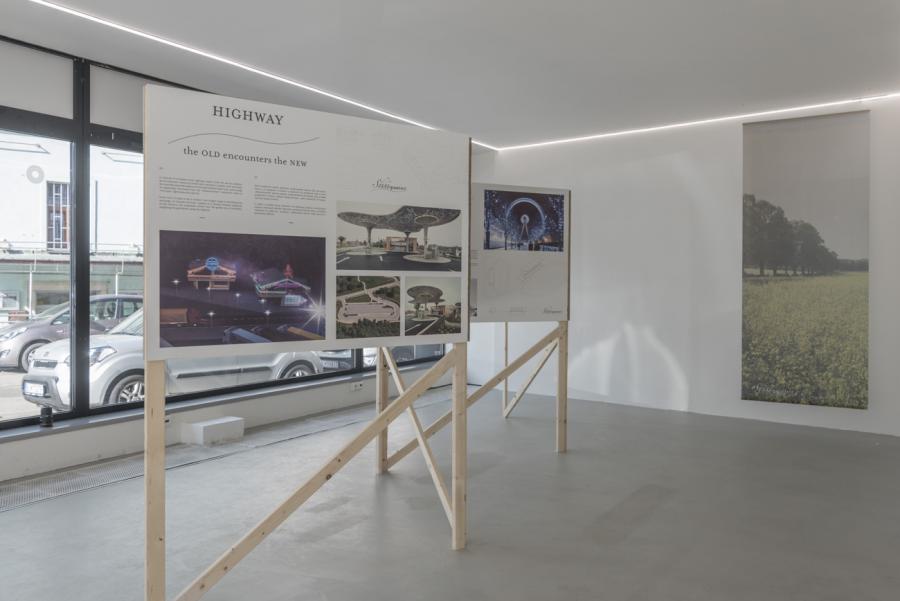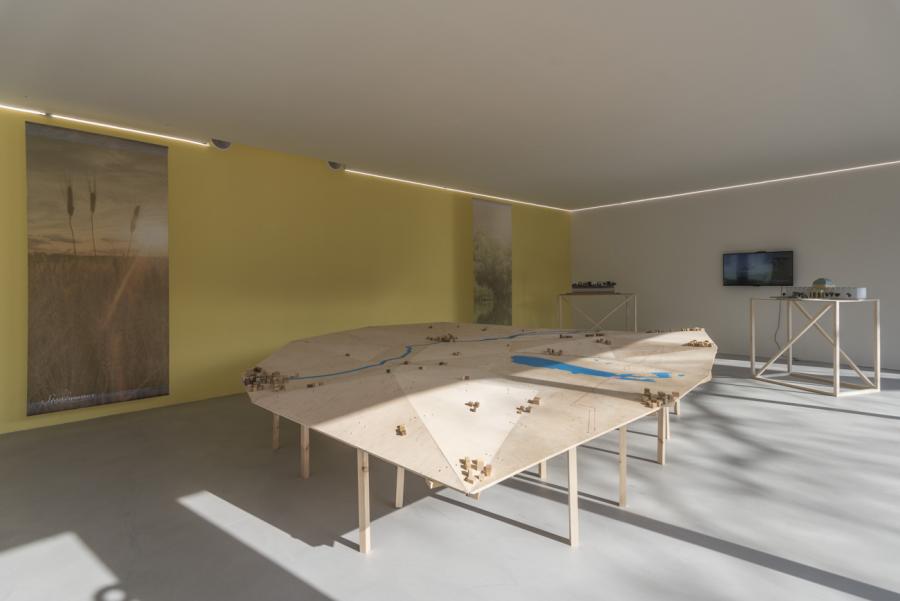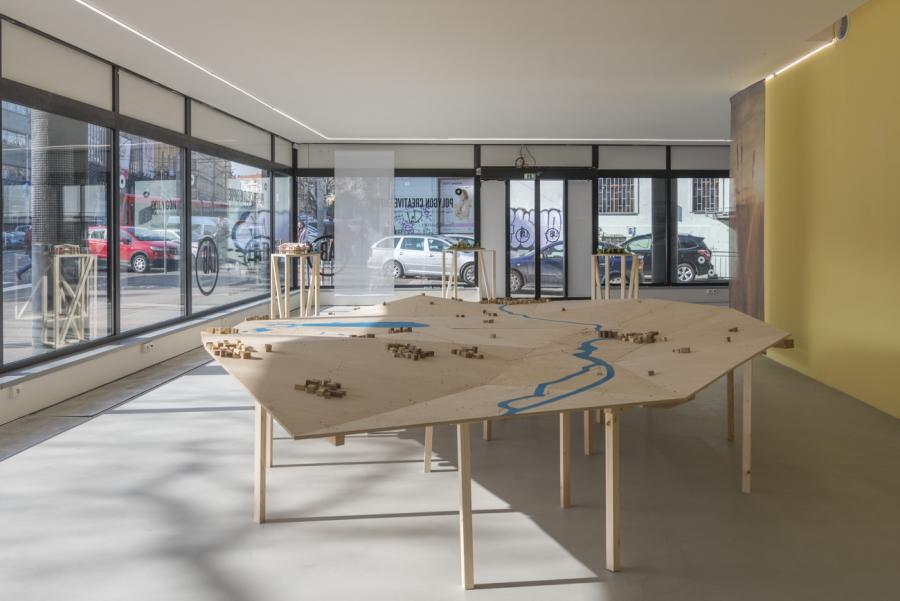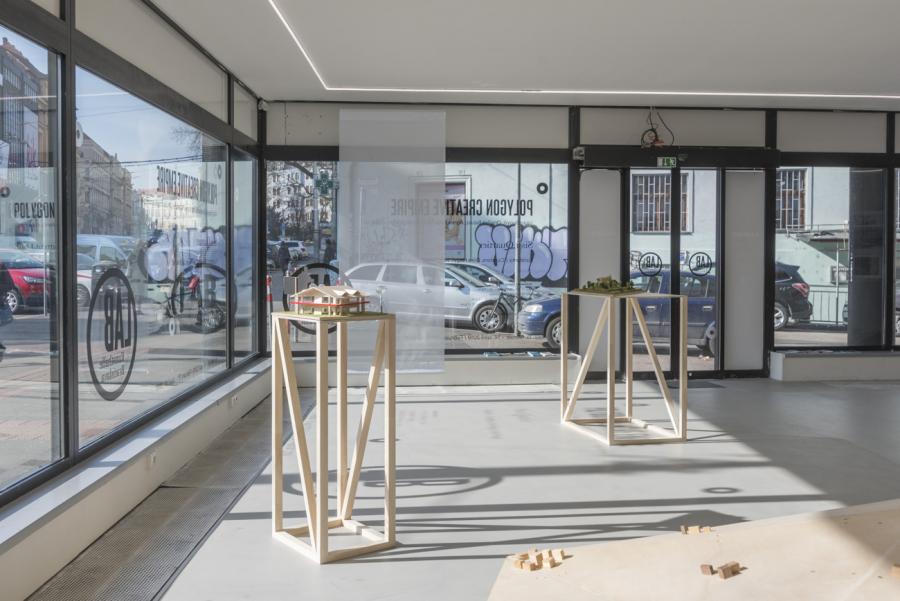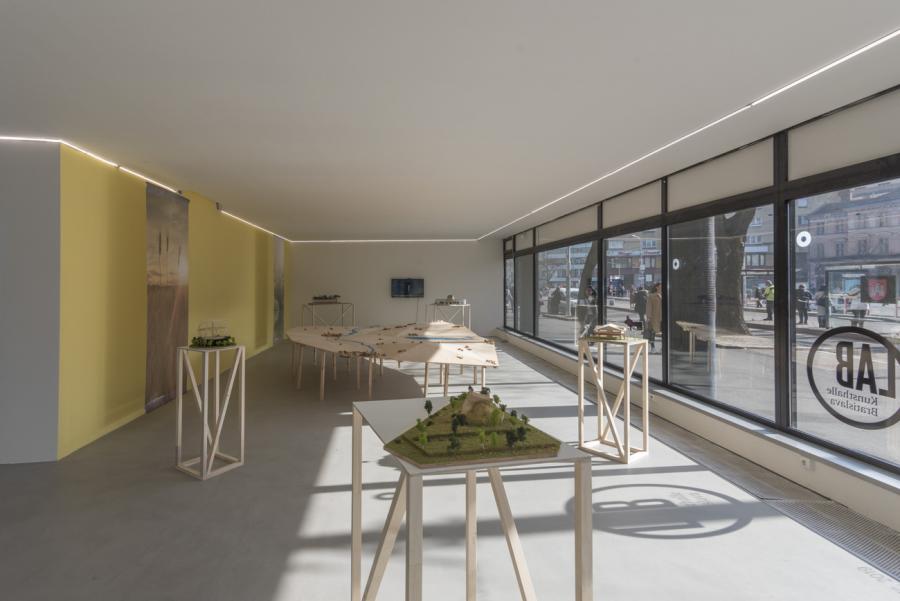 Photo © archive KHB / Adam Šakový & Ema Lančaričová
Polygon Creative Empire: Sissi Quartier
Orsolya Bajusz, Virág Bogyó, Kinga Lendeczki, Ágnes Patakfalvi-Czirják
15.02. 2019 - 14.04. 2019
Curators Judit Angel a Dóra Hegyi
Opening
14.02. 2019, 18:00/20:00
Contribution Voluntary fee
The artists Virág Bogyó, Orsolya Bajusz, Ágnes Patakfalvi-Czirják and Kinga Lendeczki, combining under the name of Polygon Creative Empire, present their proposal for Sissi Quartier in Kunsthalle LAB. Sissi Quartier is a fictional investment "megaproject". In conceiving it, the authors have followed the logic and strategies of large companies which attempt, on the basis of a subjective decision and the demands of a constantly developing capitalism, to artificially create and build up a new "region". Without regard for local culture, history or tradition, in the first instance this territory is supposed to serve for the generation of further profit, which will make its way back into the investors' pockets. The artists explore how capital currently involves itself in the transformation of geographical spaces, and which economic mechanisms or socio-cultural elements are necessary for the emergence of these "non-historical" regions. The concept of Sissi Quartier likewise reflects the ubiquitous necessity of building the brand, for which local historical sources serve only as decorations. Such "local colour" may make the given zone attractive for further potential investments, but it is far removed from the lived reality of the local population.
For the realisation of its project, Polygon Creative Empire chose an existing region sprawled on the territory of three states between Vienna, Bratislava and Győr, which economists also call "the golden triangle", on account of its favourable geographical position and potential for cross-border cooperation. Although in reality no such megaproject has been launched to develop the region, in certain historical phases these countries were joined (or alternatively separated) by political events and by a variety of state arrangements. For a lengthy period they were part of a single multi-national empire; later they became a solid and well-guarded frontier zone between the socialist East and the capitalist West. This border is still to this day regarded (but by now, let us hope, only symbolically) as that which divides "exotic" central and eastern Europe (beginning with Slovakia and Hungary) from the German-speaking west (ending with Austria).
This (hitherto fictive) project bears the name Sissi Quartier, after one of the most famous royal persons of the second half of the 19th century. Due to her depiction in popular films, while at the same time being generally forgotten about or idealised, Sissi has changed from a real historical person to a kind of icon, a symbol of beauty or delicacy, visible principally in a variety of souvenir objects and tourist attractions. The project authors chose the empress precisely because of her modern transformation into a "pop icon", an empty casing recalling the golden times of the fin de siécle, thereby forgetting or consciously erasing her real life, political activities and opinions. Here they are thinking in the manner of entrepreneurs who, in planning their investments, have no need of a figure that personifies commitment or evokes mixed feelings. Quite the contrary: what suits them is a non-conflicted and beautiful person, whom people may blindly look up to.
Sissi did not spend very much time in Slovakia. She tended to come to us only for shorter excursions. Hence her "cult" is not so visible or memorable, apart from a number of undertakings, statues or memorial plaques commemorating her stays (although the empress does undoubtedly have her fans and enthusiasts in Slovakia too). In Austria and Hungary an idealised admiration of her is sustained more conspicuously and tenaciously – besides the souvenir trade, also in tourist attractions and monuments. Again, the word quartier in the title of the project is an allusion to the MuseumsQuartier in Vienna, where a number of public museums and galleries are located, and which also has been a focal point of interest for investors.
The Polygon Creative Empire's survey (allied with their creativity) has resulted in a proposal for potential development of the "golden triangle", one which simultaneously involves criticising the practices of investors distinguished by their building of "non-places". These localities are not planned primarily for the local inhabitants, but rather for the visitors who pass through the given territory, or use it for short-term stays. Apart from hotels or entertainment centres, they need to have transit zones, roads, waiting rooms and car parks built for them: all essentially necessary, but they do not bring the region any cultural added value. Imitating this strategy, Polygon Creative Empire have decided that their investment plan will not include permanent accommodation or spaces for the development of local communities, but only opportunities for work, commerce and tourism. Using the ubiquitous Sissi icon, they have planned buildings and "institutions" which together seek to create an attractive look, that of a pleasant destination offering its visitors diverse services. Furthermore, they have enhanced the entire spatial installation with advertising banners sporting catchy slogans, which in language and visuals conform to the promo-activities of investment firms.
One of the region's dominants is the Nova Terra health centre, located right on the borders, so as to be able to exploit the legislative loopholes of the individual lands. Hungary joyfully offers high-quality dental care, Slovakia financially accessible plastic surgery, and Austria non-invasive abortions. Also part of the complex is a relaxation zone: the Rajka sculpture park with its abstract grey bulks, which recall gates or boundary stones. The Empress Sissi adored horse-riding, and so a further important building is the hippodrome. On one side there are large-format photographs recalling the cult of Sissi and her great passion; these evoke a place of social encounters and sport, but also a place which offers opportunities of gambling. In the spatial visualisation we find, among other things, a diverse range of tourist attractions, for example a viewing tower, a rock face with the carved countenance of Sissi, and an English park, new cycle tracks, and hiking paths. A progressive magnetic high-speed train guarantees a comfortable link between the individual places in the golden triangle. Polygon Creative Empire, however, has not overlooked the fact that certain border regions have for long been regarded as "grey zones", no-man's-land, where illegal activities are conducted. It is not only the smuggling trade that "flourishes" in such places, not only the laundering of money; there is even the white slave trade, and the gambling industry. And hence, alongside buildings of an entertainment, health or relaxation character, the plan of Sissi Quartier also envisages enterprises "supporting" these activities, since they have the potential to generate no small amount of profit. Accordingly, in this more easterly part of the region we find Kreuzer Kasino, nightclubs, and Motel Princess, offering light entertainment.
In Slovakia too, we have experience of foreign investors. Here they have not, thus far, invested in the creation of artificial regions or disneyland megaprojects focused on tourism and entertainment. Nonetheless, in recent years they have managed to make conspicuous changes in the panoramas of our cities, areas with natural resources, and national parks. Developers (and Polygon Creative Empire reflects this also) often do not care very much about the environment, cultural traditions, or local connections of the place where they propose to deposit their monery. Under the cloak of positive investment, which is supposed to help the given region to develop, one can often see merely the private interests of the particular company. West and east alike, the homogenising power of capital is evident. Town and country caves in to the developers, for whom even the laws are frequently bent. Our highest mountains are becoming (especially during the winter months) an elite precinct for the few select foreign tourists who can afford it. The historical centres of the cities are being emptied out, where they have not actually been rebuilt for the benefit of some glassy shopping centre with its capacious carpark. Old buildings and technical monuments are demolished one after the other, to make space for the construction of monolithic complexes of luxury apartments. And one could continue in this vein. The power that investors have in their hands is not just financial: their transformations of cityscapes and countryside will remain with us long after they are gone. Towns and other places are being reshaped without regard for context, or for the interests or real needs of inhabitants.
Barbora Komarová
Exhibition text
POLYGON CREATIVE EMPIRE (PCE) is the pseudo name for the temporary trans-disciplinary collective that stands behind the concept of Sissi Quartier. The members of PCE are Orsolya Bajusz, Virág Bogyó, Kinga Lendeczki and Ágnes Patakfalvi-Czirják, all of whom live and work in Budapest, Hungary.
Orsolya Bajusz (*1984, Miskolc, Hungary) is a contemporary artist, working with various art collectives, and researches the political work done on affective and visual registers.
Virág Bogyó (*1987, Budapest, Hungary) is a contemporary artist, currently working on her doctoral thesis (Hungarian University of Fine Arts, DLA). She has worked on several collaborations, and her working method is mostly research-based, participatory and often deals with public spaces.
Kinga Lendeczki (*1989, Baia-Sprie, Romania) is a freelance curator and aesthete. Her main fields of interest are participatory-based art projects, community building and the transformation of urban spaces.
Ágnes Patakfalvi-Czirják (*1985, Sfântu Gheorghe, Romania) is an anthropologist and a researcher at the HAS, Center for Social Sciences, Institute for Minority Studies in Budapest.
– – – – –
JUDIT ANGEL (*Arad, Romania) is curator and art historian. In the nineties, as a curator of Arad Art Museum, she organized several exhibitions reflecting on the institution's condition. In 1999 she curated the Report exhibition in the Romanian Pavilion at the Venice Biennial. Between 1998 and 2013 she worked as a curator at Műcsarnok / Kunsthalle Budapest. Since autumn 2013 she has been director and curator of tranzit.sk in Bratislava. She is interested in the social function of art, interdisciplinary research, critical discourses and collective practices. Lately her curatorial work has focused on the program of tranzit.sk, including among others the Nadikhuno muzeumos/Invisible Museum project (together with Oto Hudec, since 2017), community projects in the institution's neighbourhood, and exhibitions such as Start & Finish. Reflecting on Project-based Culture (2018), Collection Collective – Template for a Future Model of Representation (co-curated with Raluca Voinea and Vlad Morariu, 2017), Small / Big World (2016), The Need for Practice (2014). She lives and works in Budapest and Bratislava.
DÓRA HEGYI (*Budapest, Hungary) is a curator and critic. Between 1996 – 2003, she worked as a curator at the Ludwig Museum, Budapest. Since 2005, she is director of tranzit.hu. Hegyi organizes exhibiton, discursive, educational, research, and publication projects in both institutional and non institutional contexts. A primary motivation that informs her work is the consideration of art as a field of experience that can initiate new approaches and mediate among other fields of knowledge production. In this framework, her most significant initiatives include: Free School for Art Theory and Practice; Art Always Has its Consequences; Catalyst Award; and Artists at Schools. In 2010 Hegyi was part of the curatorial team of Manifesta 8. Hegyi lives and works in Budapest.
– – – – –
BARBORA KOMAROVÁ (*1990, Prešov, Slovak Republikc) is a curator and a critic, focusing on the contemporary visual art. She received her bachelor degree in the art history from the Comenius University in Bratislava (Slovakia) and masters from Université Rennes 2 (France) where she specialized on the curating and contemporary art theory. In 2016 she won the Radislav Matuštík Fellowship for young curators, which is organised every year by Bratislava City Gallery. She worked in Gandy gallery, ABC gallery and Bratislava City Gallery. She regularly contributes to the online magazine artalk.cz. She lives and works in Bratislava.