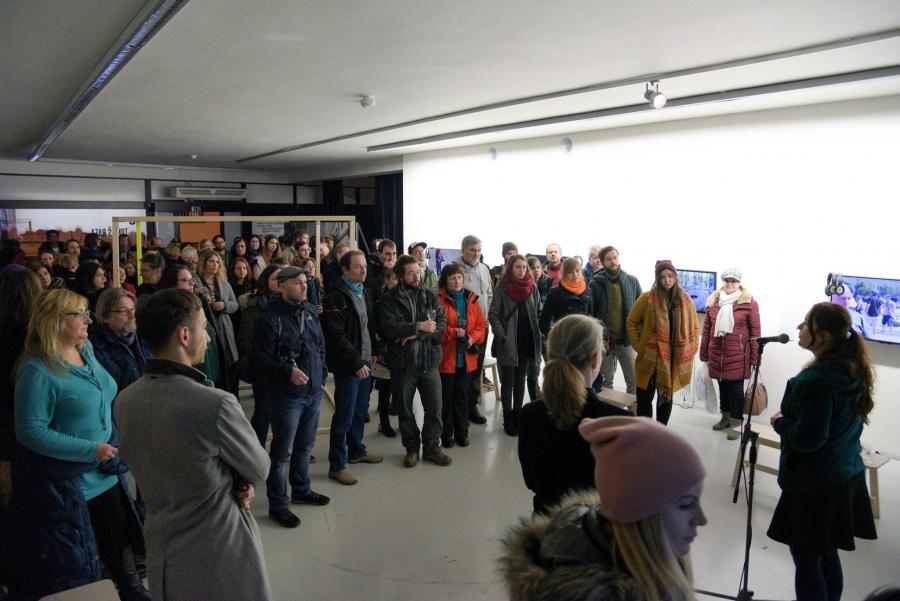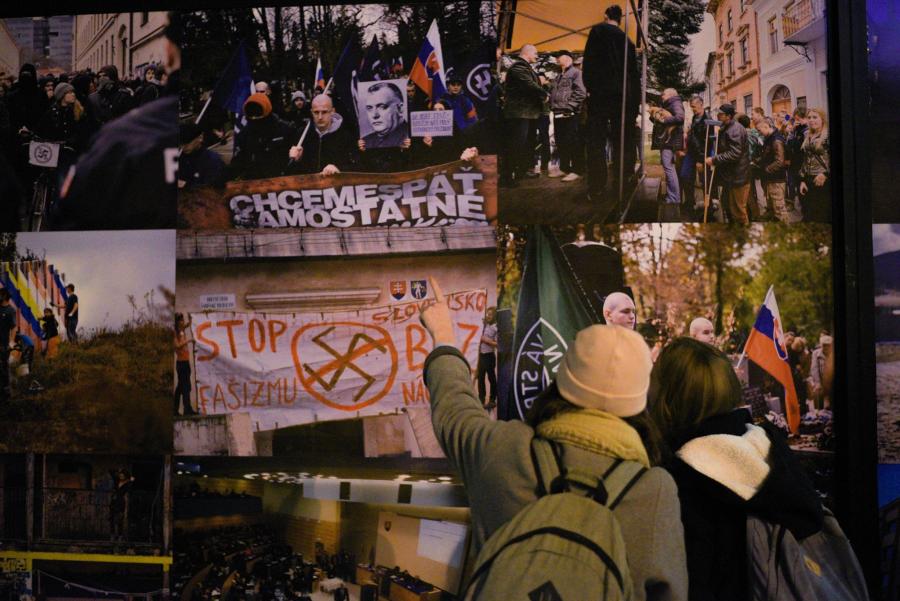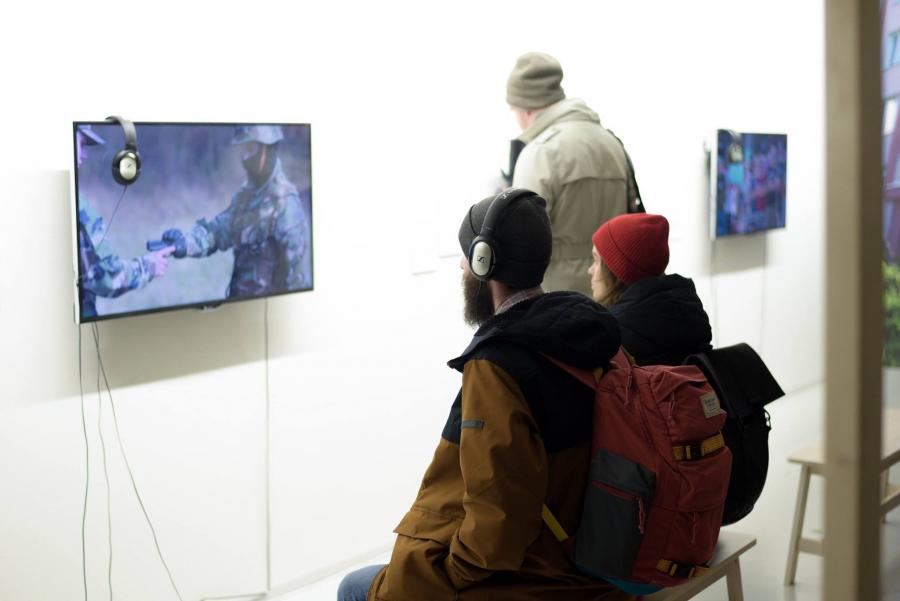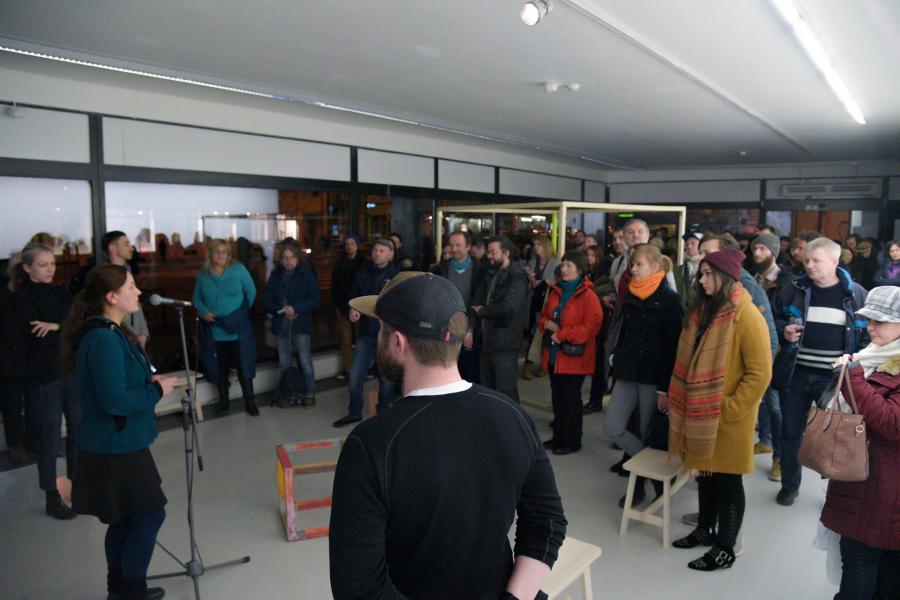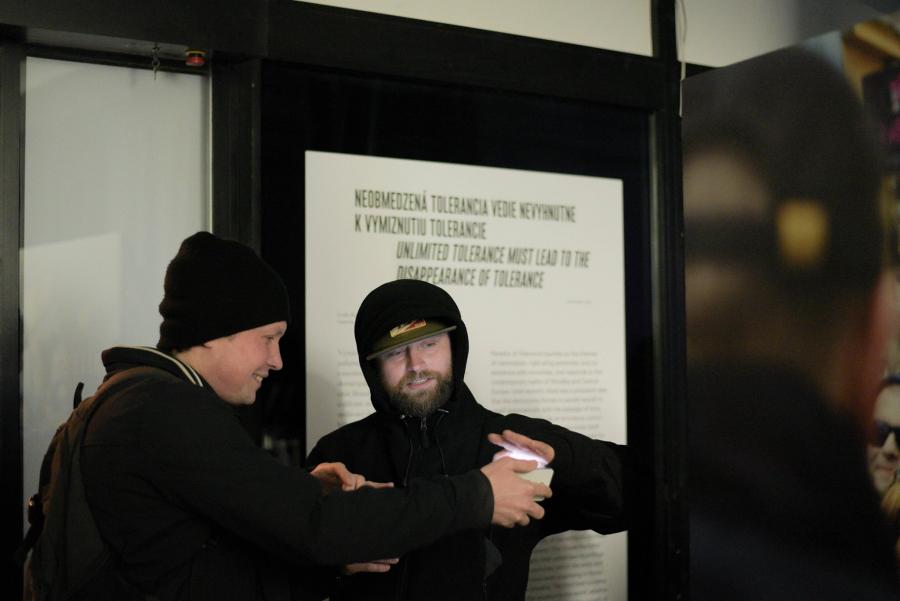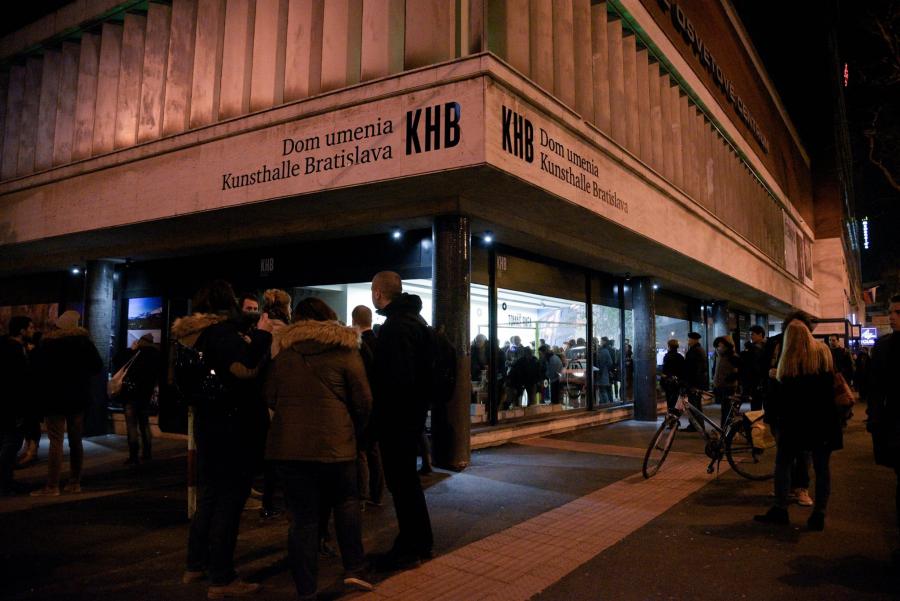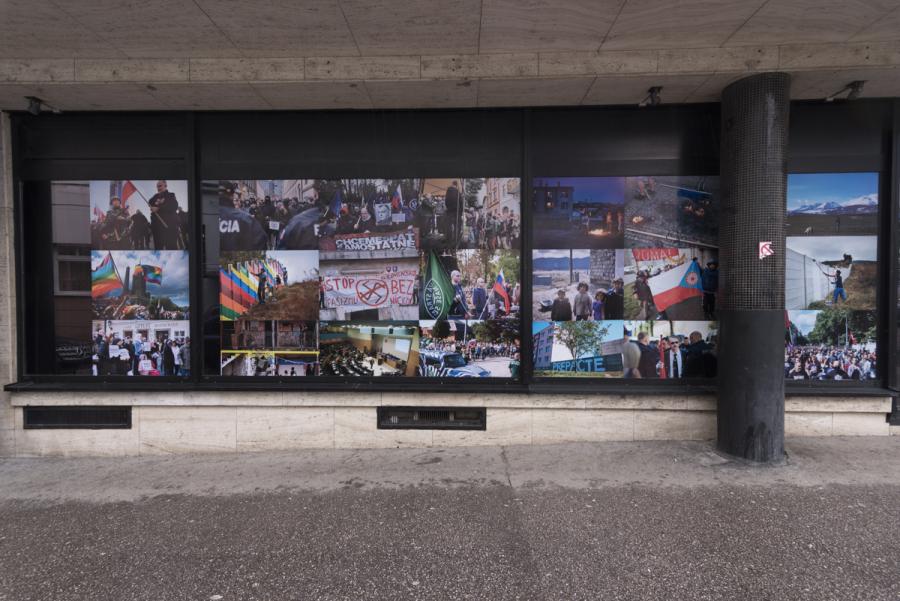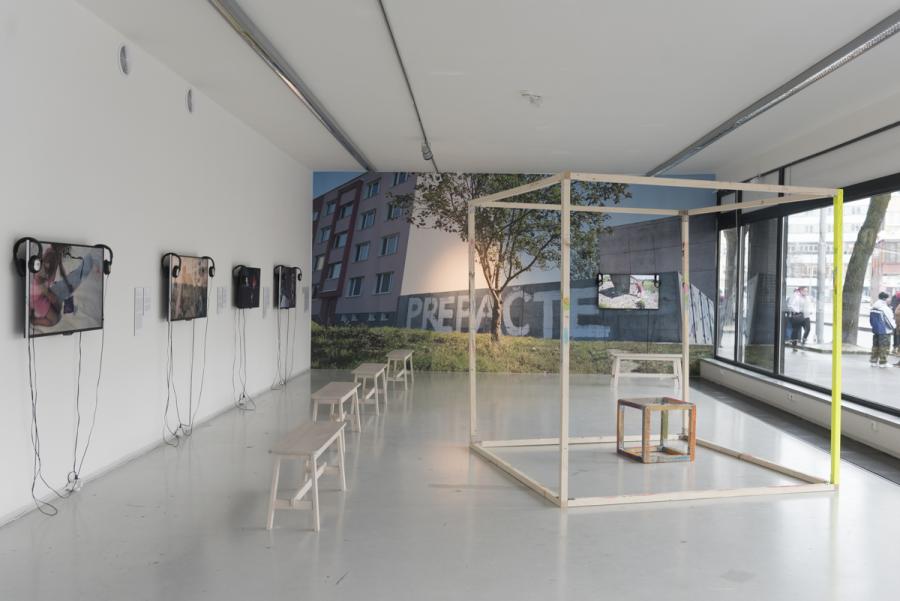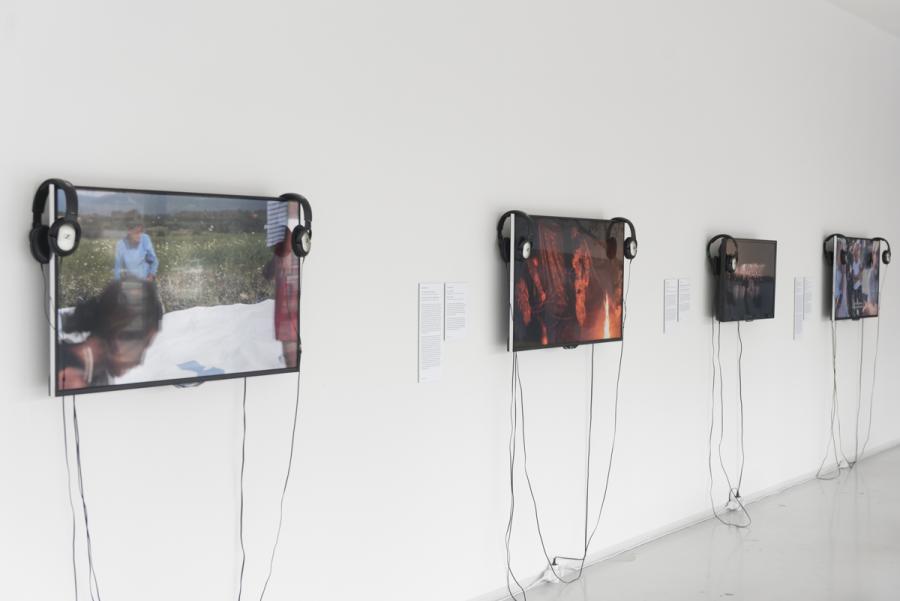 Foto © archív KHB / Adam Šakový
Paradox of Tolerance
Tomáš Rafa
16. 02. 2018 - 06. 05. 2018
Curator Lenka Kukurová
Exhibition opening
15. 02. 2018 at 18
"Paradox of tolerance: Unlimited tolerance must lead to the disappearance of tolerance. If we extend unlimited tolerance even to those who are intolerant, if we are not prepared to defend a tolerant society against the onslaught of the intolerant, then the tolerant will be destroyed, and tolerance with them."
Karl Popper, 1945
The above quotation from the Austrian-British philosopher Karl Popper is not an abstract or purely historical declaration, rather it is a highly specific answer to present-day political questions. It creates a framework for this exhibition by Tomáš Rafa, who is concerned with precisely these questions in his art. Paradox of Tolerance touches on the themes of nationalism, right-wing extremism and coexistence with minorities, and responds to the contemporary reality of Slovakia and Central Europe. Until recently there was a prevalent idea that the democratic forces in society would triumph automatically with the passage of time, but this has proved to be an erroneous conviction. Tomáš Rafa's exhibition associates itself with Karl Popper's warning that the struggle for a free and open society is never-ending and depends on public involvement. The Kunsthalle LAB space, which is connected with a public space, offers Rafa's works an opportunity to communicate with the broad public. The exhibition has not only an artistic but also an activist purpose, and it seeks to motivate people to civic activity and to rouse them from indifference.
Tomáš Rafa is an artist who focusses on current affairs. His artistic tools are a camera and photographic equipment. In situations where crowds of people are gathering in some particular place, Rafa with his technical requisites boards a train, determined to be present. He lives in constant movement: recording, collecting, archiving, he also organises and publishes on the web. His archive entitled New Nationalism in the Heart of Europe (a continuing project since 2009) contains photographs and video reportage of demonstrations, blockades and protests. With his long-term interest in the individual themes, he is achieving the credibility that is important in politically engaged art. Tomáš Rafa's works touch on political events, evoking public discussion in which the author himself participates, both as artist and activist. Ethics in his work play as great a part as aesthetics.
Tomáš Rafa's work is marked by two approaches: on the one hand he records current events which occur in public space, on the other hand he initiates events of which he creates a record. In his videos he moves on the borderline of the artistic and documentary genres; his style is neither "quite artistic" or "quite documentary". When cutting his materials he often emphasises the emotive moments charged with meaning or symbols, consequently the informative narrative quality may be secondary. Rafa describes his approach as an exploration with camera. In contrast to the documentary genre, his recordings contain a certain measure of ambivalence. Videos register the moods of a moment and create a kind of preservation-in-time of charged emotions. In Rafa's artistic approach one can observe the influence of his teachers: interest in current social themes is associated with his studies in Michal Murin's studio in Banská Bystrica; the influence of Grzegorz Kowalski's studio in Warsaw is evident in Rafa's work with symbols and his organisation of workshops (Kowalski's students include such well-known artists as, for example, P. Althamer, A. Żmijewski, and J. Rajkowska).
The Paradox of Tolerance is a survey of Rafa's works in three thematic fields. The first field is videos mapping the rise of extremist and neo-fascist moods in Slovakia. Also related to this theme is his photo-wall, where he challenges the viewer to take a stand. A second thematic field comprises recordings of participative activities, which the artist and his co-workers have been organising in Roma villages in Slovakia since 2009. The third field is videos which depict the situation in the world, whether it be the conflict in the Ukraine or the growth of right-wing extremism in Poland. A selection from his extensive archive shows the broad scope of Rafa's activities and his time-cumulative approach. The videos set in a socio-political context are statements about their time; they are recorded visual memory. These works are presented not only in galleries but also on the web, where they have millions of viewings (https://www.youtube.com/user/RafaVideoart).
In videos from Slovakia Rafa illustrates the growth of fascist and racist moods, which are penetrating public space and, in the form of the ĽSNS (a far-right party which received 8% of the votes in the Slovak general election of 2016), even making their way into parliament. These moods are no new phenomenon: at all times they have been latently presence in a milieu where racist attitudes have long been tolerated. The demonstration against Islamisation in Bratislava in June 2015, which was attended by about 5,000 people, was a clear message about the diffusion and mainstreaming of racism. While far-right sympathisers, including neo-Nazis, and football hooligans from Slovakia and the Czech Republic took part in the gathering and march, there were quite a few ordinary citizens alongside them. Rafa's video captures key moments: aggressive confrontations and racist utterances. The struggle for the form of the public space and public opinion provoked a mobilisation, and the balance of forces was reversed at the demonstration "against Brussels dictatorship" in 2016, again in Bratislava. There the right-wing extremists were several times outnumbered by their opponents, which produced a feeling of fragile equilibrium. Apart from the far-right demonstration and the counter-demonstration, Rafa also shows the activity of the militantly-inclined group Slovenskí branci (The Slovak Recruits). This video is presented for the first time at the exhibition.
The recordings from Maidan in the Ukraine, and later from the armed conflict in eastern Ukraine in 2014, show the qualities of Rafa's documentary work. Given that he is not working for the news agencies, often he finds his way to places and situations which are not covered by the ordinary media. This enabled him to depict both sides of the conflict in the Ukraine. Rafa also regularly documents public activities in Poland, where he lives, and where currently there is an ever-increasing restriction of citizens' rights. The situation in Poland is captured by a shocking video from the neo-fascists' march through the streets of Warsaw in 2017.
Also on exhibition is a series of videos documenting Rafa's continual work in the Roma villages. Life there is marked by a desperate lack of opportunities to get involved in ordinary life. The Roma villages, where more than 10% of the Roma population of Slovakia live, do not represent the Roma minority as a whole, but they show a problem of extreme poverty as a consequence of non-systematic solutions. The artist came to the Roma settlements because of his interest in people in difficult life situations. His work in the villages began as a response to the building of a segregating wall in Michalovce in 2009. The wall was built for the purpose of separating the settlement from the majority population, and to mask its true object it was called "a sports wall". This legal vacuum made it possible for the greatest number of segregating walls in Central Europe to be erected in Slovakia. Together with volunteers from the village, the artist painted the wall in many colours, thereby making it a focus of attention. Rafa repeated this action during subsequent years on various segregating walls.
The artist has returned several times to the Roma villages, in recent years mainly to Sečovce in Eastern Slovakia, where he has built up mutual trust with the local inhabitants. In 2014 he and they together decided to paint the entry space of an apartment block. This redirected attention from the theme of segregation to the theme of non-functioning administration. Rafa engaged volunteers and bricklayers' apprentices from the village, who painted the stairway in rainbow colours. Artistic intervention here crossed over from the symbolic plane to that of direct aid. During the following three years the artist, together with the Art Activist association, organised a series of art workshops in the village. Those who participate are mainly children, but gradually older inhabitants also have become involved. Apart from painting on an enormous canvas, participants of both sexes also work with basic geometrical shapes. The result is always spontaneous. As conceived by Rafa's former teacher Grzegorz Kowalski, the main content of the workshop is a process of non-verbal communication by means of visual symbols and movements. Emphasis is always placed on taking a stand. For the population living there, the workshops in Roma villages have an emancipatory character. Over a few days considerable artistic results are achieved by a common effort.
There are no simple answers to those problems of contemporary society which Tomáš Rafa addresses. Art here plays the role of a mirror of social moods; the response is up to the public. Developments in the world show that where the majority is socially apathetic there will be no automatic victory of humanism: intolerance of freedom and diversity may triumph instead. It is important, therefore, to take an active approach and stand up to injustice, whether in terms of spreading information, involving oneself in discussion, or direct intervention.
Lenka Kukurová
Exhibition curator
– – – – – –
TOMÁŠ RAFA (1979) is a Slovak visual artist. His work is well known in the Central and Eastern European region and also beyond, for example in Sweden and the USA. In Slovakia he won the Oskár Čepan Prize in 2011, and since then he has had a series of solo and group exhibitions in many countries. In 2017 he presented his work in the prestigious Museum of Modern Art (MoMA PS1) in New York. Rafa's art focuses on the most topical activity and engages with social and political questions which have a very strong resonance on the international art scene. He is associated with the turn in contemporary art towards ethical problems. His best-known works include a number of interventions on segregating walls in Slovakia (the Sporting Walls cycle, 2009 – 2013), a proposal for a Czech-Roma flag (Selection Procedure for a Czech-Roma flag, 2013) and a continual cycle of reportage with the theme of nationalism (New Nationalism in the Heart of Europe, a cycle in progress from 2009 to the present). He is the founder of the Art Activist Association, in collaboration with which he organises art workshops in Roma villages in Slovakia. His works  are presented not only in exhibitions but also on the internet, where they have hundreds of thousands of viewings. Tomáš Rafa completed his studies at the Academy of Arts in Banská Bystrica with Michal Murin and at the Academy of Fine Arts in Warsaw. Currently he is engaged at the Warsaw Academy, where he is assistant and partner to the legendary Polish artist Grzegorz Kowalski.
– – – – – –
LENKA KUKUROVÁ (*1978, Košice, Slovak Republic) is a curator, art critic and activist. She is engaged in exploring political art and art activism, which was also the theme of her dissertation work (Charles University, 2012). She collaborates with non-profit organisations dealing with human rights and ecology. She has organised several international collective exhibitions focusing on current topics in society, e.g. the refugees, criticism of the practice of removing children from Roma families, the topic of national representation, bicycle transport etc. In 2017 she cooperated with the National Gallery in Prague on the program of the Ai Weiwei's exhibition Law of the Journey. Since 2013 she has been co-curator of the Prague Artwall Gallery located in a public space and specializing in political art. She publishes in Czech and Slovak art, as well as other non-art, periodicals. She lives in Leipzig.